When picking a countertop material for your bathroom, a wide variety of colours and design options are available. The material you pick for your countertop should depend on how much use it will get, how easy it is to maintain, and the overall aesthetic of your bathroom. Here are some of the most popular bathroom countertop options.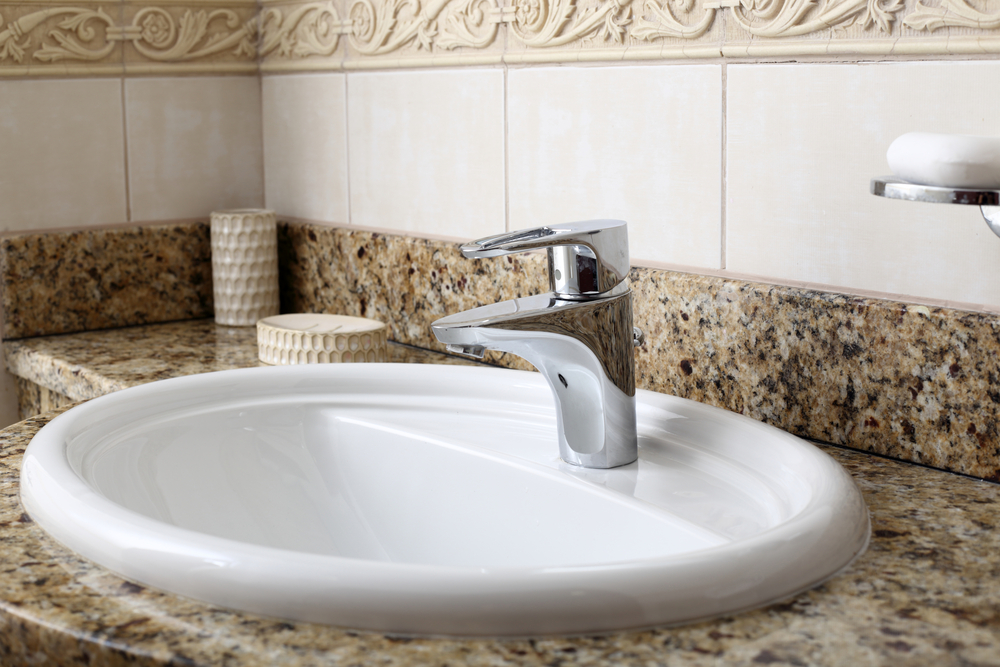 Granite
Granite is an igneous rock formed through the gradual crystallization of magma beneath the Earth's surface. It's a natural stone material composed of quartz, feldspar, and mica, and fused using heat and pressure to form a hard and durable slab of 100% natural stone.
The appeal of granite is that each tile has a unique look because its colour, veining, and pattern are created naturally. It's known for its hardness, heat resistance, and scratch resistance. However, it's not recommended to place hot items directly on the surface, as the sealant may wear off or get discoloured.
Granite countertops are an excellent option for bathroom countertops because of their beautiful appearance. It is a porous stone, so it requires frequent sealing to prevent any products from getting into the material's pores and creating bacteria. This is especially important for bathrooms due to its proximity to water and dampness. However, whether or not you decide to choose Granite for your bathroom countertops depends on how much money you're willing to spend, as it's one of the more expensive materials due to it being a non-renewable natural stone material. It also depends on how much time you are willing to invest in taking care of them, as it requires routine maintenance for its longevity.
If you are in the market for this material, check out Domus for our collection of premium natural granite stones.
Sintered Stone
Sintered stone is a man-made material composed of natural minerals like quartz and feldspar, along with pigments and binders. The composition is put through a manufacturing process known as "sintering," where the particles are fused together using high temperatures and pressure, creating a dense and durable material.
The appeal of sintered stone as a countertop material is that its look can be engineered to your liking. Though the colour and pattern do not run throughout the whole thickness of the sintered stone slab, it can still be created to have a uniform appearance on the surface and minimise the visibility of seams.
Sintered stone countertops are an excellent option for bathroom countertops because it's anti-microbial and waterproof. Compared to granite, sintered stone is slightly more scratch- and stain-resistant because it is a non-porous material, and therefore is considered low maintenance since it doesn't require frequent resealing.
If you are in the market for this material, check out Mysa for our collection of ultra-compact sintered stone products.
Terrazzo
Terrazzo is a man-made stone material made by grinding aggregate (marble, shell, granite, and glass fragments), and then mixing them with a binder (cement or epoxy resin) and filler. The mixture is poured directly onto any surface or into a mould to dry or cure.
The appeal of terrazzo is from its classic design and rich history. It is a material that has been used for centuries. Furthermore, it's eco-friendly and made of recycled stone fragments. They don't contain volatile organic compounds (VOCs), which are harmful gases that are emitted into the air when certain materials are processed. Like granite, it is also a porous material, so it requires periodic sealing as well.
Terrazzo countertops are an excellent option for bathroom countertops because of their durability, resistance to stains and heat, and their design versatility. The different stone and glass fragments provide a wide array of colours that can be sorted into a range of patterns to fit your design needs.
If you are in the market for this material, check out Louve for premium terrazzo.
Quartz
Quartz is a man-made stone material made by combining at least 90% of ground quartz with resins, polymers, and pigments. This composition is what makes the material highly durable and antimicrobial.
The appeal of quartz is that it can be engineered to look like natural stone without the high maintenance required by natural stone countertops. Since they are man-made, they are non-porous and therefore do not require any sealing. Like sintered stone, they may have visible seams, but the colour and pattern can be adjusted to minimise the visibility of the seams.
Quartz countertops are an excellent option for bathroom countertops because of their low maintenance requirements, antibacterial qualities and resistance to stains. They are a hygienic option because they are non-porous surfaces. While they are heat-resistant, it's best not to place hot items such as hair curlers, directly on the countertops, as the resin in the quartz is prone to discolouration when heat is applied. Compared to sintered stone, quartz is the more affordable option, but slightly more prone to chip or crack from impact with a heavy object.
If you are in the market for this material, check out Aurastone for premium quartz stones. We are also the official supplier of Silestone, which is a hard and resilient compound made of 94% quartz, and the official supplier of Caesarstone, which manufactures premium quartz surfaces with approximately 90% quartz.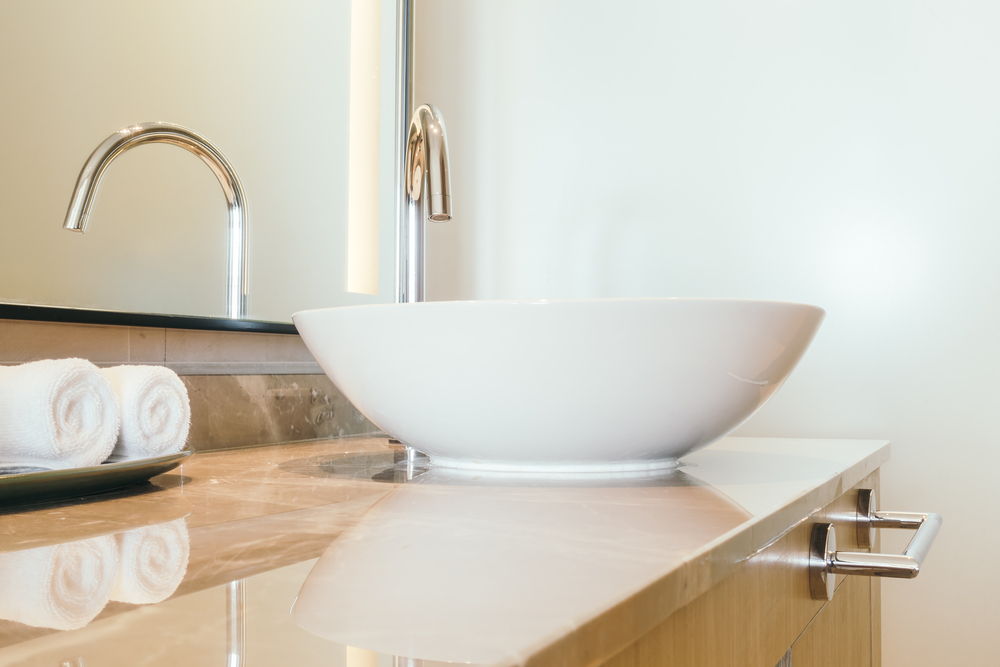 Selecting the Perfect Bathroom Countertop
When selecting the best bathroom countertop material for your needs, it's essential to consider the cost, maintenance requirements, and pros and cons of each material. But in the end, it comes down to your personal preference and style. Do some research about the different materials – the pros and cons and differences to give you a better understanding so you can select the perfect bathroom countertop.