As the year is drawing to a close, let's review the most attractive kitchen sink designs for the year 2019 that is wowing the market.  Before we get there, do you know what makes a kitchen sink attractive? If your answer is purely aesthetic qualities, you are only half correct. Today, it takes more than just a visual design to make a kitchen sink attractive.
An attractive sink not only enhances the décor of the kitchen, but it should also yield intrinsic qualities such as being durable, functional, leakproof and easy to maintain. Below are 6 of the most attractive and popular kitchen sink designs among different households.
Stainless Steel Single-Bowl Undermount Sink
The stainless steel single-basin undermount sink is a top favourite, especially for smaller kitchens. With its sleek and minimalist design, this type of kitchen sink will never run out of style.
Undermount sinks hang below the countertop. This distinctive feature allows a seamless flow from the countertop into the sink. Cleaning your countertop becomes easy. Just sweep those crumbs directly into the sink without getting it gunked up at the rims, unlike top mount sinks.
Double-Bowl Undermount Sink
The double-bowl undermount sink one of the most sought after designs because it provides convenience for multitasking. Cleaning becomes a breeze when you are able to segregate the dirty dishes for soaking and the other for washing.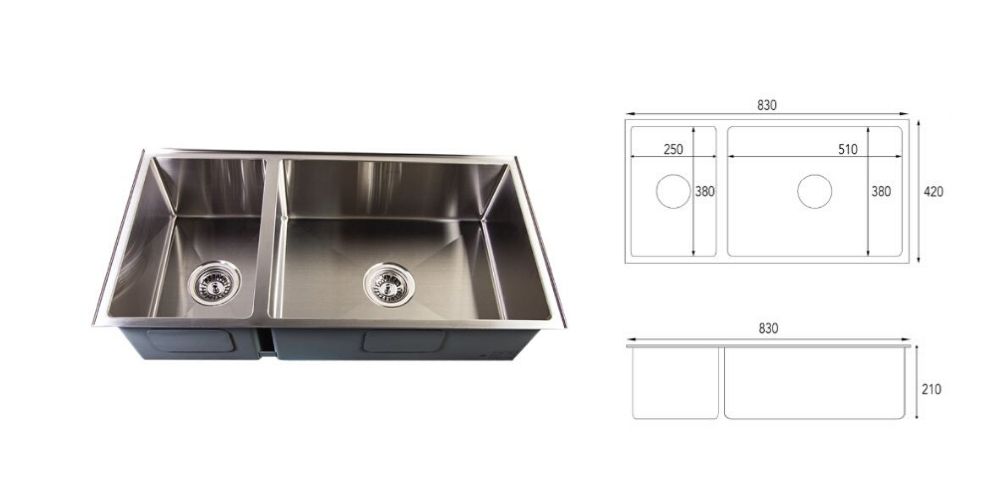 However, double bowl sinks that are of equal size may not have enough space to wash large crockery because the individual bowls are too small. Hence, double sinks these days are designed to be either 60:40 or 70:30. These type of double-bowl sinks allows you to have more flexibility and space for your washing.
Fireclay Undermount Farmhouse Sink
A farmhouse sink is also known as the apron sink because of its prominent apron that is visible. The traditional farmhouse sinks have evolved over years with contemporary designs that complement modern homes.
The modern-day fireclay farmhouse sink with a curved apron makes a stylish statement in the kitchen. In addition to the spacious washing basin, the glazing process of the sink ensures that it can handle extreme poundings and harsh chemicals without the slightest impact.
Black Granite Kitchen Sink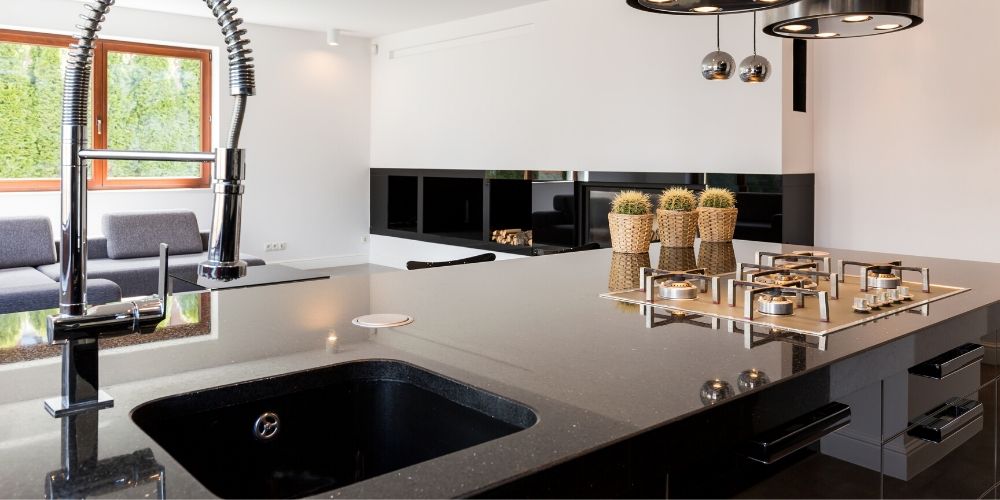 Stone sinks exude grandeur and opulence but may not always be practical in the kitchen. However, among the various stone sinks in the market, the granite sink is the most in-demand as kitchen sinks. Most granite sinks in the market are granite composite sinks. It would be very difficult to source for pure granite sinks because of its rarity and expensive price tag.
A granite sink complements most countertops. However, many favour the black granite sink for its unique and long-lasting qualities. When installed on a black granite or quartz countertop, the granite sink appears seamless and sleek. Even against a lighter coloured countertop, it stands out as an elegant element in the kitchen.
Island Kitchen Sink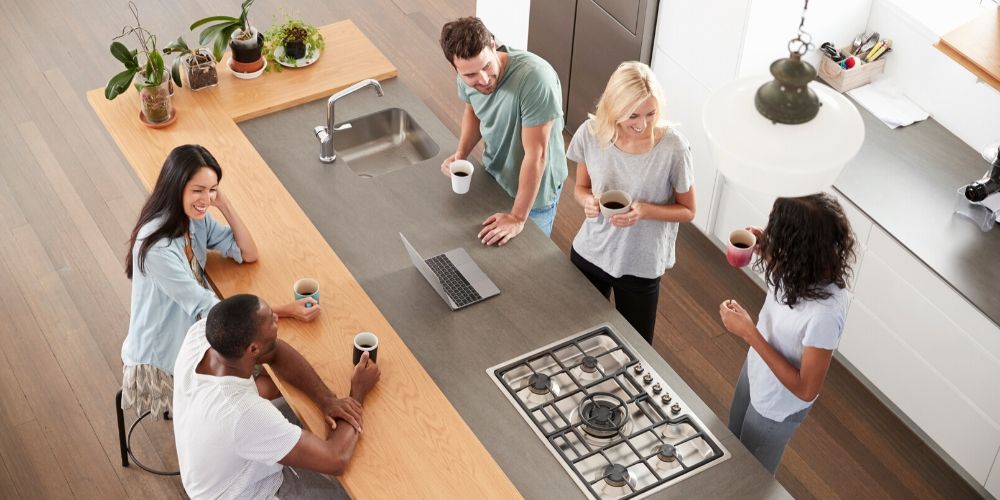 For homes boasting a spacious kitchen, a kitchen island countertop makes a great feature go connect and socialise. Kitchen islands offer a multipurpose space for dining, food prep and perhaps, work.
As such, the kitchen sink is no longer isolated at the corner perimeter of the kitchen. Island sinks used to be smaller for minor rinsing and cleaning. Today, depending on the size of your island countertop, the island sink is available in different sizes because it has becomes just as functional as a conventional kitchen sink.
Leakproof Aurasink
Despite the wide range of attractive kitchen sink designs in Singapore, most conventional sinks are not leakproof due to the way they are installed. Silicone erosion at the ridges of the sink is the main cause of leakages under the sink. The majority of homeowners do not know they have a kitchen sink leakage until its too late.
However, having a leakproof design is an exclusivity that many can afford now with the invention of Aurasink and its revolutionary method of installation. Aurastone has innovated a way to create a water-tight seal using a unique clamp system to tightly secure the sink to the countertop until the silicone dries completely.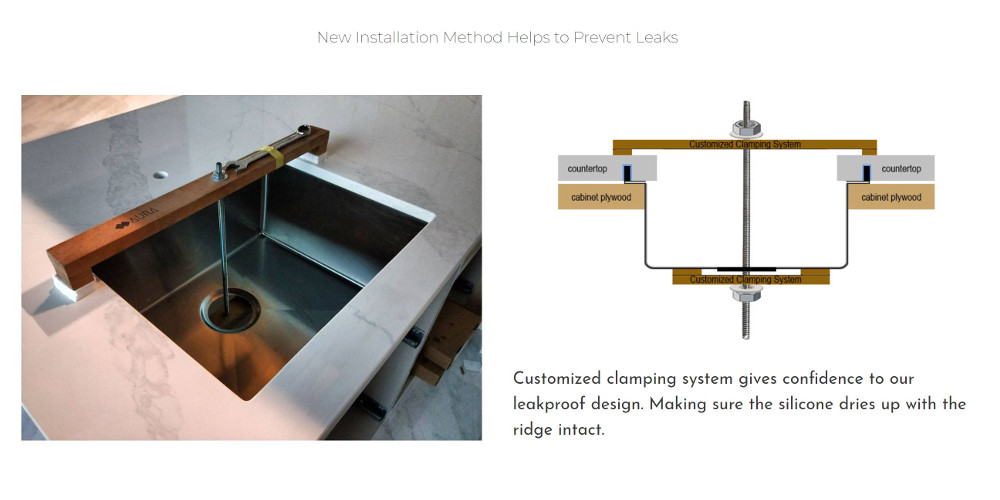 This sleek stainless steel undermount sink is available in 4 different sizes to meet your kitchen needs.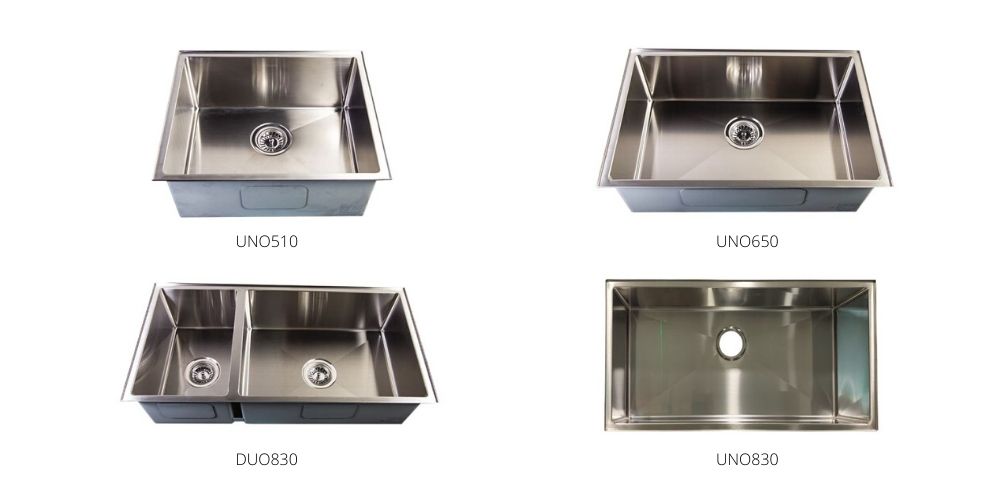 Most Attractive Kitchen Sinks of 2019
In short, 2019 is the year of functional aesthetics because consumers have evolved to become savvier and more practical. What makes a kitchen sink attractive differs across different homes. Smaller homes tend to gravitate towards a sleeker and smaller sink, while homes with a huge kitchen welcome a bigger sink for multitasking.
If you are looking for premium countertop solutions for your new kitchen, contact us at Aurastone today.