Many people overlook their sinks when they are undertaking a renovation. Sinks are not just utilitarian but can also be an opportunity to make a design statement and inform the aesthetics of your space. If you're looking for a beautiful kitchen sink design, then integrated sinks are getting more popular among Singaporean homeowners as a statement piece.
If you have not heard of an integrated sink before, read on to learn more and find out if it might be the right choice for you.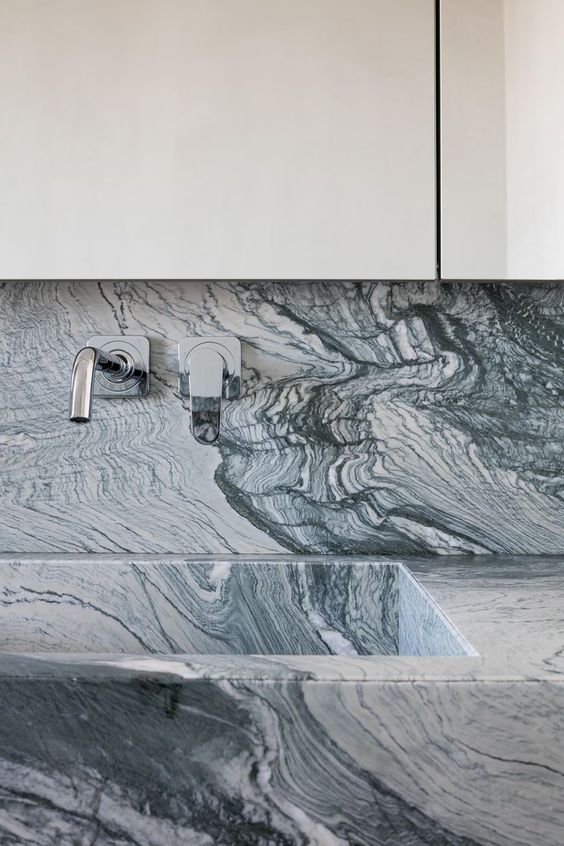 What is an Integrated Sink?
An integrated sink, also called an integral sink, is a type of sink that is built directly into your kitchen or bathroom countertop using the same materials as your countertop. For example, if your kitchen countertop is made from quartz, then your integrated sink will also be made from quartz.
An integrated sink has no visible seams or edges and appears as one unit with the countertop. These invisible seams create a strong sense of unity and cohesion between the countertop and sink, which has become an increasingly popular aesthetic among homeowners.
Integrated sinks can be made from a wide variety of materials but the most popular ones are quartz and granite. They can also come in a variety of shapes and sizes so they can be easily customised to fit any size or design of kitchen space.
You typically see integrated sinks being used in bathrooms but they are becoming increasingly popular in kitchens as well. Integrated sinks provide a seamless aesthetic and can create a feeling of additional luxury within a home.
It is useful to note that it is the countertop manufacturer (such as Aurastone) who will be installing your integrated sink, not the sink manufacturer.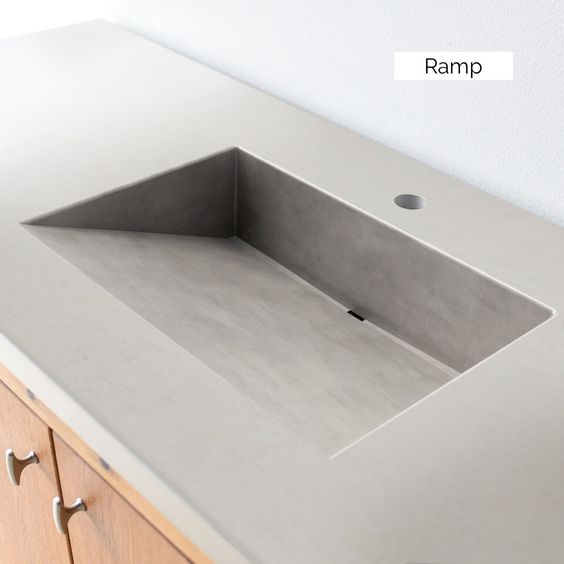 Pros of Integrated Sinks
Attractive, Seamless Look
One of the main reasons Singaporean homeowners love integrated sinks is the attractive, seamless look that it offers.
There is also a range of shapes, styles and materials to choose from. This includes round, square or layered designs with curved or straight edges. The sink design can be matched with a backsplash or walls to create a more sophisticated look in the kitchen or bathroom.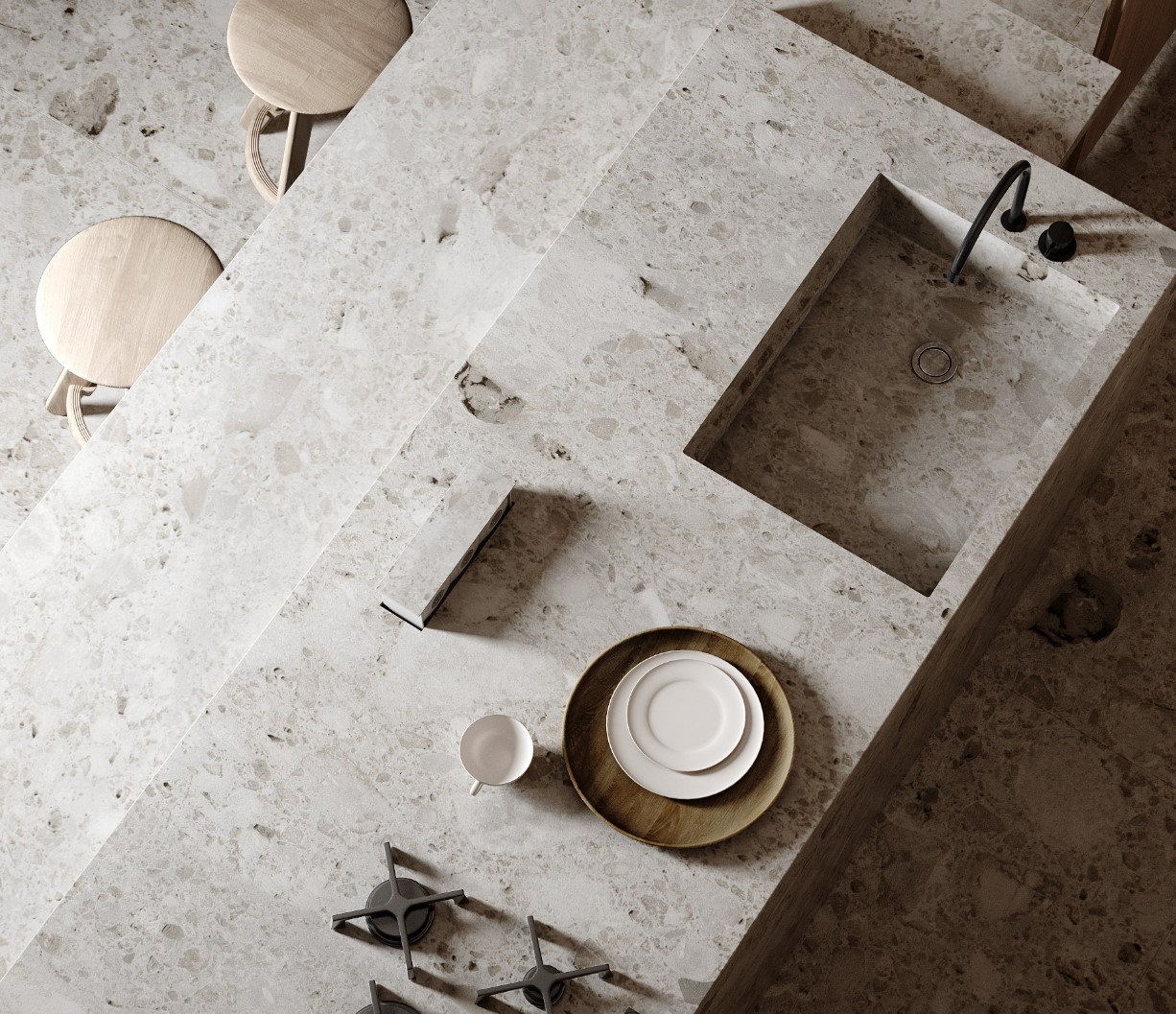 Easy to Clean & Maintain
Currently, top mount,  flush mount and undermount sinks are the three most popular types of sinks in Singapore. Flush mount sinks have seen an increase in popularity amongst new Singaporean homeowners due to their appearance of sitting flush with countertops.
A common complaint about this is that the connections between the sink and countertop are often made with silicone sealant, which may degrade over time, leading to discolouration, mould growth and other damage. We're sure that you've seen the black goo accumulating at the edges of a sink or faucet that needs to be cleaned ever so often.
An integrated sink will not face this issue due to its seamless design.
The lack of nooks and crannies for dirt and food to get stuck in makes it easier to maintain and helps save you time.
An Integrated Sink is Customisable
You might not expect this but integrated sinks are highly customisable. The sink basin can be tailored to the desired depth and width. Moreover, it can have a custom shape and layout. An example is integrated sinks in dual bathroom vanities or kitchens.
You have more options compared to common kitchen sinks and you let your creativity run free!
Cons of Integrated Sinks
More Expensive
Integrated sinks can be pricier than other options due to their design and fabrication process. They typically use higher-grade materials which lends a luxurious appearance but also bumps up the cost. This is not to say that they are prohibitively expensive but just expect to pay more than for traditional sinks.
Hard to Repair / Replace
A drawback to choosing an integrated sink is that it will be difficult to repair or replace if it gets damaged. As opposed to drop-in and under-mount sinks, integrated sinks are one connected unit with the countertop and its removal or alteration requires the replacement of both components.
It is thus important that you choose a hardy and durable material.
What are the Best Materials for Integrated Sinks?
Some of the most popular materials for integrated sinks are quartz and granite.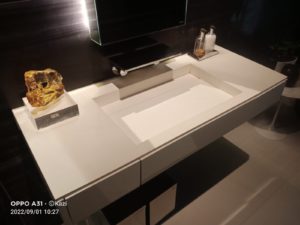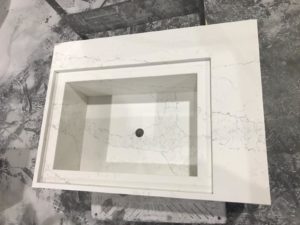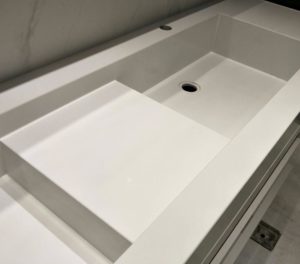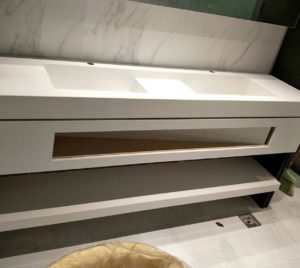 Quartz Integrated Sink
Quartz is an engineered (i.e. man-made) surface known for its simplicity and elegance. It offers a wide range of colours that are not susceptible to fading. Being non-porous, it is safe for washing food. A quartz sink is also heat resistant, enabling hot pots to be placed in it after use.
Non-porous – bacteria can't accumulate in pores
Hygienic (look for NSF-certified quartz)
Impact resistant
Less noise
Heat resistant
Chemical resistant
Colour lasts longer
More uniform look since stone is man-made
Granite Integrated Sink
As we mentioned previously, quartz is an engineered stone, which means that it looks, well, man-made. Granite slabs are natural stones, which means that their patterns, designs and colours are unique and given to them by Mother Nature. If you prefer this natural look, consider going for a granite sink instead.
Beautiful and natural look
Durable and will last a long time
Resistant to impact and scratch damage
Heat resistant
Other Types of Kitchen Sinks
While many homeowners might love integrated sinks, they may not be suitable for others.
On the plus side, integrated stone sinks are visually stunning and can be customised to fit any use case or space. Be ready for all the compliments from your impressed house guests. They are also relatively easy to maintain and highly durable.
However, you should probably choose a high-end and durable stone for your sink, which means that it will be more expensive than a typical sink. On the off-chance that your integrated sink does get damaged, then you'll need to be prepared for a hefty repair bill.
Carefully consider the best materials and design options, form an accurate plan of your desired outcome, and factor in budgetary constraints when determining if an integral sink is worth the additional cost.
Whichever type you choose, you should pick a leakproof sink to ensure the longevity of your cabinets. If you need some advice, feel free to reach out to our team from Aurastone.