What do you picture when you think about premium kitchen countertops? Polished marble and granite surfaces often come to mind. But natural stone countertops, though beautiful and stylish, are synonymous with high maintenance. Besides needing to be careful all the time, natural stone countertops require regular sealing to keep their surface spotless and pristine.
Thankfully, there are alternative premium countertops in the market that have a combination of beauty and strength of natural stone, the engineering ingenuity of being effortless to maintain, and in some instances, environmentally friendly too.
Below are 3 of the best low maintenance kitchen countertops in the premium range that you can consider for your kitchen.
Quartz Kitchen Countertops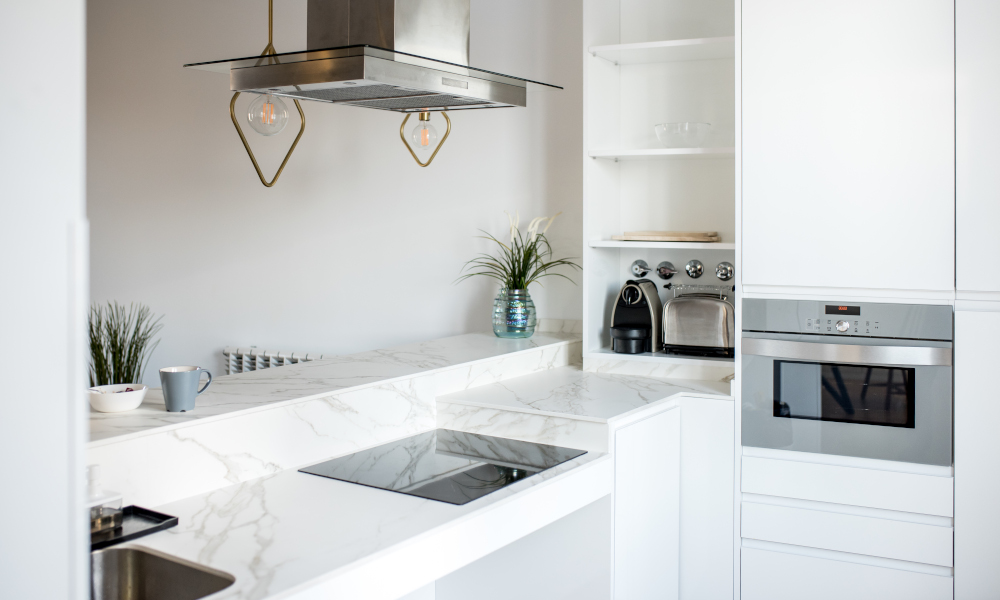 Quartz is an engineered stone that consists of quartz chips, a resin binder, and coloured pigments. Till date, quartz remains the number one premium countertop that embodies the beauty of natural stone with the toughness of granite.
Quartz comes in various beautiful colours, textures and finishes. Because of its versatility, quartz is very popular in kitchen and bathroom high-end application. Among the popular quartz brands in Singapore are Aurastone, Caesarstone, and Silestone.
What makes quartz low maintenance?
Besides its aesthetics and durability, quartz is valued for its low maintenance. The key feature of quartz is its non-porosity. This unique feature, unlike natural stone countertops, makes quartz highly resistant to stains and moisture.
Cleaning a quartz countertop is a breeze. Just a simple wipe clean with mild soap and water will do. If you're a busy person, you will appreciate this quality in your kitchen countertop.
Where health and hygiene matters, quartz outshines many conventional countertops. Its non-porosity stops germs from hiding and breeding.
In addition, quartz brands such as Aurastone, are NSF-certified. NSF certification accounts for high food safety standards. As such, quartz surfaces are highly suitable for food preparation in the kitchen.
Best of all, it does not require any periodical sealing. What's not to love about quartz?
Terrazzo Kitchen Countertops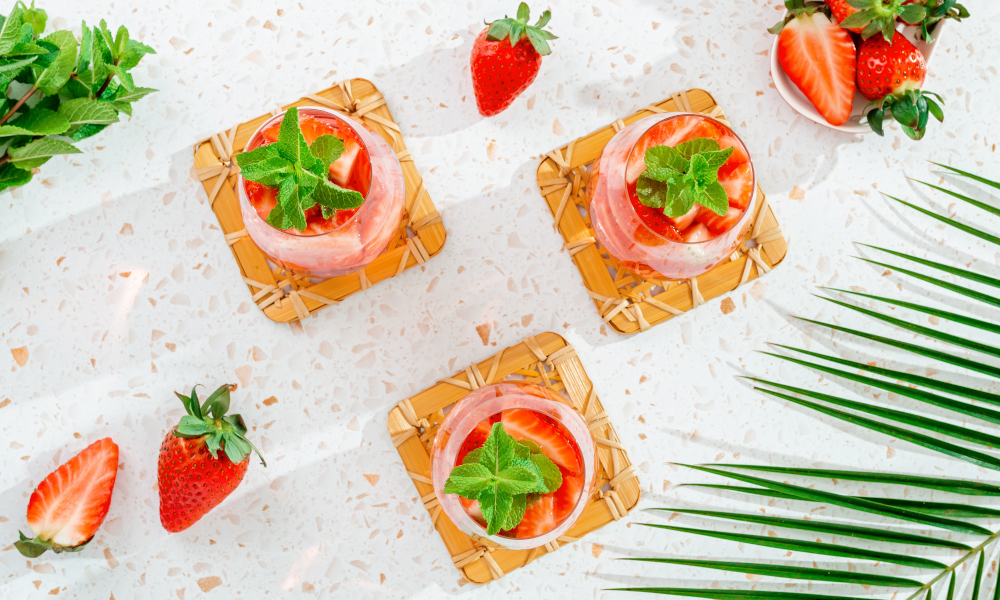 Terrazzo tiles were a flooring craze decades ago. However, in recent years, this old-school material has emerged as a trendy kitchen countertop of choice because of its updated design and manufacturing quality.
Terrazzo is made by combining bits of recycled stone chips and glass fragments with cement and resin for a very unique and distinct look. Considering its use of recycled material and low to zero VOC emission, Terrazzo is gaining popularity for being an environmentally-friendly countertop material.
What makes Terrazzo low maintenance?
New-age terrazzo is manufactured using high compressive strength. The vacuum-and-vibration process produces a very compact and durable material that can withstand heavy machinery and foot traffic.
Aurastone's Terrazzo has a hardness of 4 to 6, making it a very sturdy material as compared to traditional terrazzo. You don't have to worry about chipping your countertop, unlike the more delicate marble countertop.
Through high-tech and unique manufacturing processes, the modern-day terrazzo is an enhanced version of yesteryear, with higher heat resistance, lower maintenance, and wider design versatility.
Dekton Kitchen Countertops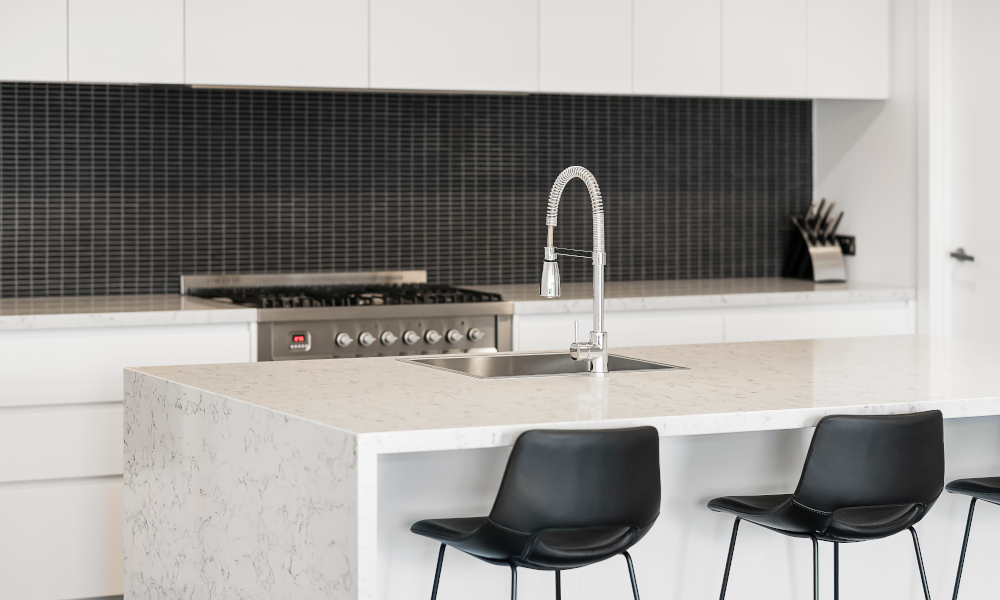 Dekton is a sophisticated and ultra-compact engineered material that deserves a category of its own. It is manufactured using Sinterised Particle Technology, an accelerated process of how natural stone is subjected to extreme temperatures and pressure over thousands of years.
This innovative technology creates an ultra-compact revolutionary material that tough and resistant to damages such as stains, scratches, abrasion, UV rays, fire and high heat.
The beauty of Dekton is in its natural stone colours and design. If you love industrial looks, the elegance of natural stone, or even a neutral solid look, Dekton has all that. Achieve seamless uniformity with Dekton with its customised one-piece installations. This means you can ditch the sight of visible joints that many stone countertops have.
What makes Dekton low maintenance?
The key to Dekton's mechanical properties is the ultra-compaction process itself. This process produces a material with zero-porosity and minimal micro-defects.
This means less headache over spills and stains as you clean with ease. This clean surface means it is hygienic for food preparation.
Due to the lack of micro defects, Dekton is almost indestructible. This makes it a perfect countertop for hardcore chefs.
Best Low Maintenance Kitchen Countertops
In a nutshell, quartz has been an evergreen favourite among premium countertops for its price, versatility and durability.
As for Terrazzo, there is a risk the trend may fade. However, with more awareness about the environment, the modern Terrazzo may stand a chance to be a long-term player in the countertop world.
On the other hand, Dekton countertops are relatively more expensive because of their use of high-tech processes in manufacturing. But its sophisticated features make it a long-lasting countertop.
When it comes to buying any one of these kitchen countertops, design preference and price are also important factors to consider.
The kitchen should be a haven for cooking enthusiasts, and also for anyone who wants to prepare healthy, warm meals for their loved ones. After all, kitchen countertops are one of the most expensive investments for your kitchen.
Hence, it is counterintuitive when homeowners avoid messing up their beautiful kitchen countertop because of the work it requires to clean up after cooking. Caring for your investment should be hassle-free. Don't let your countertop be the reason why you avoid using your kitchen.
If you are looking for these premium kitchen countertops, Aurastone carries all 3 of them. Contact us for more information on how to make your kitchen dreams come true.