The kitchen is one of the most important rooms in your home – so why not make it look its best? If you're looking for ideas to spruce up your HDB kitchen, quartz countertops should hit the top of the list. They are beautiful, trendy, durable, and a breeze to maintain.- not to mention the affordable price tag. For all those reasons, we hand-picked 10 quartz countertop ideas to get you started.
Advantages of Quartz Countertops
Quartz is very hard and durable, making it a good choice for kitchen countertops. It can withstand accidental bumps and scratches and is less likely to stain or chip than other materials.
Quartz is non-porous, so it doesn't harbour bacteria.
It is effortless to clean and maintain.
Quartz comes in a wide range of colours and styles, so you can easily find a piece to perfectly match your kitchen décor.
As a highly heat-resistant material, quartz is ideal for use in HDB kitchens. The proximity of ovens and stovetops or hot pots placed directly on its surface will not affect its properties.
Quartz is a cost-effective option compared to other types of countertop materials.
Countertop Ideas for HDB Kitchens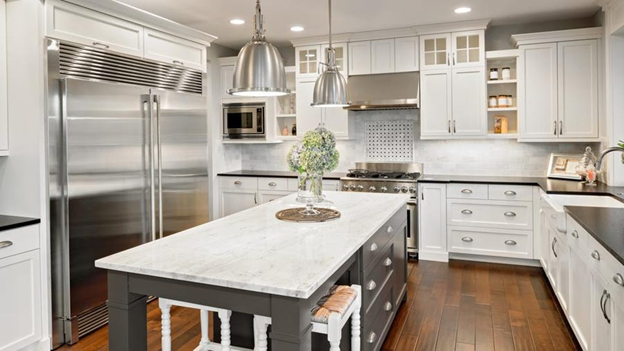 Source: Forbes
White quartz is a popular choice for a variety of kitchens. It pairs particularly well with stainless steel appliances and light-coloured cabinets. Moreover, a glossy finish would be a perfect choice if you want a bright and airy kitchen with a dash of discrete luxury. It will reflect light to provide some glitz, making your HDB kitchen feel more spacious at the same time.
Black Quartz Countertops For a Dash of Drama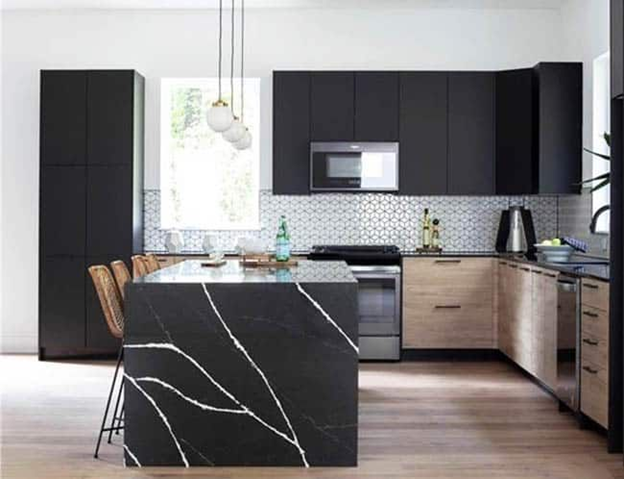 Source: Pinterest
If you want a more traditional look, consider black quartz countertops. They'll add a touch of sophistication to your HDB kitchen, easily matching almost any cabinet colour or style. Black quartz with a matte finish will convey a fancy dramatic look, plus it can conceal minor damages or stains.
Quartz Countertops In Trendy Earthy Hues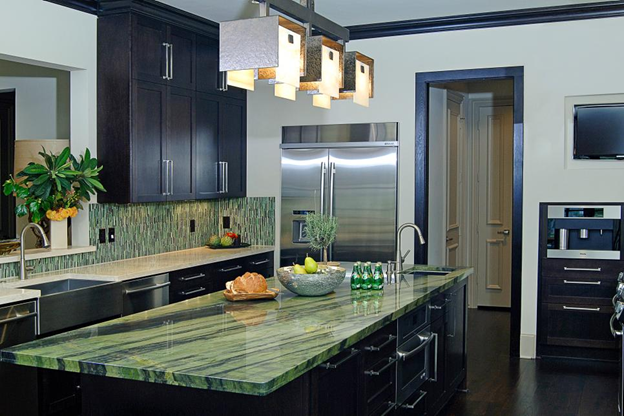 Source: HGTV
If you're looking for something trendy and flexible, consider installing quartz countertops in rich natural shades. These shades will give your kitchen a warm, inviting feel with a look that is both stylish and timeless. For instance, a country or cottage-style setting will welcome a rustic quartz countertop in shades of brown or green – but polish the same slab a bit, and it will perfectly fit any modern HDB kitchen.
Chic Peach & Rose Quartz Countertops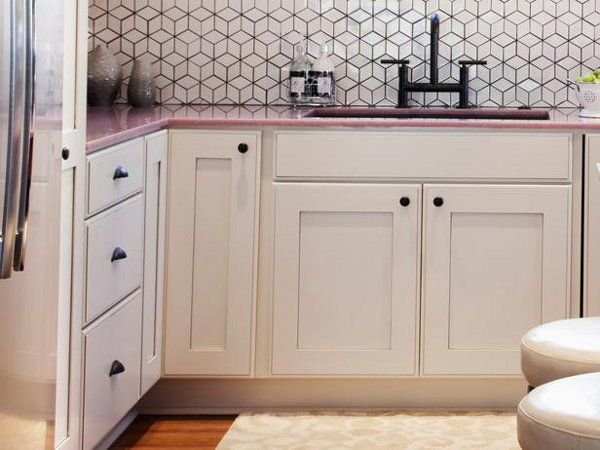 Source: Pinterest
Gentle shades such as rose and peach are not among the most common choices for a countertop. However, that might just be the reason to get one. They are pleasant to the eye, chic, with lines and patterns conveying the illusion of gemstones – which is why this kind of quartz is often used in jewellery manufacturing, too.
Calm and Fresh Blue Quartz Countertops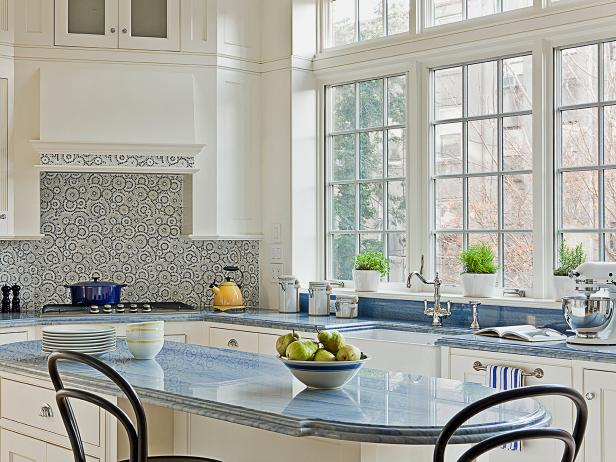 Source: HGTV
Blue marbles and granites are quite rare and therefore quite costly. However, quartz countertops in the same shade offer the same exquisite appeal in a much more affordable price range. The texture and character combined with practical assets of quartz make these countertops a choice worth considering.
Multicolour Quartz Countertops For Diversity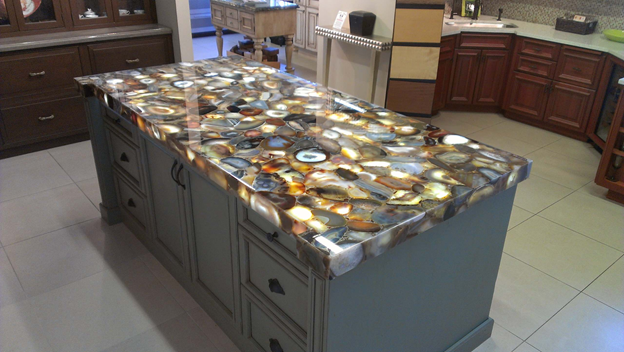 Source: Houzz
For those searching for something unique, installing a colourful quartz countertop with interesting patterns or textures is a great idea. Being engineered, quartz can come in a wide range of hues and designs, such as contrast veining, terrazzo, or backlit mosaic look.
Soapstone Look Quartz Countertops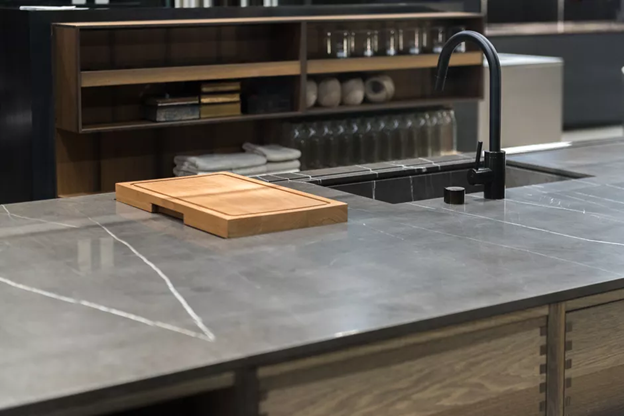 Source: The Spruce
Soapstone quartz countertops are ideal for those wanting a smooth appeal of soapstone without paying its high price tag. Their dark shades and uniform surface look will give your HDB kitchen a classy, timeless look.
Marble/Granite Look Quartz Countertops For a Touch of Luxury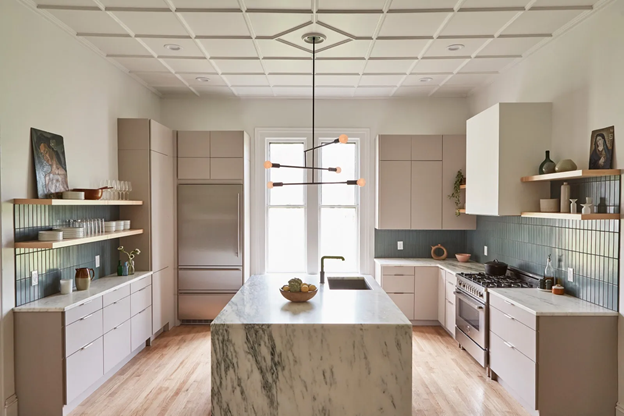 Source: Architectural Digest
Marble and granite look quartz countertops can flawlessly mimic the appeal of these natural stones for a fraction of the price. They also bear additional advantages, such as resistance to damage and lower maintenance requirements.
Custom Quartz Countertops For Unique HDB Kitchens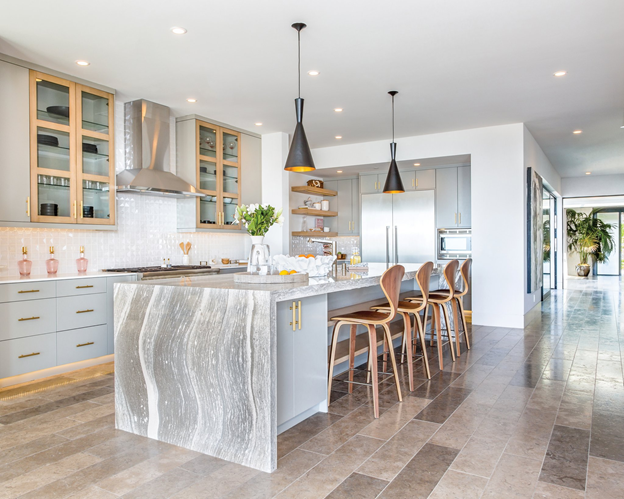 Source: Homedit
Custom quartz countertops are exceptionally durable and offer virtually endless design possibilities. Their key advantage is that they require no sealing, making maintenance a snap.
Concrete Look Quartz Countertops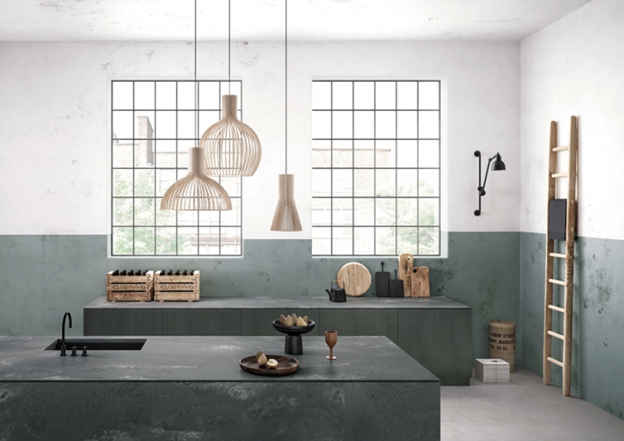 Source: FCA Magazine
For a modern and industrial look in your kitchen, go for concrete look quartz countertops. With their unique texture and colour, they'll add a distinctively stylish personality to your HDB kitchen. Most importantly, compared to real concrete, quartz countertops are less porous and far easier to install and maintain.
Quartz Countertop In Your HDB Kitchen
As a sleek and practical solution, a modern quartz countertop would perfectly fit your HDB kitchen. And with its variety of colours and textures to choose from, you'll certainly have no issue finding a surface that will complement your home's décor.