Dining out for reunion dinner may not be a good idea when you anticipate a large crowd every year. Restaurants are also offering delicious menu sets for delivery and takeaway to customers who want to have a hassle-free family reunion meal. Whether you wish to cook or have your food delivered, how about getting your home ready with these dining room makeover tips to keep the festive joy alive?
Dress Up Your Wall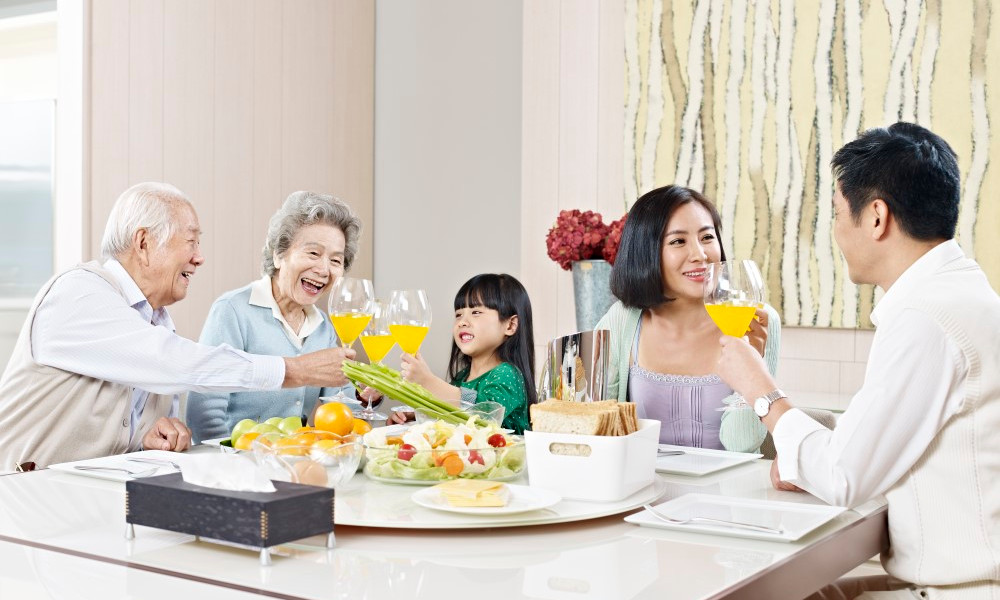 The colour of your wall can instantly spruce up your dining room. This is the most common dining room makeover tip.
There are 4 simple ways to dress up your wall: a fresh coat of paint, wallpaper, wall décor and artwork.
Depending on the mood you want to project, a cheerful colour will enhance the festive vibe during the dining experience.
But what if you like your elegant dark walls? Then, try brightening the area with vibrant artwork. A pop of colour with statement art pieces will certainly get the conversation rolling.
Add a Rug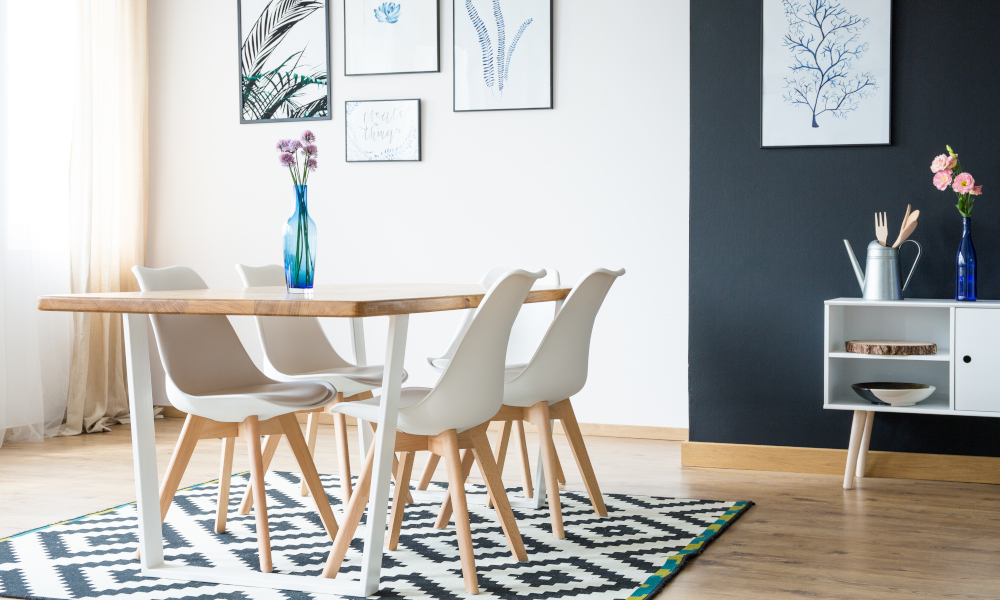 What if your dining room is just an open area between the living room and the kitchen? In such an instance, having a feature wall especially for your dining area may not be viable.
So, what do you do? Roll out the rug.
Besides subtly demarcating the dining area, a rug will instantly elevate the dining room with posh vibes.
This is the least elaborate dining room makeover tip that yields surprising results.
Lighting
Lighting can create different moods and enhance the look and feel of the dining room. Create a warm ambience with pendant lighting.
Depending on the size of your dining table, you can opt for a stylish single pendant light to multiple pendant lights.
Good lighting not only sets the tone of the dining room, it brings out the colours of your décor and makes the food look more tantalising.
Red and Gold Colour-Themed Décor
Since it is a Chinese New Year reunion dinner, decorate your dining room with red and gold accents. This can range from the dinnerware to the table runner that you use.
Do you have very plain looking dining chairs? Dress them up with comfy red chair pads to complete the festive look.
Hang Out by the Kitchen Island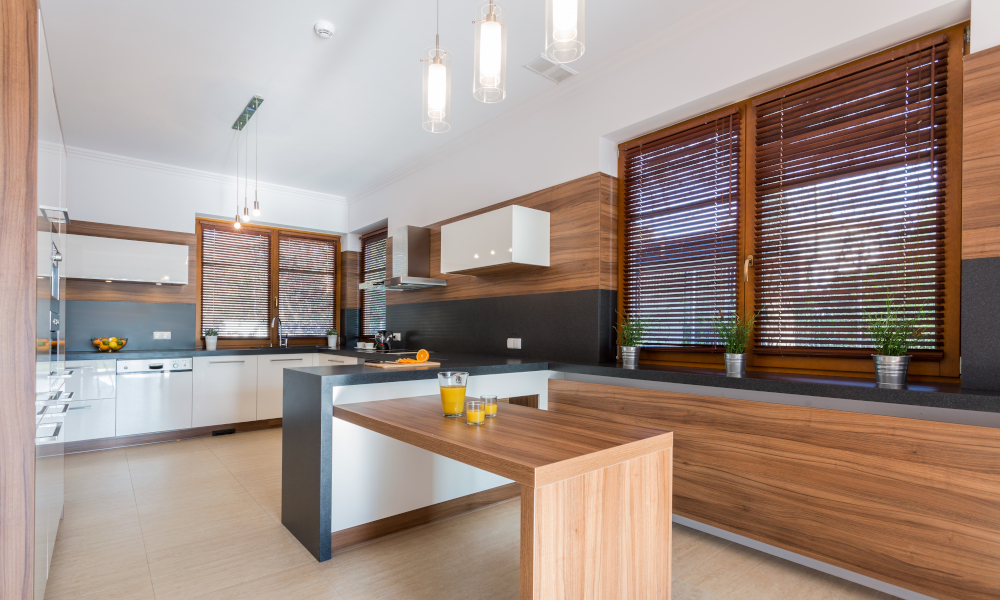 A kitchen island is a great addition to the home as you can use it for food prep and dining. Modern dining rooms now incorporate a dining table extension to the kitchen island.
It could be in a contrasting material (stone countertop and wooden table) or just one material such quartz in varying heights for a sleek look. Quartz countertops are also easy to maintain and clean up after a meal.
Create an Eye-Catching Centrepiece
We love pretty centrepieces. The most common centrepieces are flower arrangements. However, this may not be suitable if you're having a traditional Chinese reunion dinner.
If flowers aren't practical, how about a luscious fruit centrepiece? After the meal, you can have some fruits for dessert. It makes a pretty awesome zero-waste centrepiece.
Mix and Match Seating Furniture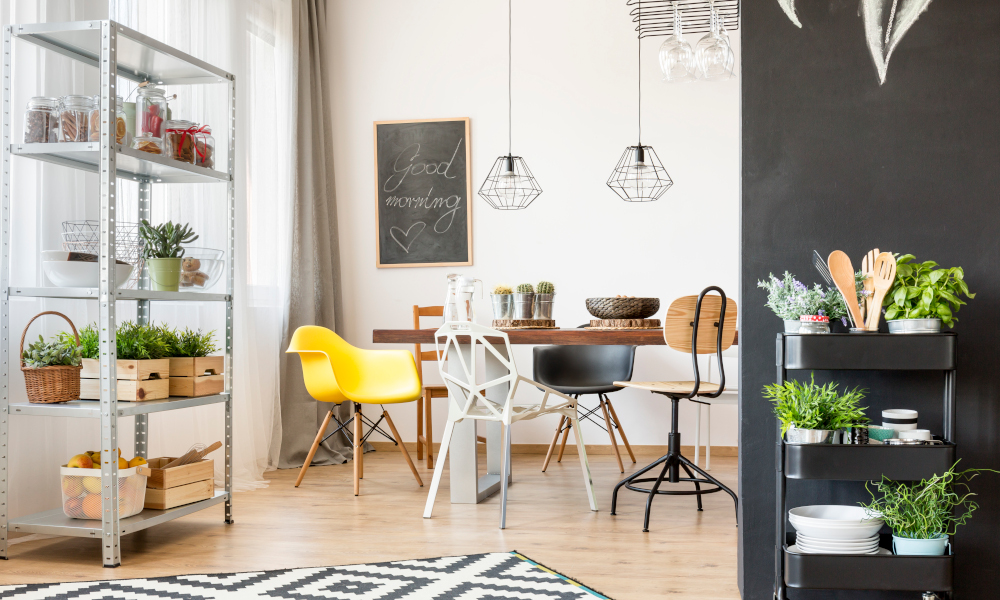 If buying matching furniture is a strain to your budget, try this cool tip: Mismatched chairs.
Now, we aren't talking about buying just any chair. Even mismatched furniture needs to complement each other without looking like a design disaster.
You can select a combination of the following characteristics to achieve an eclectic look that creates a statement:
Colour: Create a colour swatch so that the colours work in harmony with the design
Material: Wood, steel, plastic
Style: Minimalist, retro, luxe, modern
Feel free to throw in a statement piece or two. Mixing and matching the chairs can create a fun and relaxed dining environment for your family.
Table with Lots of Legroom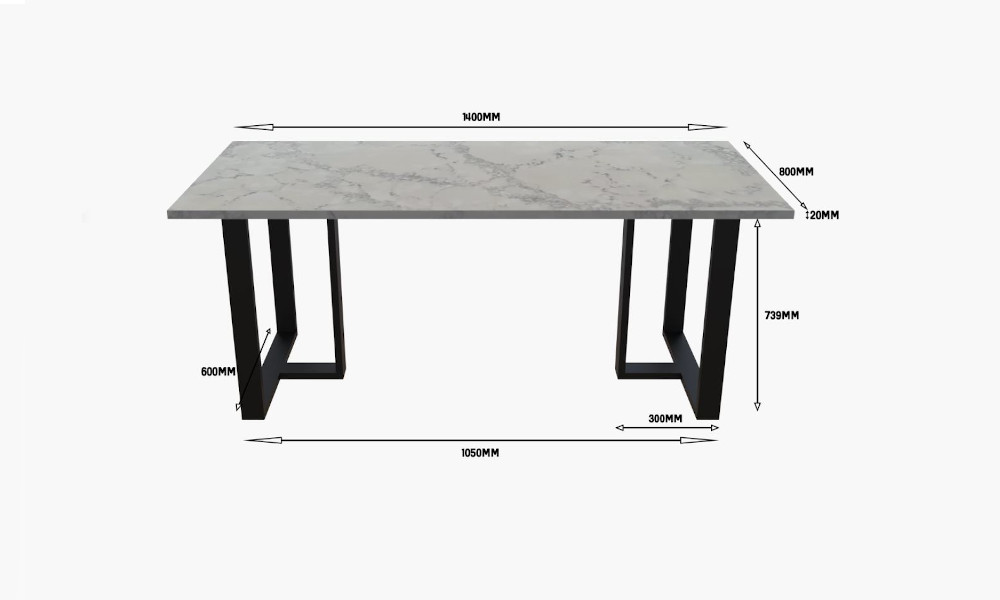 Never underestimate the space under the dining table. Have you experienced being seated at a table where you are not able to place your legs comfortably because of the bulky leg design or weird angles? Not only it is awkward, ladies may cringe if they were in a skirt.
A reunion dinner is a family function where everyone is seated to eat together. A table with plenty of legroom makes accommodating extra people at the table much easier. You can conveniently add an extra chair for your guests.
Are you looking to add a new dining table to your home? At Unix Singapore, you can build your dining table and select the size, tabletop material, colour, tabletop profile edge, and table leg design. That way, you can customise the perfect dining table to meet your family needs.
Dining Room Makeover Tips for Every Occasion
These dining room makeover tips are perfect for every occasion, not just for the festivities. Happy meals start from the kitchen and are enjoyed in the dining room with the family. A beautiful and stylish dining room beckons the family to dine together and bond over every meal.
After all, a family that dines together, stays together.