A kitchen island provides a stylish transition between the kitchen and living area. Besides providing additional workspace and storage for your culinary preparation, it adds contrast and anchors a focal point to your open kitchen layout. There are many kitchen island ideas that you can take inspiration from.
Below are 6 popular kitchen island ideas in Singapore that you can consider when renovating your kitchen.
Kitchen Island with Ceiling Mounted Racks
Create a statement centrepiece with a kitchen island that comes with chic overhead storage. Besides maximising your floor and ceiling space as storage areas, your overhead storage is designed to be visually appealing at the same time.
Such elegant kitchen islands make very good conversation starters. You can proudly display your collection of exquisite wine glasses, crystal ware, pots and pans in the overhead section.
Compact Shaped Kitchen Island for Small Space
Kitchen islands need not be a rectangle. Most BTO units have small kitchens where space is scarce. A box-shaped kitchen island provides your kitchen with a compact additional working space that is tailored to the size of your kitchen.
For kitchens with an unconventional layout, you can customise your kitchen island with an odd-shaped design to maximise your cooking space.
Tall Bar Island for Socialising
If you constantly have guests over at home, a bar-height kitchen island would bring a modern twist to your kitchen. A home bar island exudes a casual setting for your guests to socialise while you're cooking up a storm in your kitchen.
Best of all, the taller the bar island is, the easier it is to keep your messy kitchen out of sight from your living area.
However, if you have young children at home, a bar-height kitchen island may not be so practical. It would be difficult for children to utilise that space for family bonding. Climbing onto those tall stools would be quite cumbersome and dangerous for young kids.
Multi-Functional and Practical
Most kitchen islands function as a secondary kitchen. They provide additional space for prepping simple food and socialising.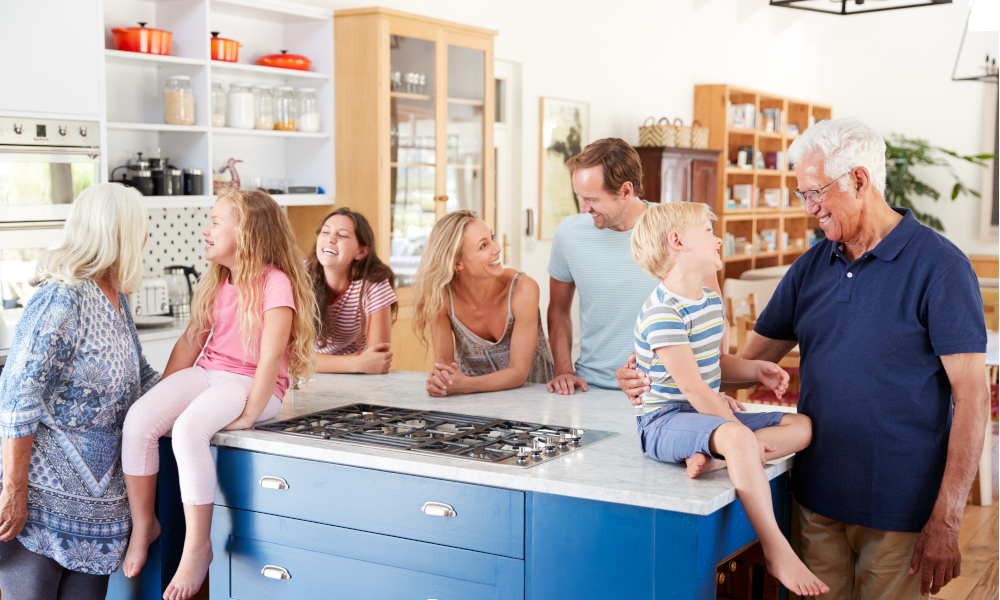 However, if your kitchen island is the designated main area for preparing food, dining and bonding, we would recommend installing a counter-height island for practical purposes. It's easier for family members of all ages to come together and sit by the kitchen island.
When your kitchen island is designed for heavy use, make sure that your countertop material is durable and resilient to stains, dirt and scratches. Countertop surfaces like Silestone quartz and Dekton can preserve the longevity of your kitchen island because they can withstand the elements and are very hygienic.
Multi-Tiered Kitchen Island
A two-tiered kitchen island provides a visually interesting space to segregate different activities. You can combine both bar and counter levels into one with a double-tiered kitchen island.
The counter-height part of the island can be fitted with a sink and stove. While the bar-height side can be used for serving. The height difference will prevent those seated for a meal from water splashes and oil splatters.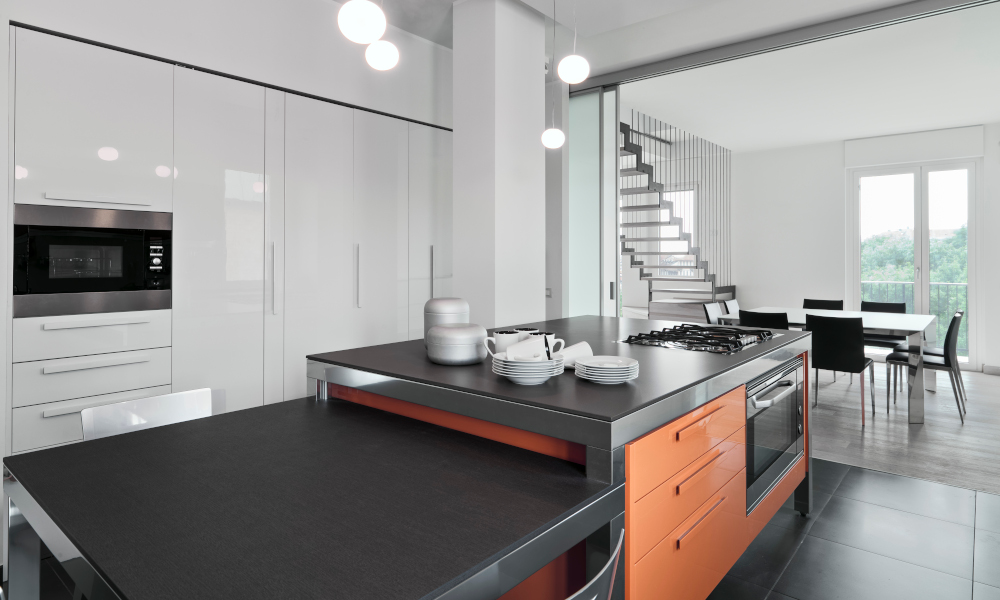 Another style you can opt for is the elongated kitchen island with an attached dining table. This style works for homes that are long and narrow. It provides a seamless connection from the kitchen to the dining area all in one space.
For smaller spaces, you can choose to have a cantilever-style dining table to free up your floor space.
Portable Working Space on Wheels
Most times, we visualise kitchen islands being permanent fixtures in homes. But in a small kitchen, having a perpetual kitchen island taking up precious space may not always be practical. Does that mean you can kiss your island dream goodbye?
There are portable kitchen islands that can be added to your home if you love having both flexibility and function. When you need extra prepping space, these moveable islands offer you additional storage and working surface to prepare food. Since the island comes with wheels, you can easily wheel it out of the way when you need the extra floor space.
Kitchen Island Ideas from Experts
We sought advice from Eddie Tong, designer at HFH Design & Build Pte Ltd on what to consider when selecting a kitchen island countertop.
He has shared three main considerations for homeowners before getting a kitchen island: Lifestyle, priority and countertop material.
Lifestyle
Eddie has suggested that homeowners evaluate their lifestyle because this will define the function of the kitchen island and the activities that would be performed on it.
For instance, do you bake often? Are you using the kitchen island as a food preparation table? Will you be using the kitchen island as a dining table?
Priority
As a homeowner building a kitchen island, you should also consider what is important to you. "Some homeowners value function and practicality while others may prioritise aesthetics to create the interior decor/theme they seek to achieve," Eddie elaborates.
He considers this to be an important aspect because different households have different priorities. Some homeowners value functionality and practicality, while others may emphasise aesthetics to achieve the interior décor of their dreams.
Countertop Material
Eddie added that different countertop materials have different properties such as heat resistance, scratch resistance, stain resistance, chip resistance, porosity, appearance, ease of cleaning and maintenance. Having a good understanding of its properties will help you decide if the countertop is really for you.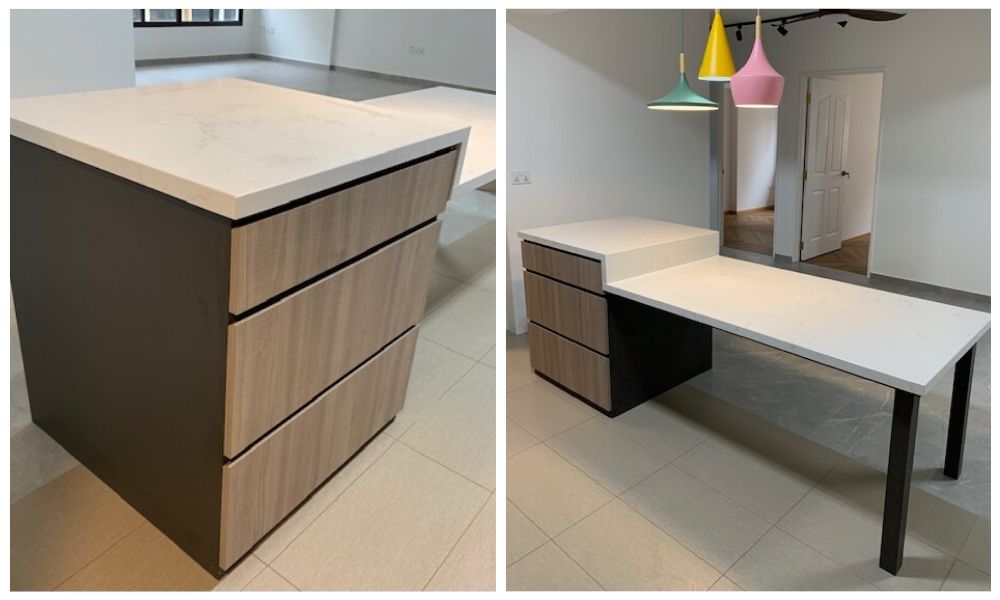 Above is an example of a kitchen island of an HDB unit in Fernvale that has been designed by Eddie from HFH Design & Build Pte Ltd.
The homeowner wanted to make use of the kitchen island as a food preparation table – hence, the taller section that allows ease of working while standing up. The island doubles up as a dining table where the household organises monthly steamboat dinners with their extended family members.
The quartz countertop featured here is the Aurastone 1107 Velvet Filo. It has the properties suited for its intended use and excels in the aesthetics department with its elegant-like marble veins.
Popular Kitchen Island Ideas for Every Home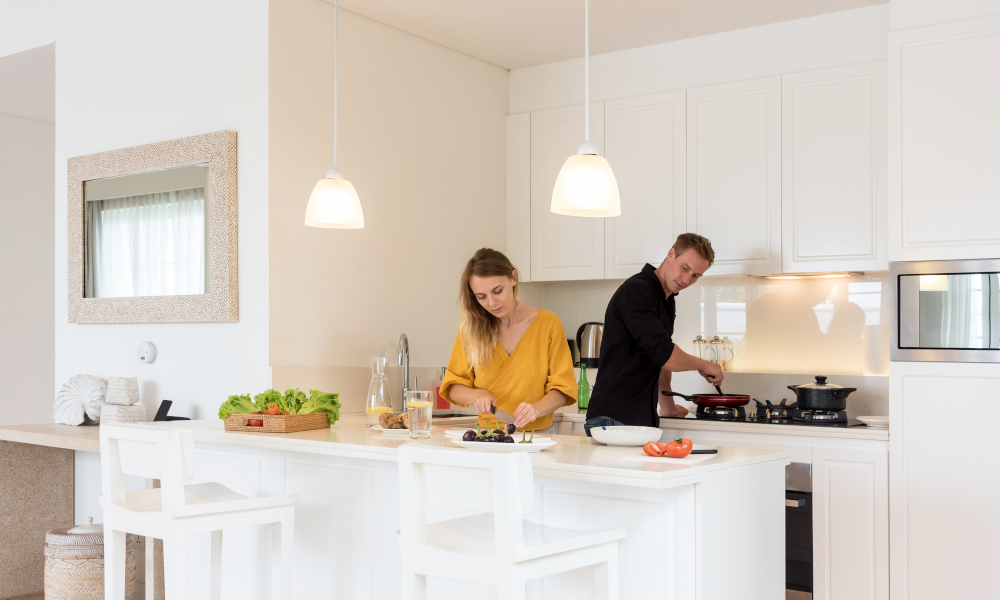 Elevate your cooking space with both the style and function of a kitchen island. Whether you're going for a luxe modern look, bold design, or a charming rustic theme, there is a kitchen island that is bound to fit your needs and personality.
Aurastone offers a range of stylish countertop materials and leakproof-sinks that will complete the look of your kitchen island. Contact us for an appointment with our in-house experts.