We all dream about having a huge, open, and luxurious kitchen. These dream spaces are usually featured on TV shows and movies – they always have gorgeous quartz countertops, stainless steel appliances, and a large, functional island.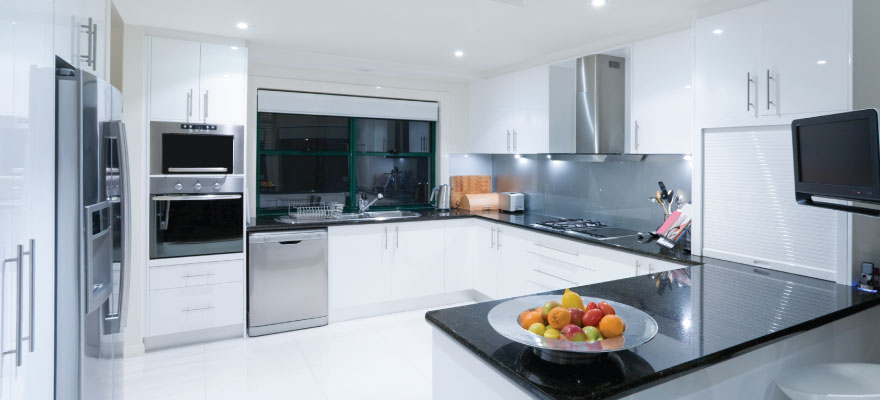 Unfortunately, we can't all afford the kitchen of our dreams. In Singapore, you are looking at $13,748 per meter in the real estate market. That means our kitchen dreams need to scale down to size. The kitchens in our HDB flats are not known for their luxurious sizes.
However, small HDB kitchens aren't automatically bad kitchens. With some ingenuity and smart interior design, you can transform any part of your home into a stylish and highly functional area.
Check out these excellent small kitchen ideas to see how you can revamp your kitchen and make the best out of the humble space you have.
1. The Multi-Purpose Kitchen Cart
It's practically a national pastime to complain about how small our HDB flats are. But say what you will, scarcity does compel us to become more creative and resourceful.
The multi-purpose kitchen cart is an alternative to a stationary kitchen island. It takes up less space and offers you the mobility that a kitchen island does not. When it's not in use, simply wheel it away to a corner to make space in between.
Besides the extra work surface, multi-purpose kitchen carts come with extra storage. And, if you get one with a dining surface, you can use it as a dining table too. To complete the look, go ahead and select some matching stools.
2. Get Creative with Counter Space
Of course, one of the most common complaints from those with a small kitchen is the lack of counter space. After all, how can you possibly throw a dinner party for your best mates when you have to do all your prep work over your stove?
Thankfully, clever designers have invented tons of ways to deal with this issue. One of them is to look for a cutting board designed to fit over your stove or sink. This nifty accessory comes in interesting designs. Some cutting boards come with a strainer to allow extra juices or water to flow right into the sink.
3. Hide in Plain Sight
Most people look at a small kitchen and wonder how they'll ever fit all their cookware in there, but this problem is one of the easiest to solve.
Who needs storage space when hanging racks are perfect for pots and pans? Hanging your pots and pans keeps your cabinets free of clutter while creating visual interest. Consider installing a rod over a space for hanging containers. You can find these in many styles. Then, just add your utensils!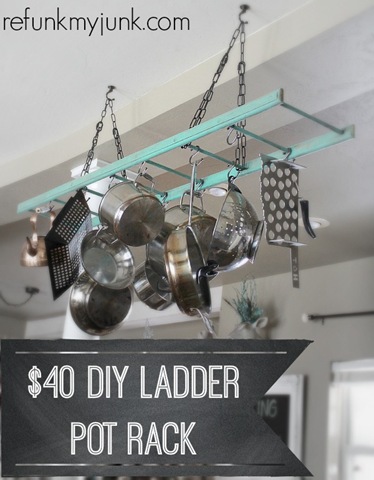 Some people don't enjoy seeing their cookware and utensils hanging out in the open. Their brains process this as clutter.
Instead, find some nice storage boxes that blend in with the surroundings and store your items in those. You can even label them to improve organisation.
4. Make Use of Vertical Space
What you lack in floor area, you make up in vertical space. So, maximise your entire wall for storage with tall elegant kitchen cabinets.
Items that are rarely used should be stored at the topmost shelves. Be sure to add a cute but sturdy stool to get to the hard to reach places.
5. Install Mood Lighting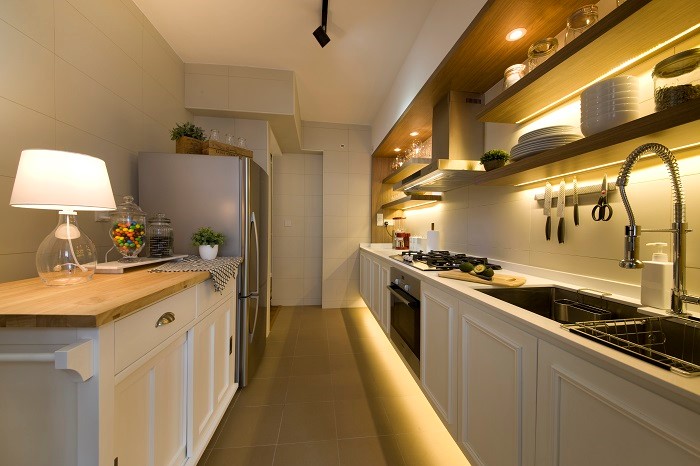 Your HDB kitchen might be small, but with the right lighting, you can make it feel more spacious and comfortable. This flat in Anchorvale Crescent has a really small kitchen but the use of lighting makes it feel more spacious than it is.
You also want to be able to adjust the light accordingly depending on how much natural light you're getting and the activity. You'd want really bright lights when chopping onions but might go for something more intimate when having dinner.
6. Build an Adjustable Bar Counter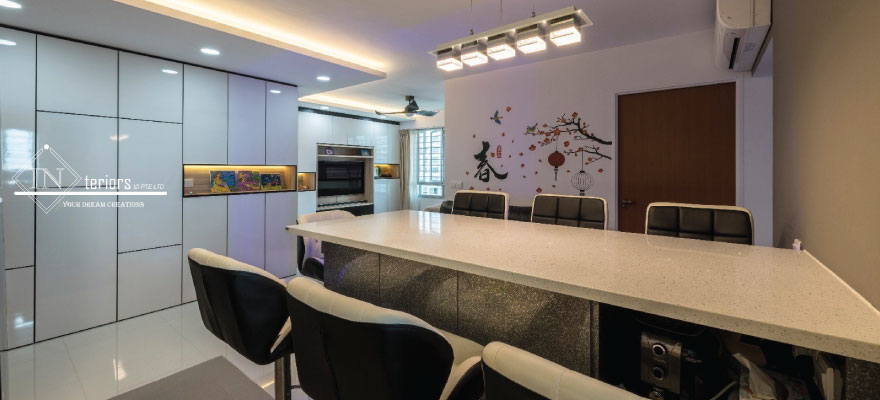 (Credit: Interiors ID Pte Ltd)
While this may require a bit more investment than our other suggestions, a bar counter or breakfast bar is a great way to make your kitchen feel more spacious and airy.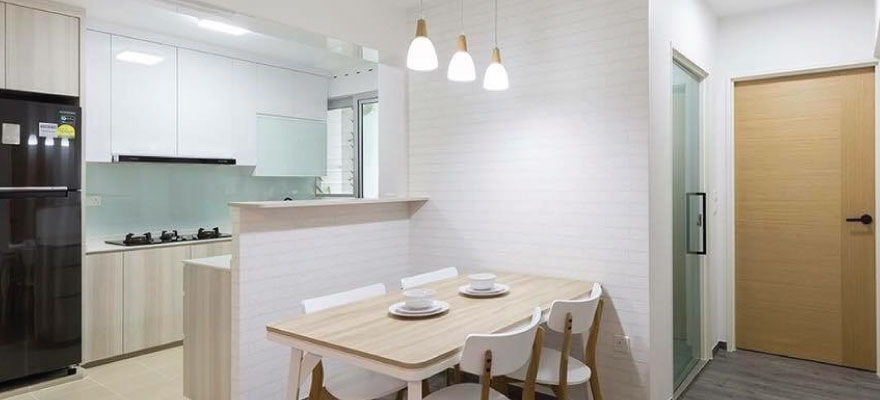 (Credit: Team Interior)
It makes for a great spot for casual dining and also improves interaction within the home. You can cook while having your guests hang around the counter. Enjoy drinks and each other's company while you're cooking, rather than slaving away alone in the kitchen while they wait awkwardly outside.
However, if you want more space, instead of a peninsular, you can opt for a wall-mounted collapsible counter. It can double as a dining table, a bar, or an extra countertop space. When not in use, just adjust it parallel against the wall, and you'll free up more kitchen space.
Kitchen Design Basics
Before implementing these ideas, you will need to get your basic kitchen designs right, regardless of kitchen size. A poor kitchen layout with awkward corners will be a source of your never stepping into the kitchen again.
Your kitchen efficiency is judged based on the unobstructed distance between the stove, fridge, and sink. These three points form the invisible work triangle. Any obstruction within these points will impact your cooking experience.
Below are the basic kitchen layouts that work well for small HDB kitchens.
Corridor Layout
The corridor layout is sometimes called the galley kitchen. This is a common layout for small HDB kitchens with narrow walls.
Basically, your kitchen apparatus is parallelly placed against both walls. Your cabinets and countertops are facing each other. Between them is a walkway where you can effortlessly access your stove, sink, and fridge.
I Shape
Unlike the galley which makes use of both sides of the parallel walls, the I Shape layout is the simplest kitchen design for a tiny kitchen. Your countertops, stove, cabinets, fridge, and sink are all lined up in a straight line against one wall.
This design works well for an open kitchen concept because it doesn't take up space.
L Layout
The L layout is the most popular kitchen layout for most homes. This style can easily fit into a kitchen of any size.
Your kitchen needs are placed against two adjoining walls in the shape of an L. The fridge, stove, and sink are strategically located within the three points of the triangle for an ergonomic and efficient workflow.
U Shape
This layout is most suitable for larger kitchens. However, small kitchens can also benefit from the U shape design with a little hack.
It's an improvised L shape kitchen with an added peninsular to create the U layout. To create an illusion of space, a floating peninsular is a stylish way to provide more legroom when you're using it as a dining area or workspace.
In a small HDB flat, this nifty peninsular creates a subtle demarcation between the living room and the kitchen.
More Ideas for Small HDB Kitchens
With these six ideas for small kitchens, you're ready to transform your cooking space into a room even Martha Stewart would envy.
Of course, it's always a good idea to take a few tips from the professionals. Contact Aurastone to see how we can help you jazz up your small HDB kitchen with high-quality quartz kitchen countertops and leakproof sinks!