Do you have a dedicated home office? How comfortable is your home office?
Before the pandemic, the home office was just a makeshift area at home. However, after Covid-19 struck, working from home has become the new norm. As such, the home office has become an integral part of the house because this is where you work most days now.
If you're working from home, below are ways to make your home office more comfortable.
Back Support is Important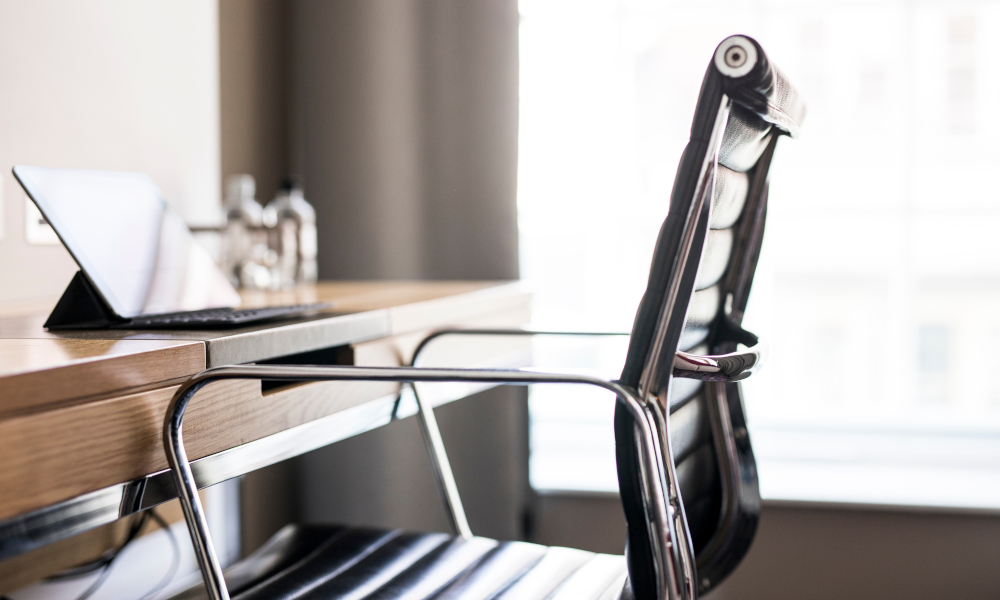 Besides your team, your chair is your biggest (back) support at work. If you're seated for too long on a chair that gives you all kinds of aches, you'll inevitably be sluggish and unproductive at work, through no fault of yours.
Invest in an ergonomic chair, one that is adjustable in height and gives you proper back and arm support. Your back and neck will thank you for it.
Stay Fitter with an Adjustable Standing Desk
Even though you may have a great chair, sitting for long hours will lead you towards a sedentary lifestyle. You're encouraged to stand up and practice varied working postures to allow some stretching and movement.
This can be solved by changing your conventional desk to an adjustable standing desk. With a simple touch of the control panel, the desk can easily switch from your ideal sitting height to standing height.
So take the Zoom call while standing comfortably without hunching over your desk. There are many benefits of having a standing desk. It allows you to combine light fitness routines while at work without compromising your efficiency.
Ample Lighting
If your home office is by the window, draw the curtains wide and let natural light stream in. Besides saving money on electricity, natural lighting has a positive and energising effect.
However, if your office corner looks dark and gloomy, make sure to brighten it with overhead lighting. Don't let yourself hide in the shadows even at home.
An Organised and Clean Workstation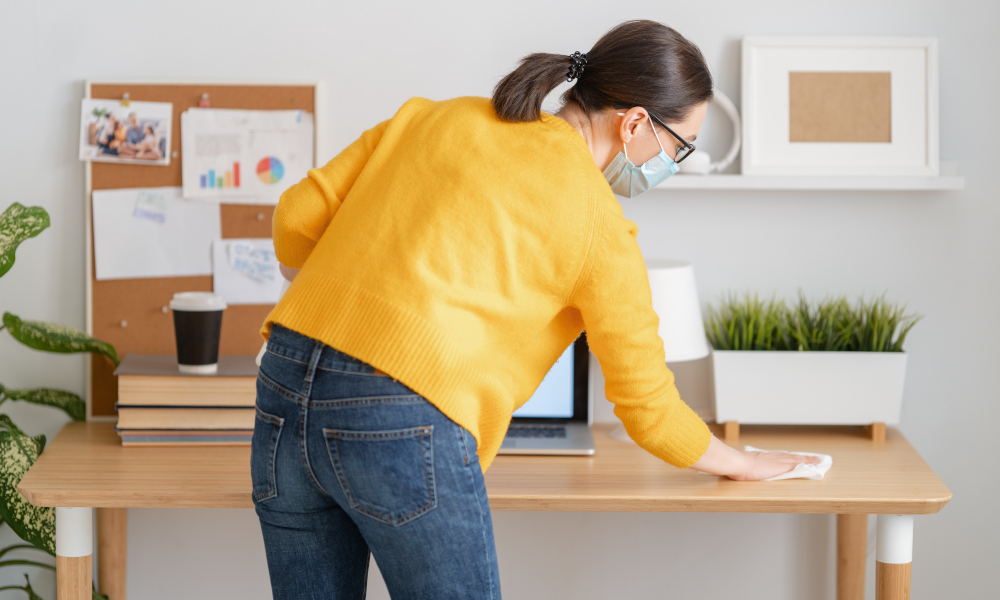 Make it a habit to keep your workstation organised and clean. This means tying up your loose wires, filing your documents, and wiping up the dust and coffee stains from your desk.
A tidy work desk will save you a lot of time and increase your efficiency. When you're rushing, you don't want to be sifting through any unnecessary pile of papers just to look for your missing document.
Also, cleaning up your work area is much easier when it is spick and span. After all, if you're going to be working (and eating) at your desk, keeping it hygienic will benefit your health and wellness in the long run.
Good Ventilation and Fresh Air
Don't be cooped up in a stuffy room. Open the windows for fresh air.
However, if you're in an air-conditioned room where you cannot open the windows, consider buying an air purifier with HEPA-grade filters to filter out most of the harmful airborne particles and odour.
Diffuse Essential Oil
Who doesn't like working in a nice-smelling room? Indulge in a little aromatherapy to awaken or relax the mind.
Peppermint, lemon, or any citrussy essential oils are great to keep you refreshed and energised. However, in stressful situations, diffusing lavender essential oil will help keep you calm.
Essential oils are potent and therapeutic, hence, diffuse with care according to their instructions.
Add Greenery to Your Home Office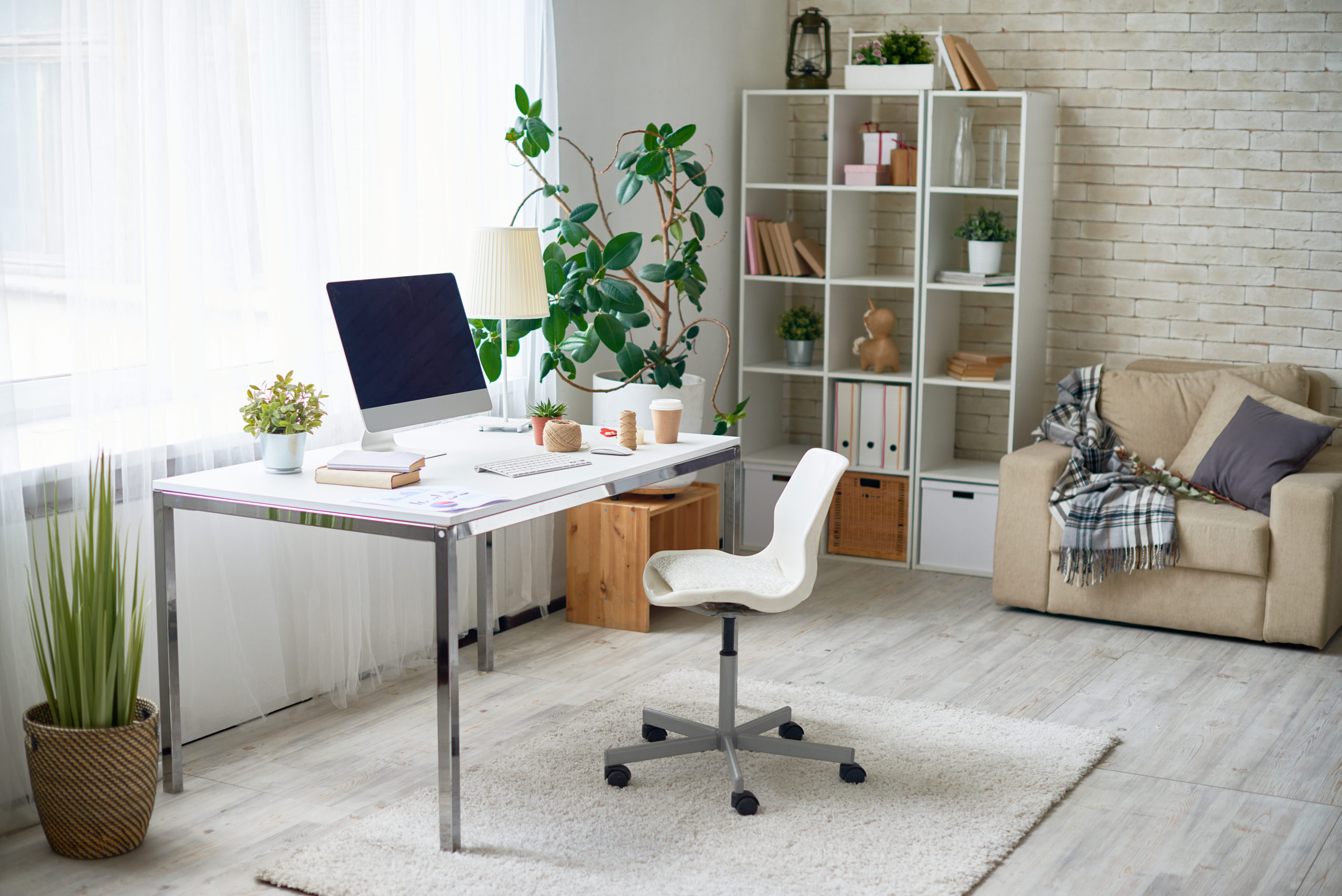 When you're working in an urban jungle, there may be nothing but concrete when you look out of your window. Integrate nature into your workspace with some decorative indoor plants.
Plants produce oxygen to keep the air fresh. Also, being surrounded by greenery helps you destress during tense moments at work.
Just don't forget to water your plants and keep them near natural lighting to help them flourish.
Invest in Noise Cancelling Headphones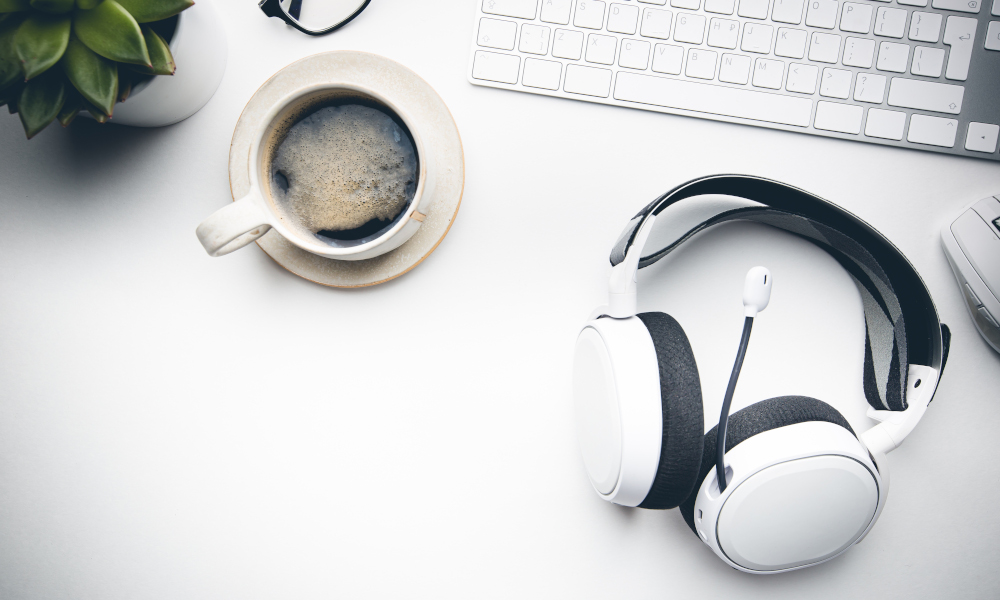 Do you have young children at home? Or, are you sharing the same working space with your spouse?
When you have virtual meetings where you have to talk and focus on what others are saying, it can be a challenge when you're competing against the cacophony of background noises. Imagine this: Sounds from the television, kids crying for attention, and chattering of other household members.
Having a pair of noise-canceling headphones is bliss! It helps you focus better at work, as well as to conduct more successful meetings without having to repeat yourself and asking others to repeat themselves.
Make Your Home Office More Comfortable for High Productivity
When you make your home office more comfortable, you'll be able to perform effectively and efficiently like you would in a regular office setting. Make sure to keep distractions at bay, such as setting time boundaries between work, entertainment, and rest.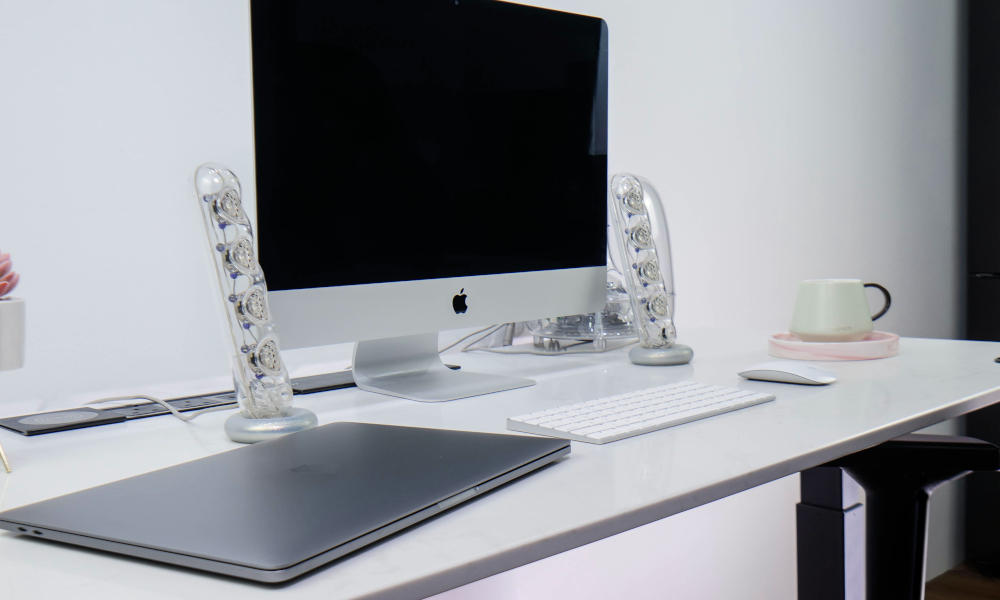 Are you looking for a standing desk to complete your home office? Unix Singapore has created the world's first quartz standing desk – Uniq.
Uniq is handcrafted from premium quartz and comes in a wide selection of designs and sizes. Best of all, Uniq is resistant to stains, impact, and scratches, and has an anti-microbial surface. If you're looking for a stylish designer desk that is versatile, timeless, long-lasting, and hygienic, Uniq is the best home office solution!