When designing your kitchen, it is necessary to choose the right type of stove. However, the variety of models and styles offered on the market can make the decision quite challenging. In this blog post, we will discuss the most popular types of kitchen stoves. We will also provide a brief overview of the most important features to help you decide which model is best for your needs.
Kitchen Stove Types & Styles
Essentially, there are three styles of kitchen stoves:
Freestanding: Easy to fit and typically the most affordable style.
Slide-in: Sleek in appeal with a built-in flair and are counter-depth, usually featuring front controls.
Drop-in: Counter-depth with front controls, leaving space for cabinetry below.
Types of kitchen stoves are usually determined by the fuel that powers the appliance. The standard range includes electric, gas, induction, and dual-fuel models.
Electric Kitchen Stoves
Electric stoves are probably still the most popular type worldwide. They are user-friendly and also relatively inexpensive to purchase and install. Electric stoves typically come with a number of safety features, such as automatic shut-off valves that prevent fires. However, they can be slow to heat up and limited in reaching high temperatures.
Gas Kitchen Stoves
Gas stoves are another widely popular option, mostly due to their price range and ability to maintain a consistent flame at high temperatures. However, gas stoves require more maintenance than electric ones, and they can produce carbon monoxide if not adequately ventilated.
Induction Kitchen Stoves
Induction stoves are a newer option on the market, equipped with magnetic fields that reach very high temperatures quickly. While a more energy-efficient option than other types, they also belong to a higher price range and require special cookware compatible with the magnetic field.
Dual Fuel Stoves
Dual fuel stoves are a combination of gas and electric stoves – typically featuring a gas cooktop and an electric oven. They have the benefits of both types of kitchen stoves, but they are also more expensive than either one alone.
Kitchen Stove Cooktops
There are two common types of electric stove cooktops: coil and smooth.
Coil cooktops are the more traditional type. As the name says, it generates heat using metal coils, either exposed or covered. A range hood of some sort is often present to provide adequate ventilation. For decades, this stove type has represented a golden standard in homes.
Smooth cooktops are newer and distinguished by a sleek ceramic surface that heats up quickly. They are more convenient and easier to clean than coil models but less affordable at the same time.
What to Consider Before Buying New Kitchen Stove
When you are shopping for a new kitchen stove, there are a few steps to follow:
Make a budget
Take measurements
Decide what fuel type you prefer, if optional
Explore additional features
Choose a kitchen stove type, style, and number of burners
Budget
The extensive market offer features everything from budget-friendly appliances to a top-class pro range. Setting your budget limits in advance will save your time and spare you the hassle of falling in love with something you can't afford. Determine what you consider affordable and explore that group only.
Measurements
Not all stoves are the same. Before you choose one model, you need to make sure it fits the space where it will be installed. Also, check the oven opening and closing to prevent clashing with its environment.
Fuel Type
Standard kitchen stove fuel types include electric, gas, induction, and dual-fuel ranges. However, switching from one type of fuel to another requires a professional – electrician and/or a plumber. Make sure that additional expenses are included in your budget if you plan to make such changes.
Additional Features
You will also want to decide if you want a stove with convenient functions, such as self-cleaning or Wi-Fi control.
Warming drawer: Nobody wants to eat cold food. Getting a stove with a warming drawer will let you organize better and maintain your dishes in perfect shape for serving.
Double oven: A kitchen stove with a double oven allows you to cook the main course and side dishes (or dessert) together. Some models also include the option of different temperatures for different foods.
Downdraft cooktop: Equipped with a fan to absorb and remove steam and smoke, sending them up through a duct grate, it eliminates the need for a range hood.
Self-cleaning: The name might be slightly misleading, but the function is still helpful. This function releases heat or steam to carbonize food residues and stains, making it a breeze to remove them after.
Smart stoves: Automation and Wi-Fi connectivity allow you to control the cooking process from your phone or computer.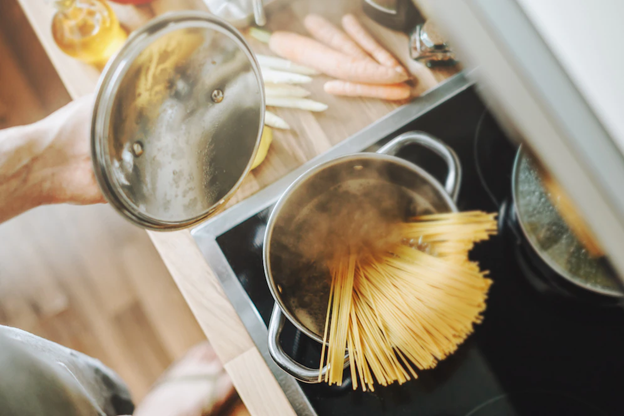 So, which type of kitchen stove is right for your new home?
The truth is, it all depends on your needs and cooking habits. If you want a versatile option that can do it all, then a gas range packed with additional features might be the best choice. If you're looking for an affordable alternative that doesn't require a lot of upkeep, go with a simple electric stove. Whatever you choose, if it fits your lifestyle and cooking habits – it can't be wrong.