When you were a little kid imagining you were furnishing your dream home, it was not likely that the humble kitchen sink played any part in your fantasy. Except perhaps, vague memories of you splashing water in the kitchen, much to your parents' chagrin.
So, when pretend play becomes reality, sinks can be hard to choose because it's not something we tend to think about. However, kitchen sinks are an integral part of the kitchen from the start of food preparation to cleaning up after a meal.
Well, you're in luck, though. We have compiled a guide to sink-buying that should give you a solid foundation on where to go next. We'll cover a few popular sink styles, different sink materials, and other factors that you might consider.
So, if you're a person who's doing or planning to do some renovation work in the kitchen and are in the market for a new sink but can't make a decision on one yet, you are in the right place!
Types of Kitchen Sink
There are hundreds, if not thousands of different sink styles out there. There is no way to cover them all in this article. Hence, we're going to focus on some of the main ones which are popular in Singapore.
The Farmhouse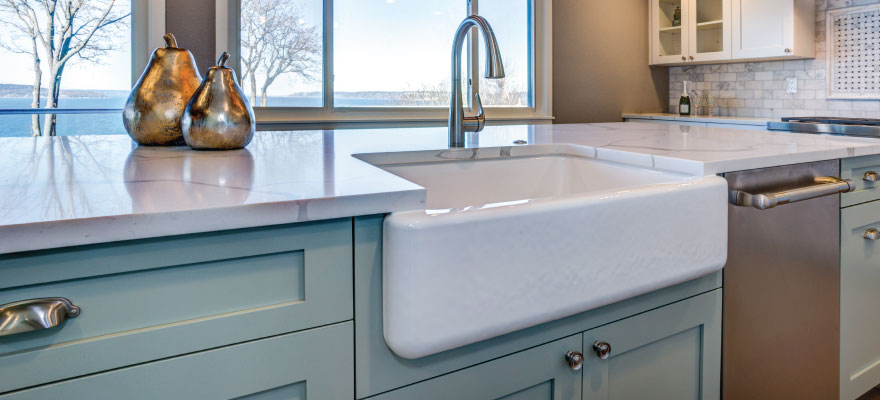 The Farmhouse is a one-bowl sink, typically with a single faucet as well. The bowl is very deep and long, with a lot of room for dishes and other larger, washable items.
You can easily recognise the sink by the exposed front part of the sink bowl. This style gives a great, spacious feel to the kitchen.
The Undermount

The undermount sink is a sink that is lifted from beneath the countertop and is very popular in Singapore. The faucet and bowl are both fastened from below, giving the feeling that they are coming out of the countertop.
This style gives your kitchen a modern and seamless look.
The Drop-In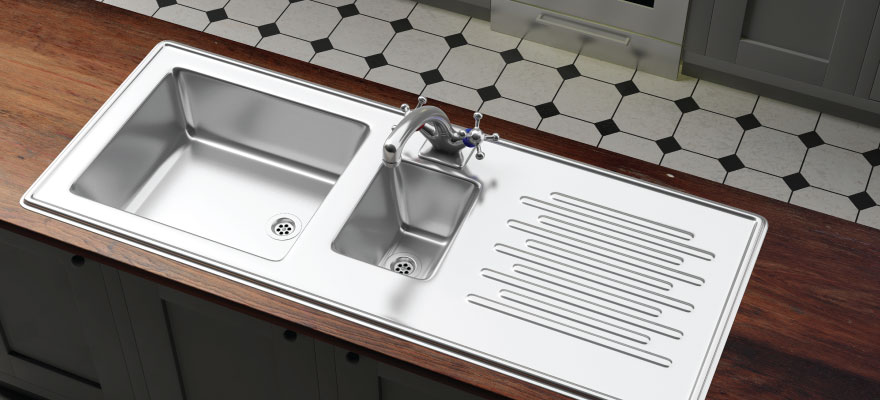 The drop-in sink is also known as the top mount sink. This is not so much of a style as a function of different sinks. The drop-in sink is easy to install because you guessed it, it just "drops in." They are typically reinforced with screws or different clamps underneath the bowl and can have any arrangement of bowls.
The real key is finding a drop-in that has a perimeter that fits your sink space's specifications. Of course, if you find a sink that you just love, you could always adjust the cut of your granite or wood where your sink is meant to sit.
Integrated Kitchen Sink
Homeowners looking for a stylish and minimalist kitchen design may opt for an integrated sink. The integrated sink is where both the countertop and sink are made using one material, either moulded or skilfully fitted to appear seamless.
It is this seamlessness that makes it look elegant and expensive. The countertop and sink are usually customisable according to your specifications, giving it a very unique look.
Kitchen Sink Materials
Now that we've covered a few of the basic types of sinks, let's go over the different materials and why they matter.
Stainless Steel Sink
This is by far the most common material in modern sinks. Stainless steel is clean, easily washable, and it looks great. Stainless steel has a few different looks, and that is because it has a few different possible gauges or tiers of material.
Porcelain Sink
These are a smooth, relatively durable style of sink. Porcelain sinks are also resistant to stains and scratches. Additionally, they are safe at extremely high temperatures and help to block the noise of the pipes beneath them.
Copper Sink
Copper is exceptional because it doesn't rust. It isn't likely to change at all because of its durability. The only change will be the time-stamped finish that copper sinks have. Each copper sink develops differently over time, and this patina gives a unique feeling to each one.
Stone SInk
Stone sinks can be made from natural stone or engineered stone. Among the popular stone sinks are granite, marble, soapstone, and Silestone quartz. Stone kitchen sinks look extravagant and classy. But despite being tough as rock, but they may require more maintenance than the common sink to preserve their beauty and shine.
Size, Width & Depth
The size, width, and depth of your kitchen sink will depend on your lifestyle and how you intend to use it.
Will you be entertaining often? Do you have a dishwasher or will you be washing your plates in the sink?
How many sink bowls do you need: one or two? Choosing the sink with the correct size, width and depth will make your life much easier.
Of course, while the larger the sink, the more functional it is, you will need to consider the size of your kitchen as a whole. A large sink will take up much of your countertop, and possibly, cabinet space.
Sink Support
Weight matters. When selecting your kitchen sink, pay attention to your countertop and cabinetry structure. A fragile countertop and cabinet may not be able to support a heavy sink.
Bear in mind that farmhouse sinks can be extremely heavy, weighing between 45kg to 91kg. Are you prepared to reinforce your cabinet structure and adjust your countertop?
Insulation
Is your kitchen sink insulated? This is an important factor to consider, but not many people are aware of this.
A sink that is too thin and not insulated may result in water condensation underneath the sink (the hidden part of the sink within the cabinet). This is the same reason why you may find mysterious puddles of water on your cabinet floor.
While it's not exactly a leak because it isn't caused by any holes or gaps, the water droplets that form at the bottom will dampen the cabinet from within. If it goes unnoticed, mould may grow and the wood in the cabinet may start to rot.
Cost
There is a varying price range between premium and cheap kitchen sinks in the market. A cheap kitchen sink may be gentle to your wallet during the initial stage, but it may cause you significant financial outlay in the future.
Cheap sinks have a reputation for leakages. The time and money spent to repair them are not worth the present savings.
Nonetheless, a premium kitchen sink may not be always the best either. Some sinks require dedicated care and maintenance to stay pristine and beautiful.
Leakproof Design

This is one of the most important features you need to consider. Unfortunately, most homeowners, especially first-timers, take it for granted that their sink is leakproof. That's not the case. A leaking sink is more common than expected and can cause considerable damage. On average, homeowners spend S$2,750 for kitchen cabinet replacements due to sink leakages.
This is a problem for both traditional undermount and drop-in sinks.
Furthermore, the majority of homeowners do not know they have a kitchen sink leakage until they smell the pungent odour of rotting wood. By then, it's too late.
To solve this problem, the team at Aurastone has worked hard to develop the patent-pending Aurasink. It offers a leak-proof ridge design that prevents water from leaking from your sink and destroying your cabinets.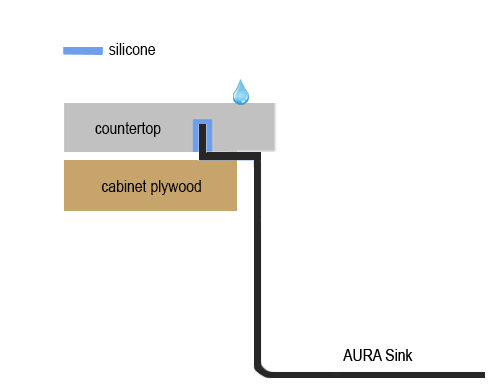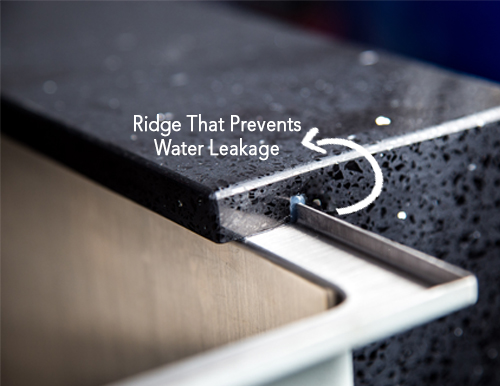 We even have a customised clamping system to give homeowners extra peace of mind by ensuring that the silicone is firmly applied to the ridge.
To sweeten the deal, Aurasink is insulated to prevent condensation below the sink.
Aurasink is available in 4 sizes with a choice of a single or double bowl undermount sink. Best of all, you can get this revolutionary sink at an affordable premium, starting as low as S$400.
Choose Your Kitchen Sink Wisely
There are people out there who can help you make your kitchen sink decision. Do not leave it as an afterthought. Speak to your interior designer and hear what they have to say as soon as you can.
If you're looking for more information on our innovative Aurasink, visit our product page or contact us directly.