Traditional dining room tables are generally constructed of wood. However, despite its proven advantages, wood isn't the only option. Depending on your needs and lifestyle, it might not even be the best one. If you have a dynamic family or frequently host dinner parties, you probably have to deal with spills, scratches, and stains.
That's where quartz comes by as an excellent tabletop alternative for your dining table.
Quartz is not only the perfect material for your kitchen countertop, but using it for your dining table can result in a magnificent, breathtaking focal point that's highly practical at the same time.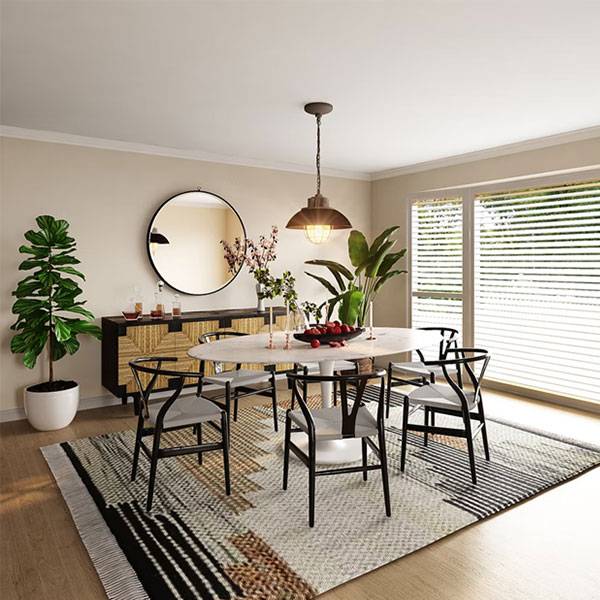 Why Use Quartz Stone for Your Dining Table
Quartz is a highly durable mineral characterised by exceptional hardness.
Due to its properties, it is commonly utilised to make premium kitchen countertops, tabletops, flooring, and bathroom features. The Aurastone installation team has installed thousands of these quartz countertops over the last few years. You can view our latest projects here.
This stone's beautiful aesthetics is emphasised by naturally occurring motion and colour, as well as less veining than marble, making it as attractive in visual appeal but more advantageous in functionality.
Quartz comes in an extensive variety of colours and styles, so you're bound to find one that perfectly fits your space.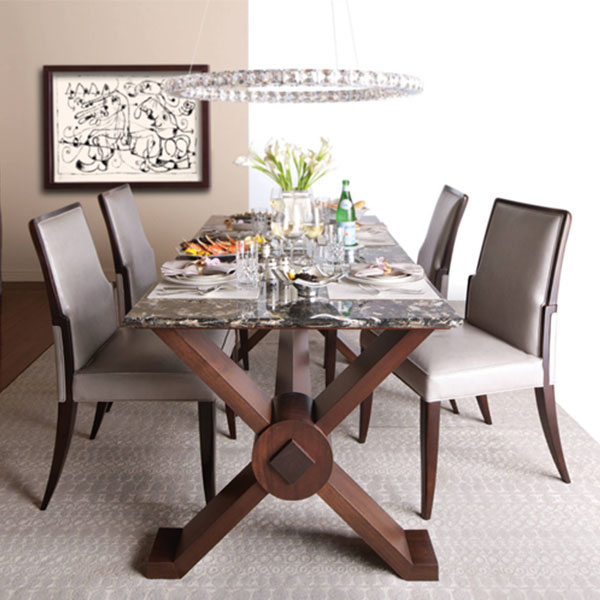 Not only is quartz stone a great investment that will last for years, but it can also increase the value of your home. Quartz tabletops add a touch of glitz and make your dining area appear higher-end.
They're also distinguished by high damage resistance and low maintenance requirements.
Moreover, quartz is also an environmentally-friendly solution, made from recycled materials, sometimes combined with natural stone scraps and leftovers.
Advantages of Using Quartz Stone for Your Dining Table
A dining table is one of the key pieces of furniture in any home. It's a hub where family and friends come together to share both meals and memories.
Choosing the right material for your table will augment the aesthetic factor, making those moments more valuable.
Quartz stone is a popular choice for many homeowners due to its properties, so let's explore the top ones.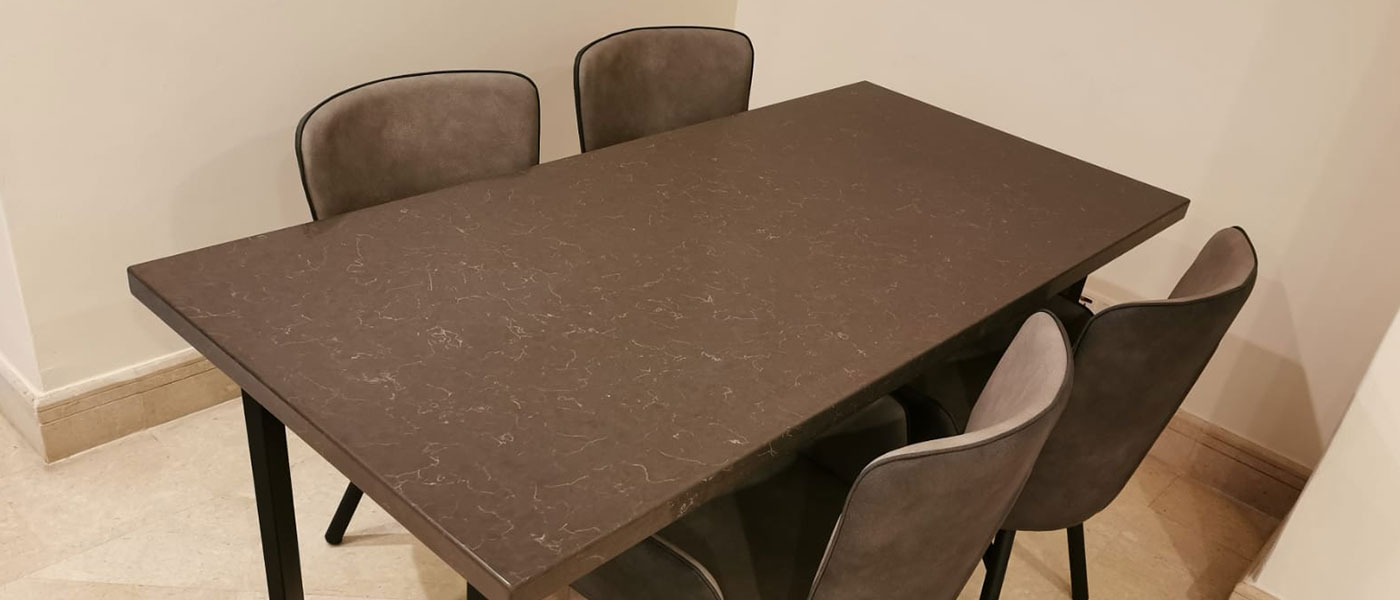 Hardness
Quartz stone is one of the most rigid materials on Earth. It is twice as strong as granite and will not scratch, chip, or break easily. That also means your dining table will be able to withstand heavy use.
Durability
This very durable material is also able to resist extreme temperatures. It is invulnerable to both heat and cold, making it an ideal choice for dining tables in active cooking environments.
Ease of Maintenance
Quartz stone is a very low-maintenance material as it does not require sealing or polishing. It is also non-porous, meaning that it does not absorb liquids or spills. These properties make quartz ideal for family dining tables – any spills can be quickly wiped away without staining the surface.
Aesthetic Diversity
Engineered quartz stone is available in a wide variety of colours and patterns. Whether you want a classic white appeal or something more distinctive, there's sure to be a quartz option that fits your style. Moreover, with some imagination, you can come up with a truly unique and stylish dining table design. Here are some ideas to consider:
Creating a table as a kitchen island extension
A waterfall edge
Abstract forms instead of a standard rectangle
Affordability
Many quartz stones simulate the look of high-end materials, such as marble, granite, or onyx. That means you can obtain a very elegant tabletop for a fraction of a standard price. In addition, you will also skip the hassle of regular upkeep and care that natural marble would require.
Customise Your Own Quartz Dining Table
Using quartz stone for your dining table will provide a durable, easy-to-care-for surface with a striking visual appeal. It will stand up to the wear and tear of everyday use and continue to look beautiful for years to come.
We believe so much in quartz as a great material for your dining table that we started Unix Furniture. Unix Furniture provides designer quartz dining tables that are highly customisable – perfect for any size home or design aesthetic.