Modern lifestyle is dictating the change in kitchen design. What was once a single workstation has evolved into two zones: a wet and dry kitchen. Socialising, work efficiency and increased storage are some of the cited reasons why homeowners prefer to segregate the kitchen.
Even in high-rise dwellings where the kitchens are generally smaller, homeowners are engaging interior designers to incorporate elements of the wet and dry kitchen into the home.
Wet Kitchen vs Dry Kitchen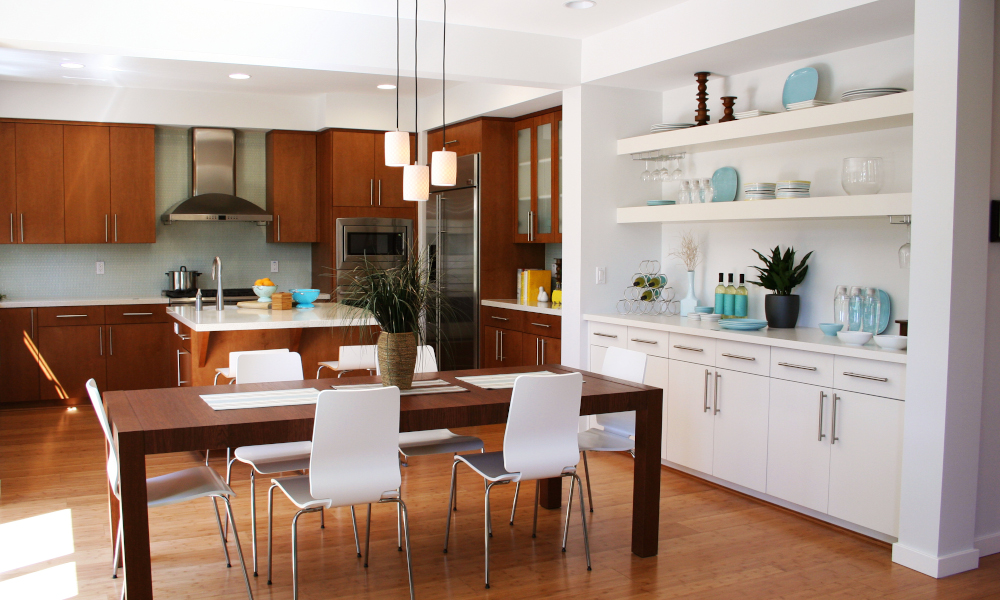 Do you know the difference between a wet kitchen and a dry kitchen?
The wet kitchen is where you deal with the more laborious and complex part of cooking. Here, you will find all the heavy-duty cooking appliances such as the stove, refrigerator, oven, and cooking utensils. If you want action, the wet kitchen is the place to be.
Where the wet kitchen is the workshop, the dry kitchen is your showroom. The dry kitchen is where all the light and simple food preparation takes place. Depending on your space, the dry kitchen can include simple heating appliances like a coffee machine, microwave oven, air fryer and toaster.
If you have plans to segregate your kitchen, below are some wet and dry kitchen ideas that you can explore.
1. Glass Panels to Allow the Natural Flow of Light
Not every kitchen comes with windows for natural lighting. Smaller HDB units may only have the main windows in the living area for natural lighting. If you want to still maintain a wet and dry kitchen, glass panels are perfect to welcome the natural flow of light.
Glass panels also allow you to keep the cooking fumes within the kitchen area while enjoying the company of your family within view.
2. Private Space
When you're cooking up a storm, the kitchen can look like a war-torn zone even if you battle using your finest culinary skills. While your guests are enjoying the perfectly curated atmosphere in your living area, you may want to keep your mess behind closed doors.
The sight of clutter and greasy fumes aren't always a welcoming sight. A concealed solution is what you need. There are various types of doors to conceal your wet area, from solid wood to dark-tinted glass panels.
If keeping your wet kitchen hidden entirely isn't your thing, you can install a frosted glass panel sliding door for a peek-a-boo effect.
3. The Island and the Peninsular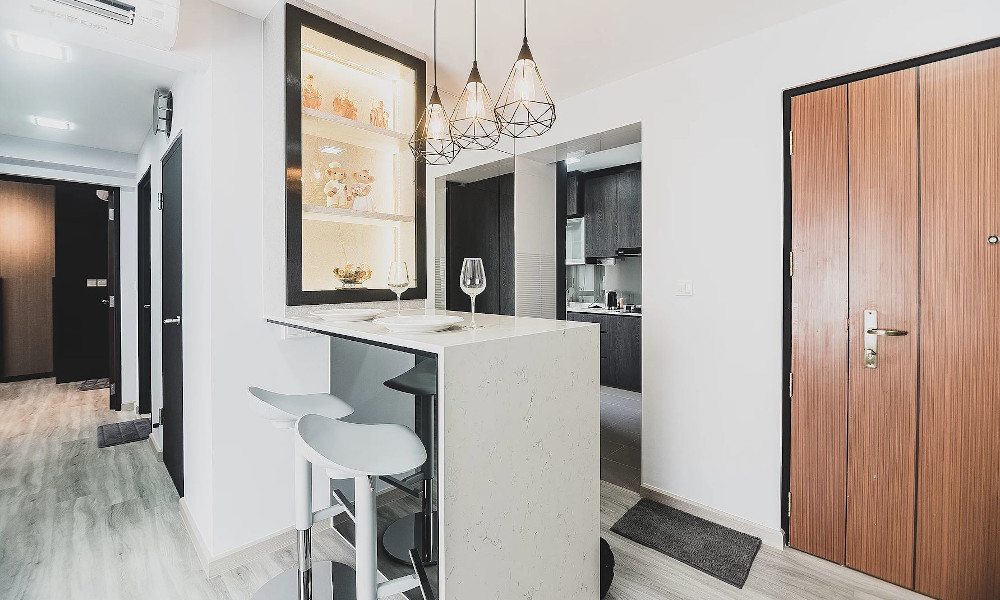 The kitchen island or if there is space constraint, a peninsular, is a clever way to separate the wet and dry kitchen. There are various styles you can incorporate into your kitchen.
Our favourite is a multipurpose kitchen peninsular that doubles up as a dining area. You can also opt for a bar counter to keep the wet kitchen out of sight from the living area while you entertain your guests in style.
4. Different Flooring Designs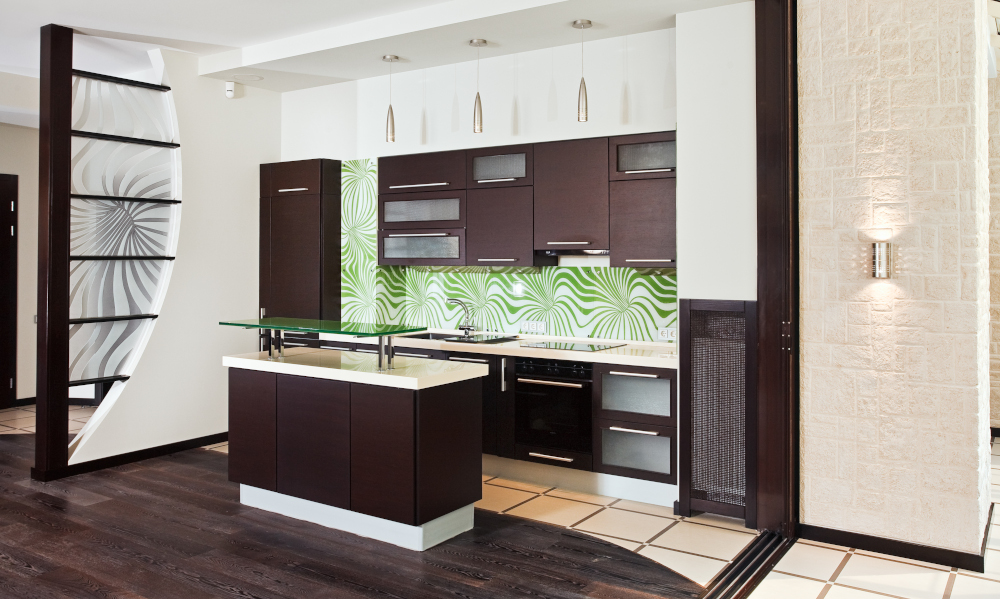 Not every wet and dry kitchen needs a physical separation. The usage of different flooring designs and materials are subtle demarcations between the wet and dry kitchen.
Keep the flooring tiles neutral in the wet kitchen because this busy area should be easy to see and clean. Busy patterns may not always be ideal when you are dealing with splatters from all the cooking. It makes cleaning up a little more tedious.
However, feel free to add a little pizzazz to your flooring in the dry kitchen. The contrast between the floor tiles creates visual interest to your living space.
5. Make a Statement in the Dry Kitchen
Besides patterned flooring, you can dress up your dry kitchen with a pop of colour to give it a little personality. While your wet kitchen oozes understated elegance, your dry kitchen can use a hint of glamour.
Select one or two colours to spice up your dry kitchen, without clashing with the overall theme. You can utilise your backsplash to create contrast and stylish pendant lights for a modern vibe.
6. Opposite Attracts with the Galley Style Layout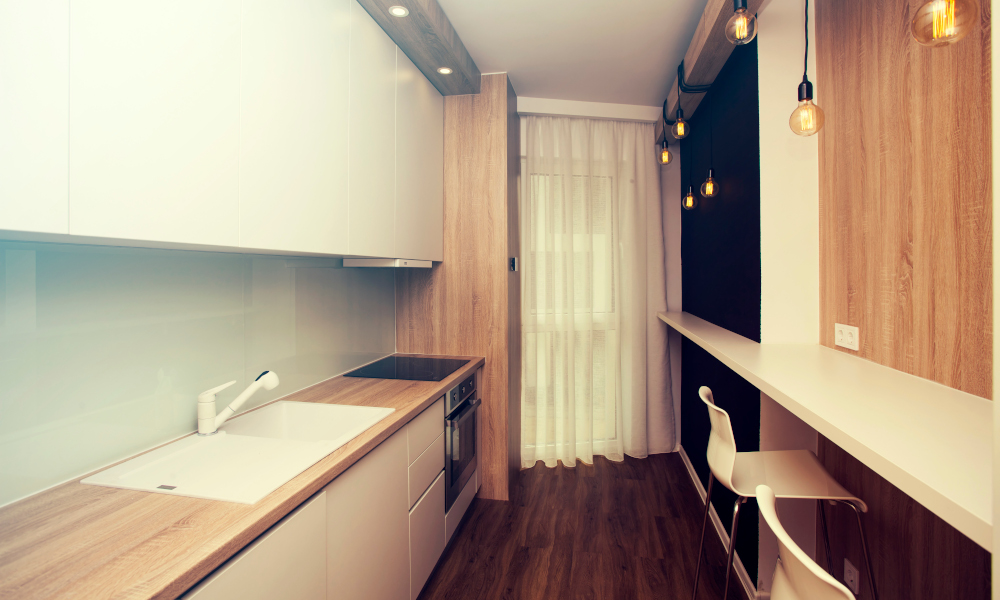 What if your kitchen is a small and narrow galley? Fret not, you can still enjoy the best of both worlds by installing parallel workstations along the two opposing walls.
This is an efficient way to share appliances between the two areas without obstructing the work triangle. Heavy cooking and washing can be done at one counter, while simple food preparation can be done at the opposite pantry area, all within just a few steps.
Countertops for Your Wet and Dry Kitchen
In general, the wet kitchen experiences more action. Picture this: Heat, grease, and lots of cleaning up. Hence, when selecting the countertop for your wet kitchen, quartz is a favourite. Quartz countertops are highly durable, resistant to water and heat, and hygienic. Judging by the cleaning you need to do, you would be grateful for its ease of maintenance.
On the contrary, there is more flexibility in the dry kitchen in terms of materials used for your countertop. As this place is more of a communal area, you can opt for materials like marble and solid surface.
If you're doing some research on kitchen sinks, check out our article on some of the most common kitchen sinks in Singapore.
Aurastone has a wide selection of elegant premium countertops and is the pioneer of Aurasink, a leakproof kitchen sink, both perfect for your wet and dry kitchens. Get in touch with us, and we will help you turn your kitchen dreams into reality.