Are you looking for kitchen wall décor ideas to revamp your kitchen ambience? Plain walls are safe, but they are devoid of creativity and character. Besides beautiful countertops and cabinets, a stunning feature wall will bring life to your kitchen.
A kitchen is a place for artistic expression because cooking is an art. Build your dream kitchen with these stylish kitchen wall décor ideas.
Matching Countertop and Backsplash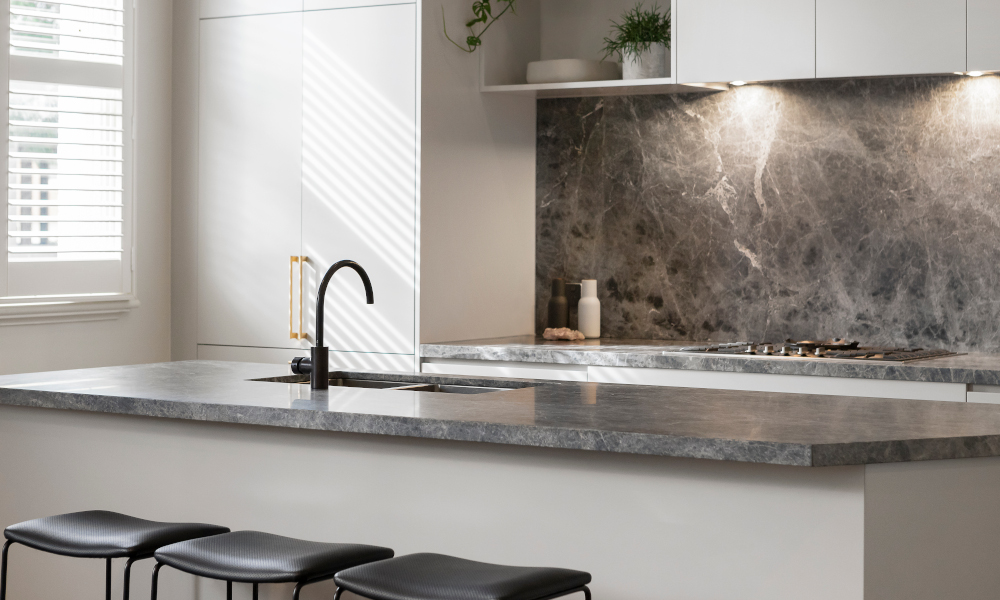 If you gravitate towards a sleek and streamlined look, then a matching backsplash and countertop will impress you.
Dress up your wall with matching terrazzo or quartz tiles to complement your elegant kitchen countertop. These two materials are perfect for the kitchen because of their aesthetic quality, durability, and heat resistance.
Terrazzo
Terrazzo has made a strong comeback elevating from classic floor tiles to countertop material and wall décor. With its updated looks and upgraded manufacturing process, terrazzo is a solid contender as a versatile kitchen countertop and backsplash material.
Quartz
Extend the elegance of your quartz countertop to your wall for a seamless and stylish look. Add a touch of luxury with Aurastone's Royale Collection which boasts quartz designs with marble-like veining. Your kitchen will be the talk of the town with such stunning décor.
Wall Herb Garden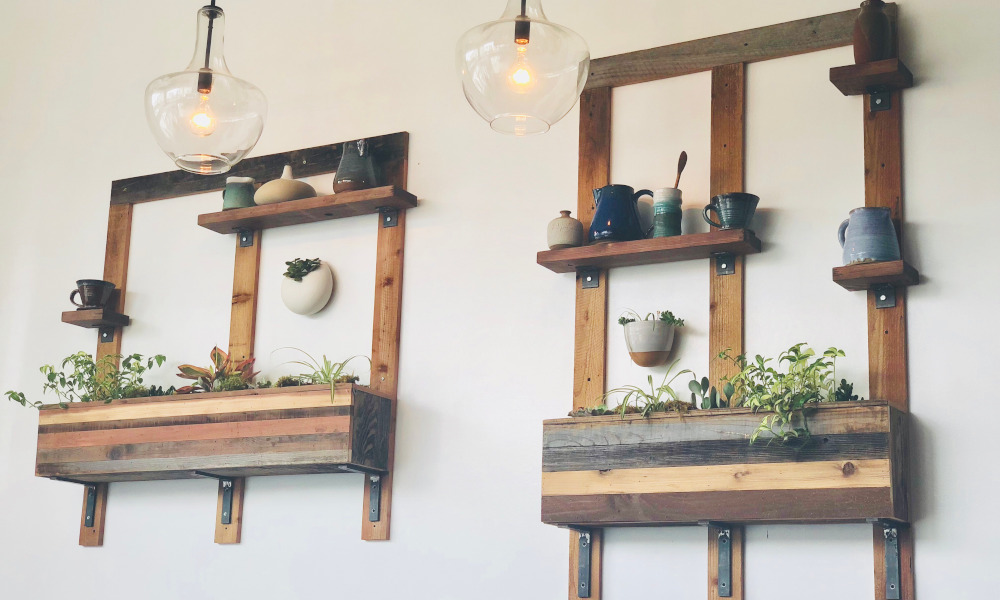 Bring your kitchen to life with a little greenery. Instead of the conventional potted herb corner, free up space on your kitchen countertop and create a small hanging herb garden on your wall.
Fresh herbs make wonderful garnishing, add flavour and aroma to food, and function as natural décor. Below are some useful and easy to plant herbs that look great on your wall:
Rosemary
Mint
Basil
Parsley
Coriander
There are other creative vertical herb garden ideas that you can implement as a weekend project to spruce up your kitchen.
Remember to water and trim your herbs. With care, you will be blessed with an abundance of delicious fresh herbs all year long. Growing your own food will save you money in the long run.
Geometric Wall Tiles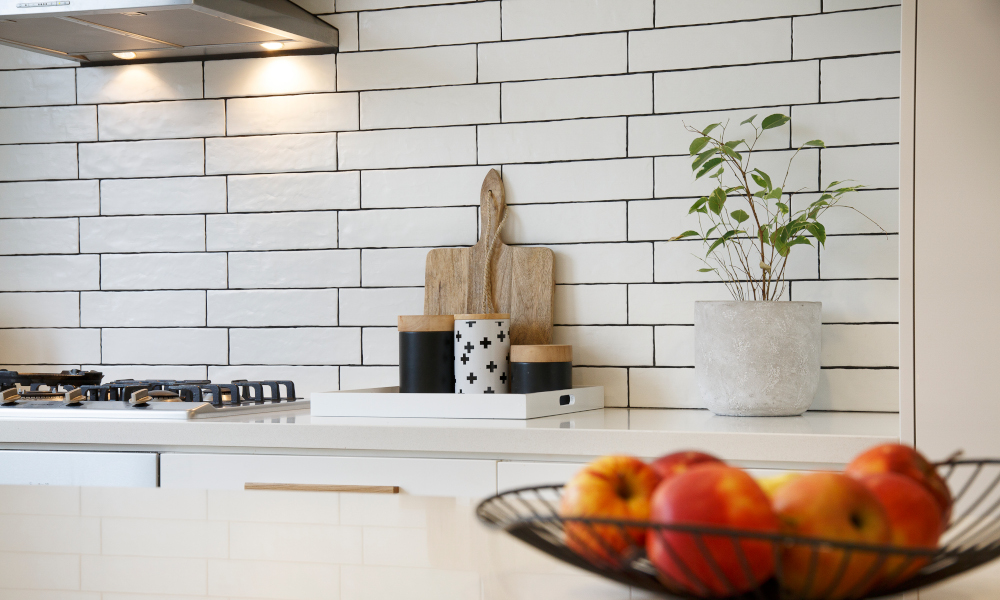 Rectangle and square tiles are easy to install, but they may be too conventional. Experiment with other cool geometric shapes such as rhombus and hexagon tiles. Add depth and texture by playing with colours and sizes.
Textured Wall Paint
Do you want to add a little oomph to your glossy plain wall? Give Nippon Momento a go. This paint collection adds visual texture to your kitchen wall using luxurious hues of semi-metallic, luminous pearl, and elegant finishes.
Doodle-Worthy Chalkboard Wall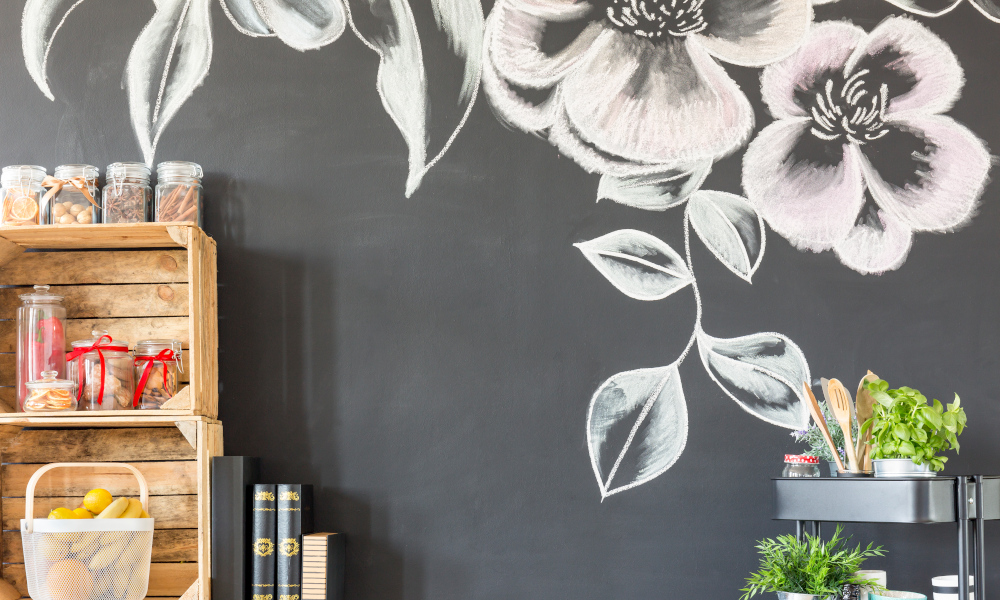 Another option is to have a feature chalkboard wall. This look can be achieved using chalkboard paint that can be procured from art stores like Art Friend. Supply them with chalks and young kids would definitely love this wall. Besides being a doodle corner for kids, your chalkboard wall can be used to write recipes and reminders.
Menu Boards
Do you love the café vibe? Then you will love the idea of menu boards on your kitchen wall. These boards can either be functional or just decorative.
If you like to add a little excitement during meal preparation for your kids, you can display your weekly menu on the boards. It will create something to look forward to every day.
Print Art
A pretty wall filled with your favourite framed illustrations will elevate the entire cooking experience. Framed art is the easiest way to decorate your wall. You can purchase art prints of various designs and sizes to fit your wall.
Painting a Mural for the Artist at Home
Art aficionados will agree that bare walls are the best canvas for art, and the kitchen wall is not spared.
For artists out there, creating a mural is a way to inject personality into your cooking space. This would certainly be a unique statement piece in your kitchen.
Painting an entire wall takes patience. It is easy to start. However, you must have the discipline to finish up the project. Otherwise, you will be left with a wall titled "Unfinished Business".
What if you love an impactful mural, but lack the time or capability to do it yourself? Well, you can consider commissioning the mural to talented artists around your area.
Wall Decals
Decals are inexpensive and easy to use. They come in various styles and designs. You have a choice of stylish tile designs to full-length wall artworks. This means you can create a cost-efficient mural without having to paint it.
For a little nostalgia, give your backsplash a classic makeover with Peranakan tile decals. Blend a dose of tradition into your modern kitchen to create a delightful nook that exudes charm and warmth.
Mount Your Collection of Trays and Plates
Do you have a collection of pretty plates, trays, and cutlery sets that have been passed down from generation to generation?
Instead of storing them for your daughter's wedding, why not showcase them on your kitchen wall? These rare heirlooms carry a piece of family history that should be displayed with pride.
Kitchen Wall Décor Ideas to Elevate Your Cooking Experience
Functionality is a priority in the kitchen, but a beautifully decorated space welcomes you to an inspirational culinary zone. When you immerse yourself in a creative ambience, cooking becomes an enjoyment. Food tastes better when the chef is happy.
At Aurastone, we have gotten you covered in your search for the perfect countertop to our innovative leakproof kitchen sink. With our wide array of materials and designs, you will definitely find the right style to complete your kitchen.
Make an appointment with us today.