Stainless steels countertops and quartz countertops are two of the most eco-friendly and hygienic kitchen countertops in the market. Which type of countertop is right for you?
Below are comparisons of the two different countertops before you decide.
Stainless Steel Countertops
Stainless steel is an alloy of iron, chromium and other metals. It is a generally stable material, which means it does not corrode. For this reason, it is a great material for kitchen utensils, fixtures and products.
Hygienic Countertop Surface
The stainless steel countertop is well-loved because it is hygienic and easy to clean. It is the standard for commercial kitchens where hygiene and food safety are a priority. Stainless steel is non-porous. It is this very feature that prevents dirt and bacteria from hiding, thus making it easy to clean and disinfect the surface.
Easy to Match Your Kitchen Décor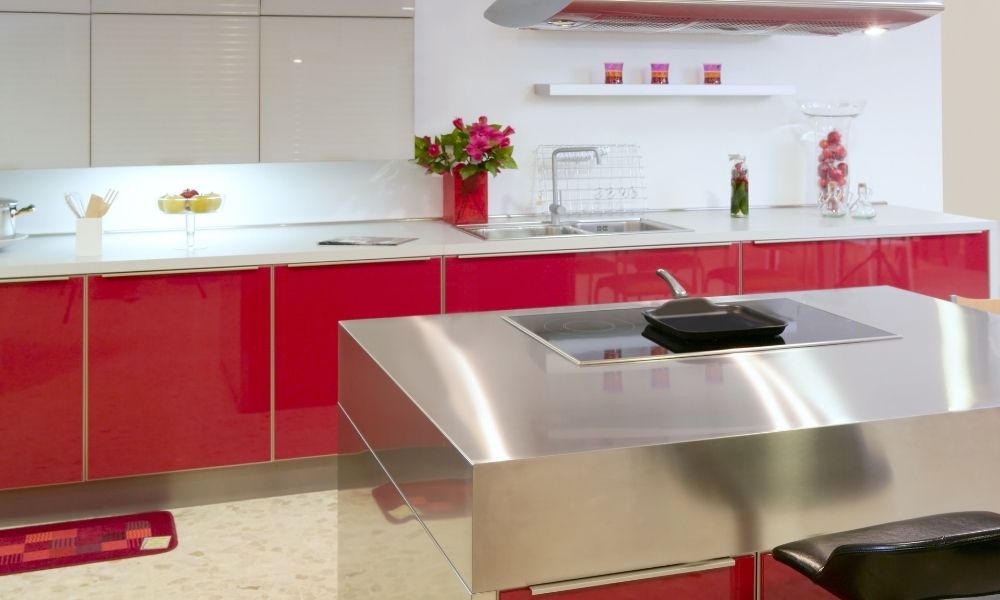 Due to its bright steely colour, the reflective surface of stainless steel can easily blend into your kitchen environment. This makes it a very versatile kitchen countertop for your modern home.
Comes in Various Finishes, but Limited Colour
Stainless steel countertops come in various finishes to complement the look of your kitchen: brushed, matte, polished and satin. If you are worried that a polished surface is scratched easily, you can opt for a brushed finish to mask any visible scratches. However, if you want to add a pop of colour to your kitchen, you may find stainless steel too boring or sterile in appearance.
Non-Corrosive, Non-Reactive Material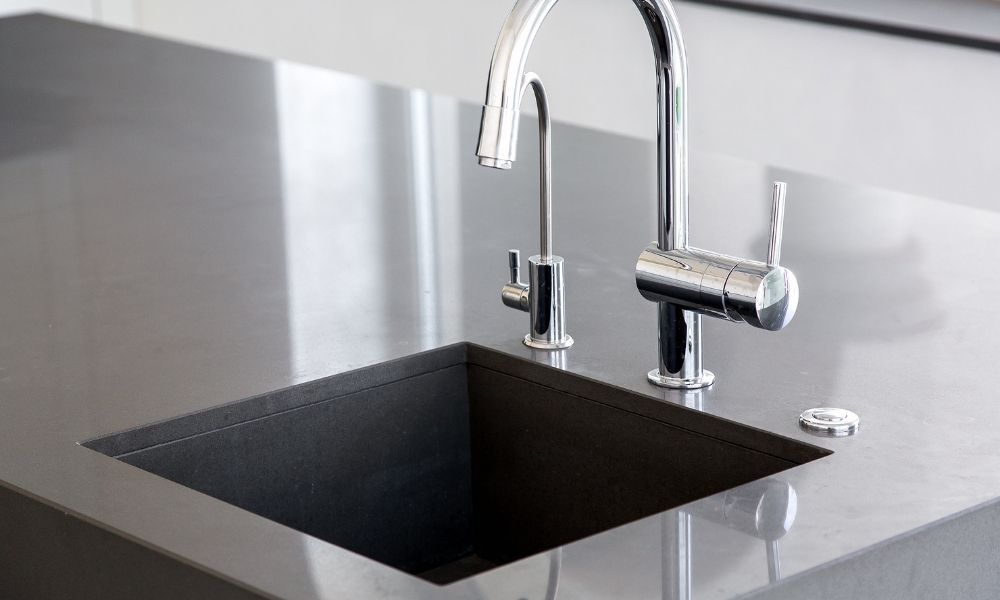 Due to its non-corrosive nature, you won't have problems handling acidic or alkaline food or cleaners, unlike certain stone countertops that react to harsh chemicals. Type 304 is suitable for your kitchen countertop because it is food-grade stainless steel.
Eco-Friendly Countertop Option
Also, it is considered an eco-friendly countertop material because of its recyclability. Should you one day decide to upgrade your countertop, you'll be happy to know that your stainless steel countertop could be given a new lease of life.
Prone to Scratches and Dents
Although stainless steel countertops do not crack, as opposed to stone countertops, the surface is easily scratched. It is highly advisable to never slice and cut your food without a cutting board. Scratches are usually very visible, and you can't do much to remove them.
In addition, it is possible to dent the surface of your stainless steel countertop. Hence, do not hammer or slug any hard or frozen goods onto the surface with force. The sudden impact would leave an uneven mark on your countertop.
Quartz Countertops
Quartz countertops are made from engineered stone, generally comprising 90% quartz and 10% resin and pigments. The entire manufacturing process produces a compact stone with low to zero porosity, making quartz a hygienic and water-resistant countertop.
Durable and Long-Lasting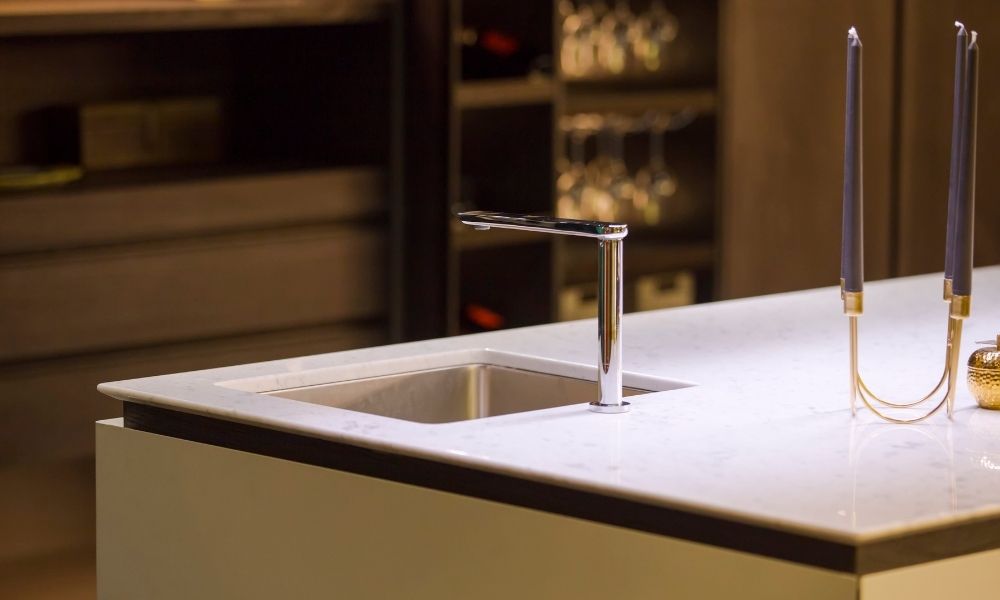 Quartz has been compared to granite in terms of strength and hardness. It is scratch-resistant and does not chip easily. Besides that, quartz handles heat well without warping. That is why quartz ranks high in terms of durability and long-lasting qualities.
Beautiful Aesthetics
Love a pop of colour? Quartz comes in various shades of colours, designs and finishes, thanks to the pigments added in quartz. Finding a quartz countertop to match your kitchen interior design is a breeze because of the wide selection in the market.
For homeowners who love the look and feel of marble and granite, quartz is the perfect option because it can be engineered to mimic the veining and specks of natural stone. It's easy to transform your kitchen into an elegant space minus the high maintenance with a quartz countertop!
Low Maintenance
Don't you love countertops that are low maintenance and easy to care for? It saves you so much more time to do the things that matter most, like spending time with your loved ones. This is one of the reasons why families with your children and busy professionals love their quartz countertops.
Unlike marble and granite, caring for your quartz countertops is almost effortless – no sealing required! Hence, keeping it clean and hygienic only requires a few simple steps – Just wipe your surface with a cloth, warm water and mild soap.
Stain-Resistant
Wine stains? Water spots? These are not a problem.
When you have young kids, dirty handprints and stains from their art projects are common. You can allow them to work at the countertop without fear of them permanently staining your surface with their "artwork". Hence, it's one of the most kid-friendly countertops for households with active young children.
Hygienic and NSF-Certified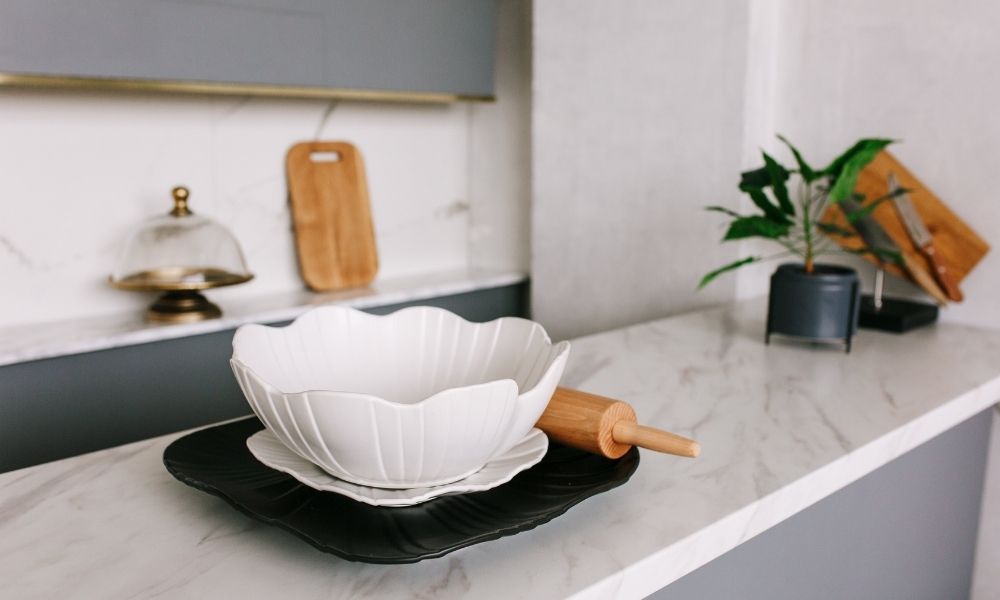 Another winning feature of quartz countertops is their hygiene quality. Being non-porous, there is no room for bacteria to grow and multiply because it cannot trap moisture, dirt and microscopic particles.
Make sure to check out the premium quartz countertops that come with NSF certification. NSF certified countertops have undergone stringent testing to ensure they meet the food safety requirement.
Did you know that Aurastone's quartz countertops are NSF-certified?
Environmental-Friendly Countertop
Many factors make quartz countertops an eco-friendly option for your kitchen. Quartz minerals are found in abundance, leading to a cheaper cost of mining and transportation. Also, just like stainless steel, quartz has a recyclable value. Hence, there is less wastage if you decide to change your countertop one day.
You'll be glad to know that Aurastone takes it up a notch by using recycled water during the manufacturing process of our quartz countertops.
Stainless Steel Countertops vs Quartz Countertops – Which is Right for You?
Both countertops come with their pros and cons, and also share some similarities.
If you are a fan of natural stone, quartz is a versatile countertop that exudes the elegance of stone but with low maintenance. However, if you love the cool atmosphere of a bright kitchen, you may consider stainless steel countertops as part of your kitchen design.