When it comes to a small kitchen, finding ample storage may prove a challenge. However, it is not impossible because there are many small kitchen storage ideas that you can implement to maximise the space of your kitchen.
Below are both conventional and creative small kitchen storage ideas to try out.
Utilise the Top of Your Refrigerator
The top of your refrigerator is often overlooked, but it is a convenient place to put light-weighted items such as cookie jars and dry food. Depending on how tall your fridge is, it is a great place to keep those precious snacks away from your little ones.
To keep the top neat, invest in matching jars and a pretty tray or basket. That way, you can conveniently lift the entire tray or basket when you're cleaning the top of the fridge. It sure beats having to climb up and down your steps or chair several times just to retrieve item by item.
Lazy Susan for Hard-to-Reach Places
Keep your items within reach with only just a spin.
The lazy Susan isn't just for your dining table. There are cabinet-specific lazy Susans that come in different designs, materials, and number of tiers to fit into your kitchen cabinet. Never waste time again dragging out item by item to get to that canned tuna at the far end of your cabinet.
In fact, you don't have to confine your lazy Susan to your cabinet. A tiered lazy Susan also works well in organising your mugs or spices on the kitchen countertop.
Learn how to make your lazy Susan here.
Get Hooked on Hooks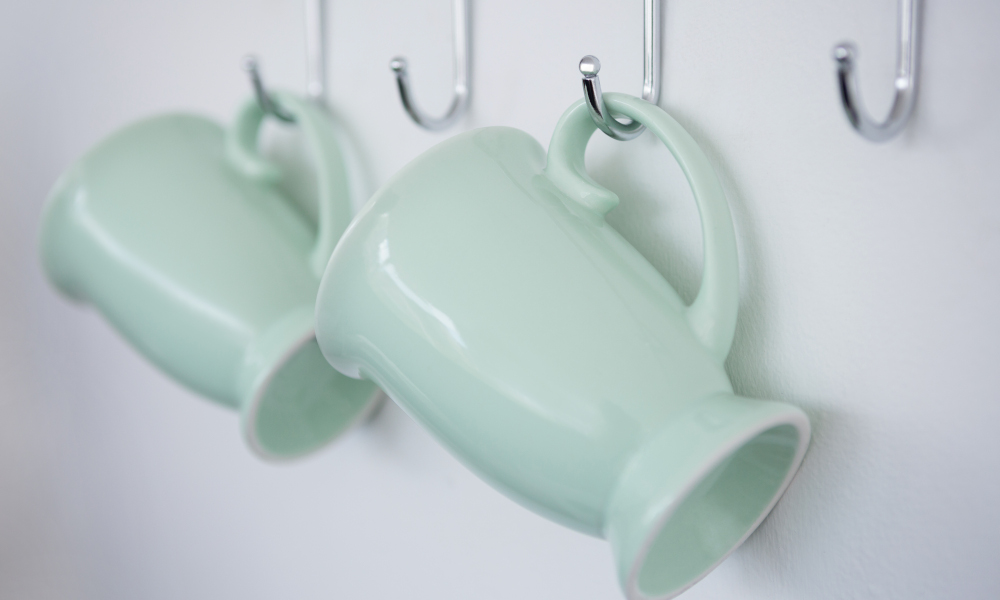 Remember the viral S-hook video that took the internet by storm? While it was hilarious, it did showcase the versatility of S-hooks that extends beyond hanging just kitchen utensils (in the video, it was used to hang an umbrella on a tee)!
Besides S-hooks, you can also install a kitchen rail hook to hang up your utensils in a more organised method. The rail can be installed onto your kitchen backsplash, wall, or even the side of your cabinet.
If you opt to use adhesive hooks, do purchase them in a set of matching colours and design for a neater look.
Maximise Your Cabinet Doors
Speaking of hooks, you can also place them onto the back of your kitchen cabinet door to hang up your most-used kitchen utensils.  Each time you need to reach out for your item, just open the door and grab it without needing to rummage through the cabinet shelf.
Best of all, everything is neatly in place and out of sight behind the cabinet door.
Display Your Spices in Matching Jars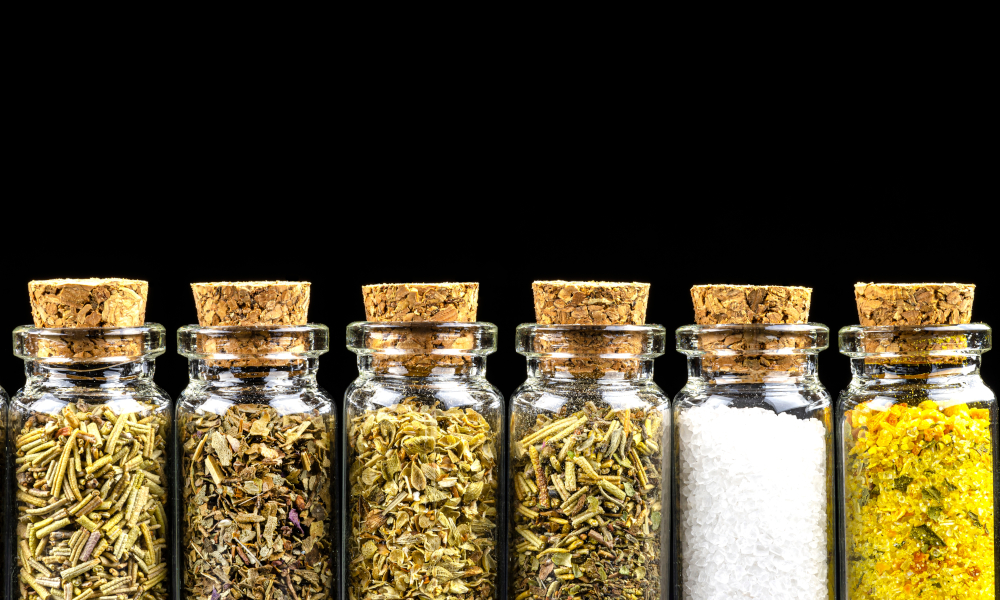 Insufficient drawers? If you cook often, your spice rack should be within reach on the countertop anyway.
If you have to leave them in plain sight, store them in pretty containers for a neater and more streamlined look. Mismatched jars will only make your kitchen countertop look very cluttered, especially when it's a small space.
Magnetic Boards for Knifes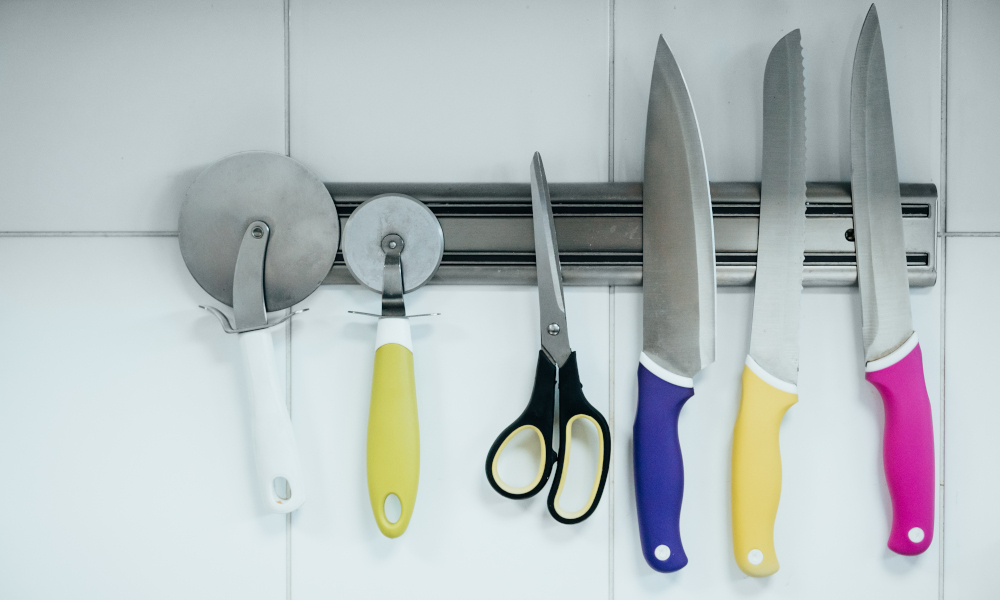 Are you short of drawer and countertop space for your knives? We recommend using a magnetic knife holder. Mounting a knife holder onto your kitchen backsplash allows fast and easy access to your knives when you're slicing an apple, scaling a fish, or carving a chicken.
Tiered Storage and Shelf Risers
Take advantage of vertical space when horizontal space is lacking. Use tiered storage and shelf risers to maximise your vertical space on the countertop or in kitchen cabinets.
Imagine the height between each cabinet shelf space is 20cm. If you stack your plates up to 10cm, there will be an unutilised balance of 10cm. The cabinet shelf riser maximises the use of empty spaces within the cabinet. Now, stacking your mugs atop your plates is made possible and more convenient.
Utility Cart on Wheels
We absolutely love utility carts. The utility cart can be used to store your snacks, sauces, and spices.
Besides the additional storage space it provides, you can easily wheel it away if you require extra working space in the kitchen.
Whenever you have company, you can serve your guests food and drinks on the utility cart as well.
Slide-Out or Collapsible Countertop for Multipurpose Use
Finding sufficient countertop space is a challenge in a cramped kitchen. With the limited storage space (you would probably have items permanently stored on the countertop by now), installing a foldable countertop or sliding countertop adds workspace when you need it.
The foldable countertop can be attached to the kitchen wall or the corner of your existing countertop. It can be extended and kept back in place when not in use. As for a slide-out countertop, you can request a custom-built drawer compartment in your kitchen cabinet.
Matching Baskets for Open Shelving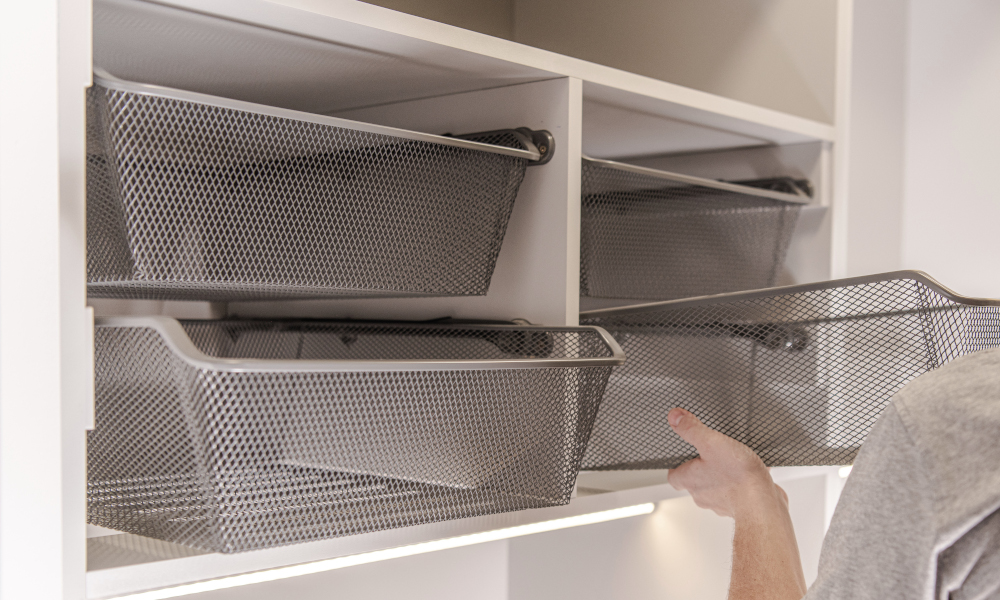 Decorative pieces look amazing when displayed on open shelves, but only if you have abundant space.
However, if you want to maximise the use of these shelves, keep your items organised in matching baskets and containers. You can store more when you contain your items. Also, it makes looking for items and cleaning easier.
Other Useful Small Kitchen Storage Ideas
There are other useful small kitchen storage ideas which you can use. The key is to utilise every kitchen corner wherever possible.
Since a small kitchen can be easily cluttered, create a cohesive theme using matching colours and containers. This method reduces the visual noise within the small space.
Another useful tip every homeowner with a small kitchen should take note of: Buy only what you need. You do not need duplicates of the same item in your kitchen especially when storage is scarce.
If you're looking for kitchen countertops and sinks, Aurastone has countertop materials and leakproof sinks for all kitchen sizes. Our experts will guide you on the best material and size for your HDB kitchen. Contact us today for an appointment.