We know that quartz is a very popular material for kitchen countertops. But do you know exactly how popular quartz countertops are?
According to the United States' National Bath and Kitchen Association, quartz has replaced granite as the most popular kitchen countertop in the United States! We're seeing the same trends right here in sunny Singapore where quartz's versatility and beauty have won it many fans.
So why is quartz becoming increasingly popular among designers and homeowners? What are the benefits of quartz compared to those of other types of countertop materials?
Let's explore the main reasons why many homeowners now prefer a quartz counter to other countertops.
Unmatched Durability
Quartz is a resilient and durable material that's ideal for busy and even messy households. It's one of the sturdiest surfaces on the market too. The engineered product is stain-resistant, so it can stand up to splashes and spills from things like coffee, juice, oil, etc.
It's also resistant to water, scratching, and chipping. Naturally, you still should invest in a cutting board, so your quartz counter remains pristine for many years to come.
A Quartz Countertop Provides Incredible Functionality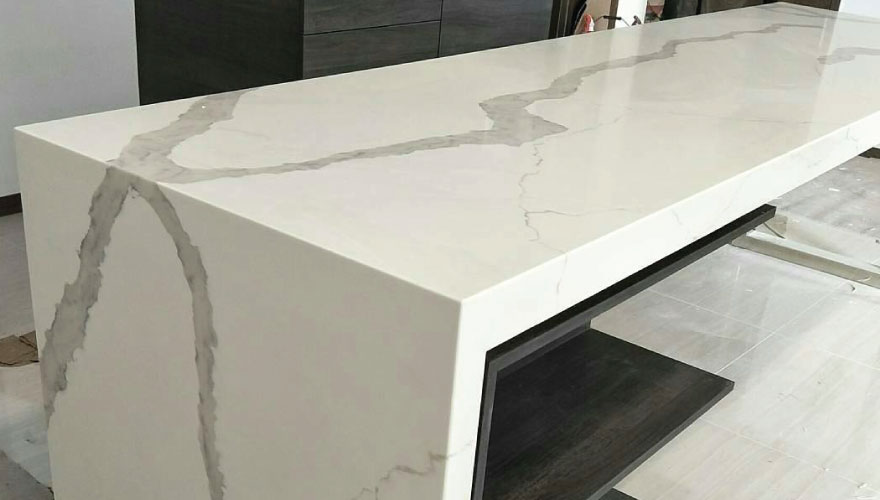 One of the best things about quartz is its functionality. You can easily install quartz virtually everywhere you wish and it would look good.
Quartz can even suit any kitchen design you want to pull off. Whether you include a breakfast bar or an island, you won't have any problem. You can even install a quartz backsplash to match your countertops. This versatility has won quartz many fans.
Outstanding Beauty
Since quartz countertops are manufactured, one great benefit is that they can be designed to have a vast variety of aesthetics and colours. Natural stone is only available in naturally occurring colours. As quartz is human-made, it can be created in a wide range of styles and colours.
The wide range of options is impressive if you wish to match the decor of your home in a certain way. It's also amazing if you want a particular pattern or colour.
You can find anything from a natural brown to dark black and lime green. You can also find either a shiny or matte finish for quartz countertops. It would all depend on the design and style you want for your home.
You can see the wide variety and beauty of the quartz patterns that we carry:

Uniform Look and Feel
Some people prefer their kitchen countertops to feel and look the same throughout. This ability to provide a design consistency is one of the best benefits quartz offers.
Since quartz stones are manufactured rather than naturally-formed, they can be made to feel and look uniform throughout. This provides a consistent look and style, which can increase your kitchen's design aesthetic.
Non-porous Quality
One of the main reasons why quartz is so popular in Singapore these days is the fact that it's non-porous. As a result, you have an amazing countertop surface that is stain-resistant and water-resistant.
Without any nook and cranny, there is no room for water, food particles, grease, or dust to seep in.
Quartz Countertops Can Retard Germ Growth
Unlike natural stone surfaces such as granite and marble, your quartz countertop doesn't harbour bacteria or any other microorganisms. The non-porosity of quartz leaves no room for moisture to seep in. Without moisture, germs cannot grow.
Hence, you can rest easy knowing that your clean counter is a safe and hygienic surface for preparing food. Did you know that most quartz countertops are NSF-certified? You'd be glad to know that Aurastone quartz is one of them.
For germaphobes or cautious parents, this makes it the perfect material for a kitchen countertop.
Simple Maintenance
Cleaning quartz is an easy task. That's why busy parents of young kids love quartz countertops. Children, after all, can be messy creatures.
For general cleaning, just use a soft sponge, warm water, and some soap, if need be. Nonetheless, we recommend wiping up spills immediately to prevent sticky situations where the mess hardens onto the surface. It won't stain, but removing the gunk takes a bit of effort using simple tools.
For hardened gum, nail polish, and crayon stains, gently scrape off the stubborn gunk with a blunt object. As for tough grease stains, warm water and non-abrasive soap will do the trick in degreasing the surface.
Another reason to love quartz countertops is that they do not need sealing, waxing, or re-polishing, unlike other natural stone items. That sounds like such a relief if you have ever owned a marble or granite countertop before.
Some Disadvantages of Quartz
For a more balanced view, we also want to highlight some disadvantages of quartz countertops.
Premium Price
Quartz countertops fall within the premium countertop range. For those who are tight on budget, quartz may not be a suitable choice for the short-term budget constraints.
Nonetheless, when compared to the price of marble and granite, quartz is a more viable choice. And it does add value in the long run. Cheap countertops may be friendly to the wallet now, but repairs and replacements are also costly.
Not Suitable for Outdoors
Quartz countertops are not great for the outdoors. Constant exposure to the sun's UV rays may discolour the surface. However, for HDB kitchens, this is a moot point.
If you're looking to install an outdoor countertop, you may check out another amazing engineered stone, Dekton.
Popular Brands of Quartz Countertops
There are several notable brands of quartz countertops in Singapore. Among them are Caesarstone and Silestone. Besides these two brands, Aurastone also carries our very own signature quartz brand, aptly named Aurastone.
Caesarstone Quartz
Caesarstone contains 90% natural quartz with a blend of pigments and polymer resins. This brand of quartz is renowned for its strict manufacturing process up to quality testing and labelling. The result is a stunning design with excellent quality.
Silestone Quartz
Silestone by Cosentino consists of 94% natural quartz making it extraordinarily hard and resilient. To sweeten the deal, Silestone offers its buyers a 25-year warranty for its kitchen countertops. That's why it is so popular.
With more than 100 colours and several exclusive finishes, Silestone is a wonderful addition to kitchens and bathroom decoration. You can design your kitchen countertops, bathrooms, floors, and wall cladding with this beautiful surface.
Quartz Countertops Increases a Home Value
For an upscale, modern look with extremely low maintenance, a quartz counter is something you should definitely consider installing in your kitchen. More so if you have the intention to sell your home in the future. A well-designed kitchen is one of the wow factors to increasing your home value.
Do you need help with choosing from our wide range of quartz countertops, and information about our installation process? Be sure to get in touch with our technically trained and experienced staff at Aurastone. Drop by our office or contact us today.