Terrazzo countertops are the latest craze in kitchen interior design. Homeowners who want a contemporary twist to nostalgic designs will be delighted with this emerging trendy countertop material.
Terrazzo has come a long way since the 15th century. It was first created 500 years ago in Italy. This vintage material is generally composed of marble chips, glass, cement and resin.
What was once considered a frugal alternative to marble, terrazzo has evolved into a very versatile material demanded by consumers surfing the trend.
Before you get on board the trend wave, let's understand the pros and cons of terrazzo countertops.
1.    Heat Resistant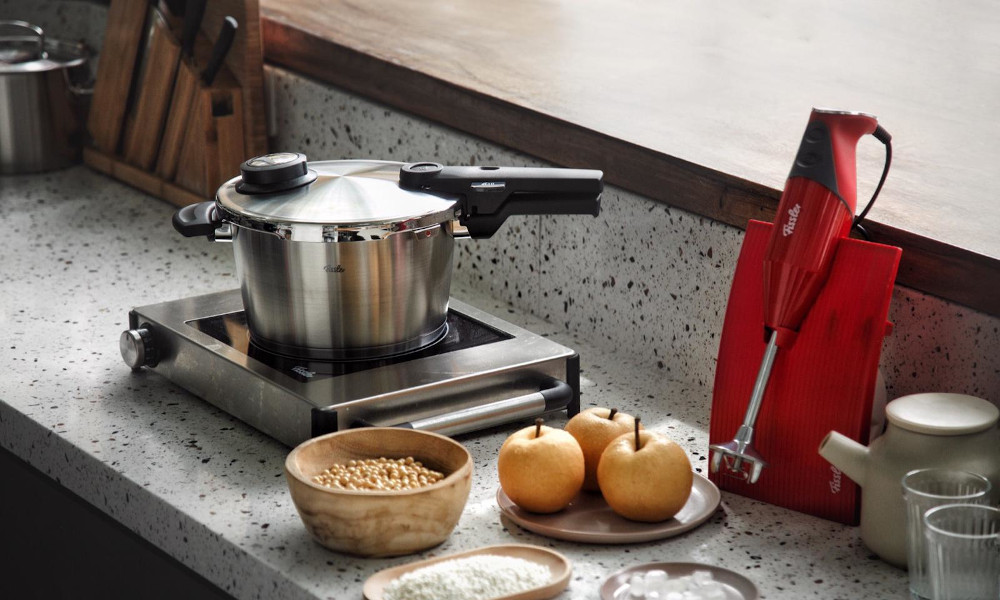 The modern terrazzo is highly resistant to heat. This makes it suitable for kitchen countertops and backsplashes that are near the stove, oven and other heat sources.
On the scale of heat resistance, terrazzo is comparable to granite. Despite containing marble chips, terrazzo countertops cool down very fast, unlike natural marble countertops.
If you're working without a heat pad, it's not a problem. You can safely leave a hot object onto your terrazzo countertop without worries. Your surface integrity is protected from scorching and darkening.
2. Durable and Long Lasting
New-age terrazzo is manufactured using high compressive strength. The vacuum-and-vibration process produces a very compact and durable material that can withstand heavy machinery and foot traffic.
If you are looking for a long-lasting product, Aurastone's terrazzo has a hardness of 4 to 6. This makes it a very sturdy material as compared to traditional terrazzo.
3. Versatile Usage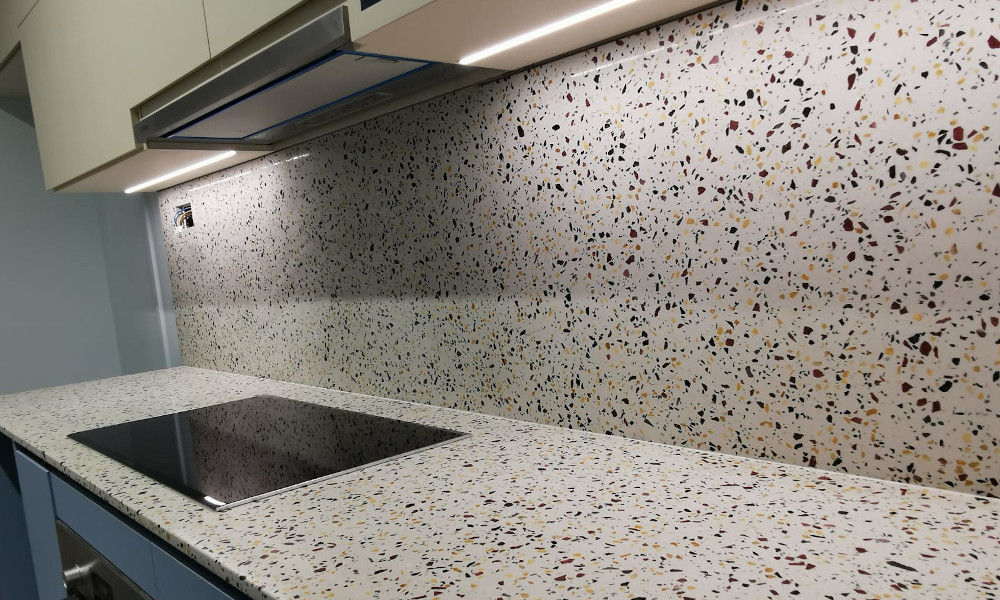 In the past, terrazzo was primarily used as a flooring material.
Today, its usage has expanded to include kitchen countertops, backsplashes, table surfaces, shower stalls, feature walls, and staircase and wall cladding.
Its resistance towards high heat, UV rays and natural elements makes it also suitable for outdoor usage.
For even more unconventional designs, you'll also find terrazzo appearing on statement pieces of décor such as planters, coasters, and even lamp holders.
4. Eco-Friendly Kitchen Countertop Material
As society progresses, awareness of the environment has also improved. Homeowners looking for more eco-friendly materials for the kitchen will give terrazzo a nod of approval.
Terrazzo uses a lot of recycled materials such as various stone chips (granite, marble, quartz, etc) and glass fragments in its production. These fragments are combined with cement and resin to create unique-looking slabs.
The entire process of using recycled components and the absence of volatile organic compounds (VOC) make terrazzo a greener and more sustainable product.
5. Wide Range of Colour Variety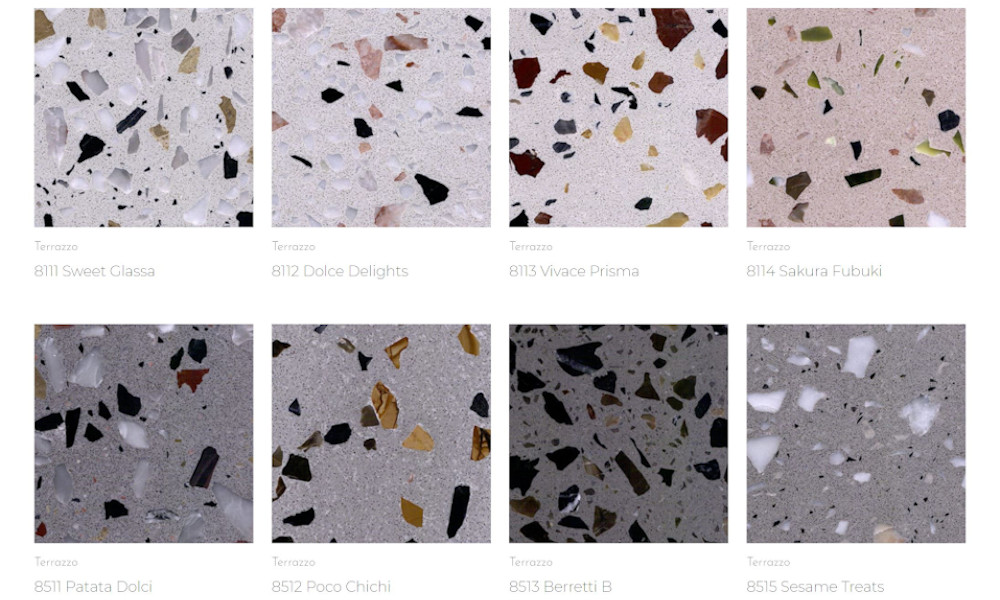 Terrazzo uses a variety of stone and glass fragments to produce a wide range of designs. Whether you prefer minimalist neutral shades or colourful specks, the style can be easily incorporated into your modern home.
Modern terrazzo comes in a variety of beautiful and bold colours. Because it comprises of natural materials, there will be a slight difference in veining, colour and tone.
At Aurastone, there are 8 lovely terrazzo colours to choose from, with each design evoking a quaint charm and stylish allure into your living space.
6. Trendy
Are you looking for a design that is classic and timeless? More so, if you have plans to resell your home in the future.
Unlike marble and granite designs, you may need to reconsider terrazzo's lasting appeal because trends may be shortlived.
Terrazzo has a very distinct style that may not appeal to all. Also, how long will terrazzo continue to surf the trend? Only time will tell.
However, the fact that it has made a new and improved comeback is a very telling sign that it is here to stay.
7. Difficult to Repair
The process of installing terrazzo is important. There is a risk of cracking when it's not properly installed.
Nonetheless, Terrazzo is repairable, but it will be relatively difficult and costly. Hence, it is important to hire professional installers to do the job right from the start to prevent potential damages in the future.
Are Terrazzo Countertops for You?
Through high-tech and unique manufacturing processes, the modern-day terrazzo is an enhanced version of yesteryear, with higher resistance, lower maintenance, and wider design versatility.
Are you ready to leap into the terrazzo countertop trend?
Come talk to us at Aurastone, and we will guide you towards your dream kitchen.