Are you setting up a new home office or renovating your office space? The type of desk you choose makes a difference. There are various office countertop materials that you may consider to improve your working environment.
Whether you're working in a corporate office or home office, you spend a lot of time at your office desk. Singaporeans are among the hardest working people in the world. For office workers, this means they spend a lot of time at their desk.
While you may not think much about your office desk, a good working desk will keep you productive and motivated.
Before we highlight the reasons why stone office desks are the best, let's understand the types of office countertop materials we have in the market.
Types of Office Countertop Materials
Granite
Granite is one of the hardest natural stones. It is a great countertop material for the bathroom, kitchen and also office. It's prized for its solid composition and durability. The feeling of cold hard granite is soothing to the touch, especially when your laptop and electronic gadgets give off so much heat.
Marble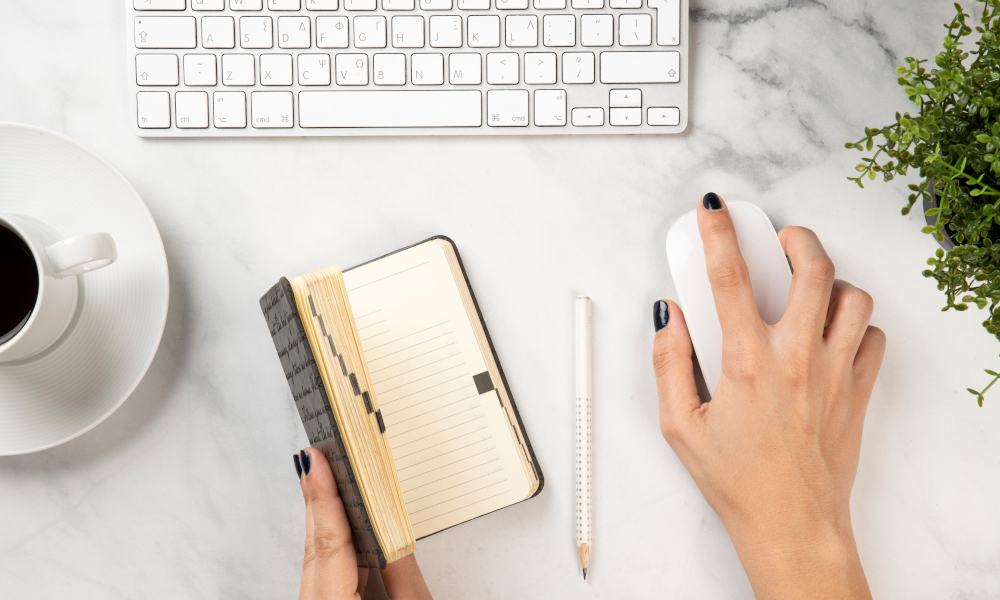 Marble countertops bring a level of sophistication into the room. It also comes at a higher price range compared to conventional desks. If you meet clients and entertain guests regularly, your marble countertop will wow many with an air of prestige.
Quartz
Quartz is the epitome of effortless beauty minus maintenance. Its hardness is comparable to granite which means it is super durable. Also, due to its non-porosity, quartz is easy to clean, highly resistant to stains and water, and very hygienic. With so many colours and patterns (quartz can even mimic the look of natural stone), it's simply easy to fall in love with this countertop surface.
Plastic Laminate Countertop
Laminate countertops are the most common and cost-effective office countertops. Formica is one of the classic brands for laminated countertops, with its signature brown and orange surface. There are, of course, other modern laminate styles that come in different colours and designs.
Wooden Countertop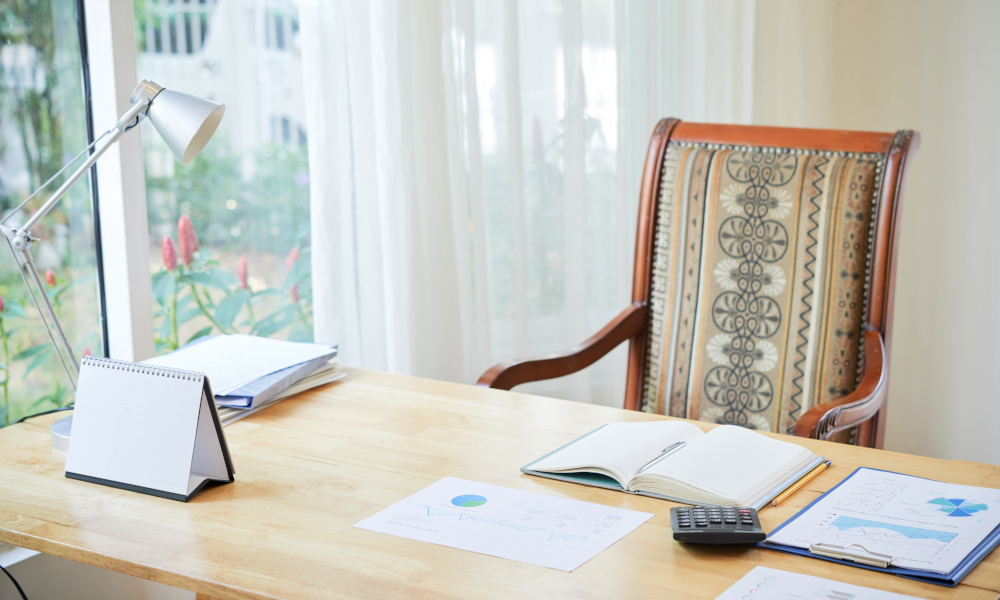 A solid wood countertop has a certain old school aura that brings back the nostalgia of studying years. It is the most traditional form of office desk. Though beautiful and charming, wooden countertops are susceptible to scratches, dents and stains from heavy usage.
Why Should You Get a Stone Office Desk?
Work in Style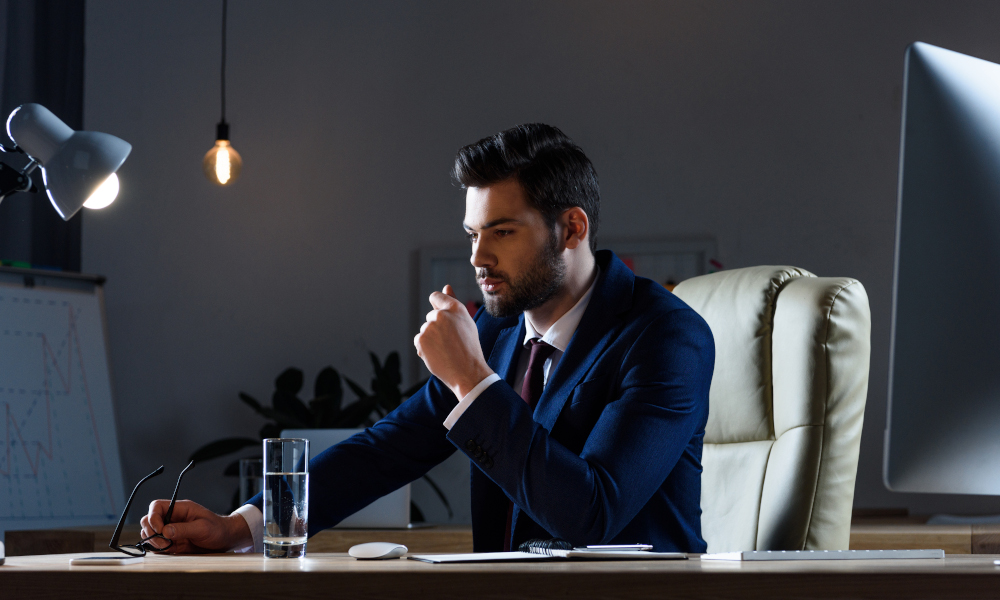 Add sophistication into your work life because you spend most of your workdays at your desk. A stone desk surface looks more sleek and stylish compared to a regular laminated table.
In terms of versatility, engineered stone such as quartz comes in various colours to easily match your desk with your office décor.
Durable
If you ever had a heated argument at work, involving a lot of desk banging and file slamming, your stone desk will absorb the impact like a champ. We do not recommend such actions, but sometimes, a little force may crack or dent your wooden or plastic desk. This will never happen with a stone countertop.
Also, your stone countertop is least likely to scratch. This applies to those secret guilty moments of running a blade across a stack of papers and accidentally scratching the surface. This action will immediately ruin your wooden and plastic countertop surface, but not granite or quartz.
Heat Resistant
Laptops, computers, and electronic gadgets produce a lot of heat. But, you need not worry about the heat from your devices ruining the finish of your stone countertop.
Stone countertops have high heat resistance. The surface cools down quickly when in contact with heat from your devices, especially when you're using your laptop and computer for long hours.
Hygienic
Are you guilty of the 5-second rule of picking up fallen food and popping it into your mouth? If you have a snacking habit while working at your desk, then countertop hygiene is even more important. More so when general hygiene and health are the focus right now in the midst of the pandemic recovery.
A germy countertop has no place in the kitchen, and at work. If you're obsessed with hygiene, Quartz is one of the best office countertop materials for your home office. Its non-porous nature helps deter germs from hiding and breeding within the microscopic crevices.
Most quartz countertops are NSF-certified. This means it is suitable for food preparation. Hence, any surface that passes the food safety certification is certainly a perfect surface for all your working desk needs.
Water-Resistant
Most people would have experienced this: Placing a wet mug or saucer directly on your table, only to find a permanent water spot after the end of the day. This happens to many laminate or wood veneer type of desks.
When the surface is properly sealed, stone countertops are much more water-resistant compared to economical office desks. If you accidentally spilt your drink onto the surface, you do not need to worry about water stains and the possibility of a swollen desk.
For engineered stone such as quartz, the material is non-porous. Even without sealing the surface, there is no room for water to seep in.
Easy to Clean and Maintain
If you're bothered by water stains on a wooden desk, you will love the ease of cleaning the stone countertop. Most times, a simple wipe clean with a damp soft cloth is sufficient. For pencil or pen smudges on your office desk surface, use gentle soap and warm water to remove the stain.
UNIQ – The World's First Quartz Standing Desk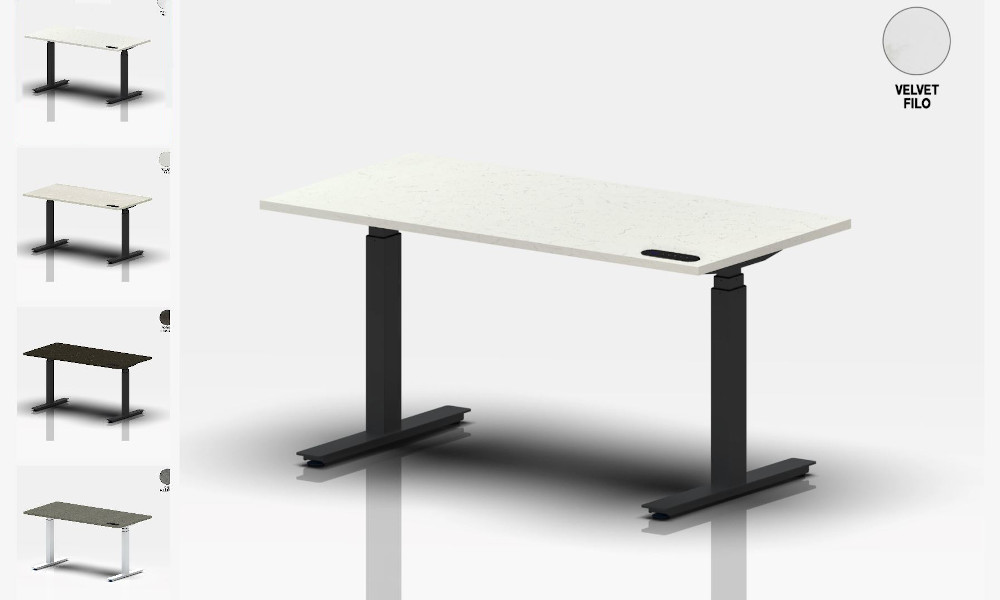 Did you know that Unix Singapore has designed the world's first quartz standing desk? Aptly named Uniq, the quartz standing desk is beautifully handcrafted from premium quartz.
You can select from a wide range of colours and designs to match your office space. It is anti-microbial, and resistant to stains, impact and scratches, and built to last for decades.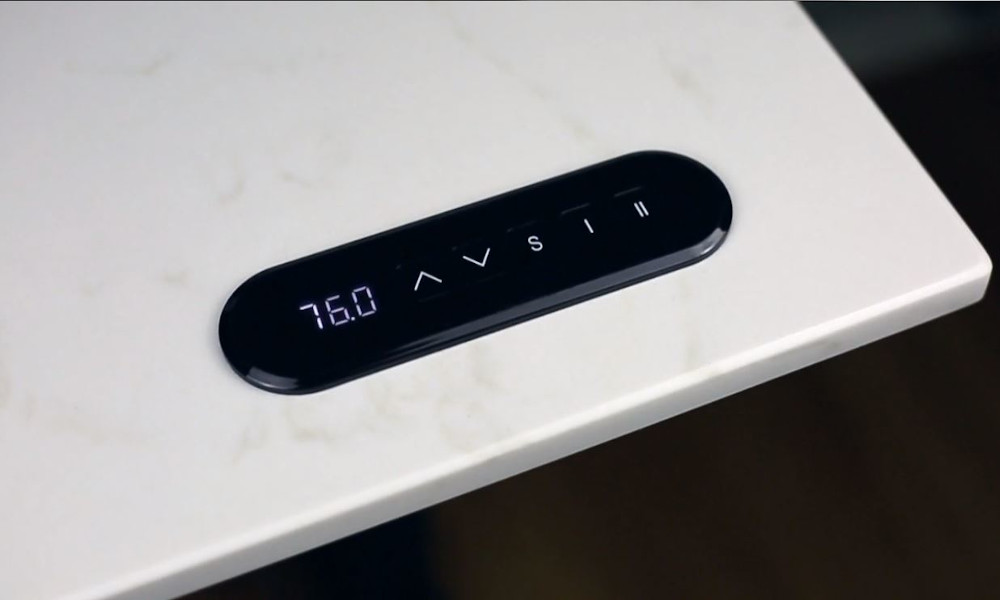 The standing desk is adjustable to both sitting and standing positions, using its sleek control panels. It comes with an integrated power solution to do away with the unnecessary dangly cables and wires. This adjustable height allows you to enjoy the health benefits that come along with a standing desk.
With such an elegant and minimalist design, you can now work like a boss.