We dare say that in the last 20 months, most of us have spent much more time in the kitchen than we would have anticipated. Many of us would have picked up new baking hobbies and learned to cook many more meals when we could not eat out.
It's not surprising then that we have found a greater appreciation for our kitchens. We are also learning to expect more functionality and usability from our kitchens its usage becomes more frequent.
With this backdrop in mind, we start to explore some predictions on the best kitchen design trends in 2022.
Stone Slab Backsplashes
We have always loved stone slab backsplashes for your kitchen workspaces and we are glad to see that their use is becoming more common. We expect this to continue well into 2022 and beyond.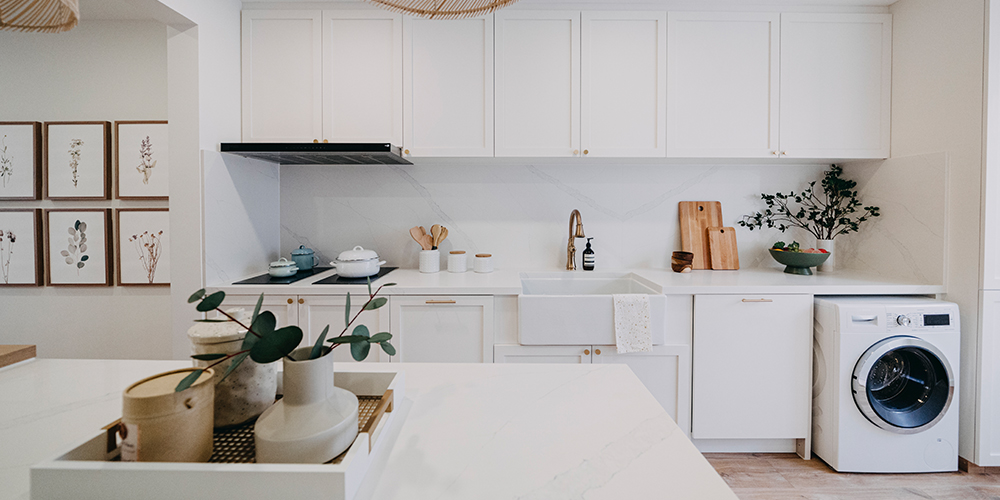 Most people love how it adds a modern and clean look to their kitchen. Using a backsplash also means that you don't need to worry about any grout lines that can make your backsplash look busy.
Quartz reigns supreme with regards to the best material to use for your kitchen backsplash. It is a durable material that is easy to clean and maintain. The fact that it is non-porous means that it is also a hygienic choice – hot splashes of oil and liquids won't seep into any crevices and accumulate.
Better Sink Workstations – Leakproof & Double Sinks
In an age where washing your hands is a life-and-death affair, it comes as no surprise that more people are paying attention to their sink workstations. Now, more than ever, your sink workstation is the most frequently used area in your kitchen. It is used every day without fail and is especially essential when you're cooking at home.
It comes as no surprise then that a report by the National Association of Home Builders (NAHB) in the United States found that the most requested kitchen feature is a side-by-side double sink.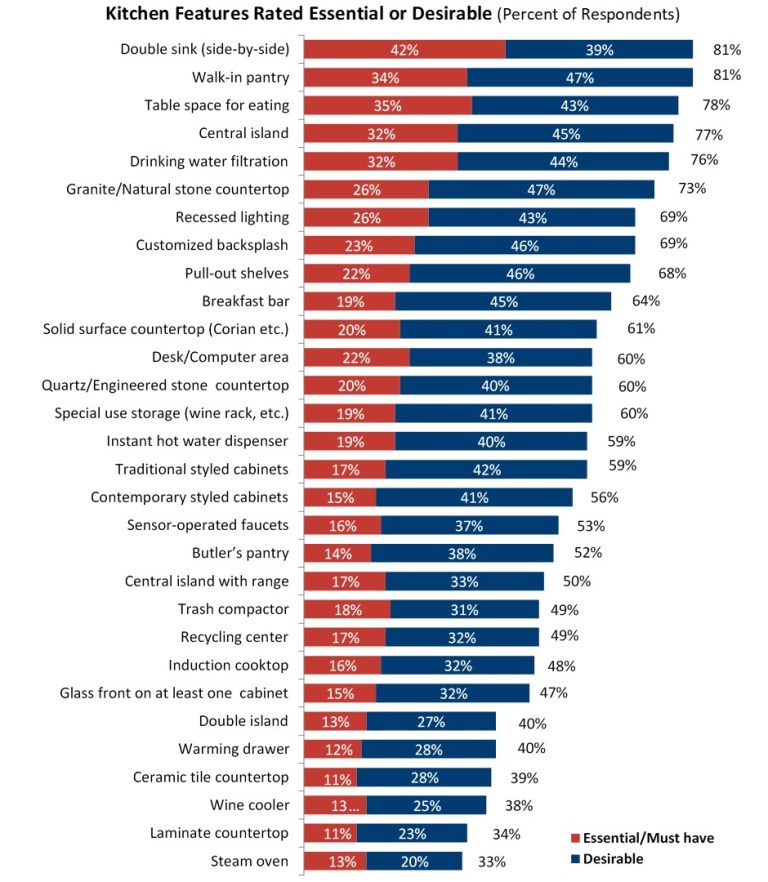 Double sinks are popular because they let you simultaneously wash dishes and prepare food at once. In addition to offering a wide range of options for both installation and design, they also provide a number of different configuration choices, including varying size basins and depths, as well sink locations and styles.
(double sink image)
When buying a sink, you should also ensure that it is essentially leakproof. The last thing you want to do is to spend another thousand dollars replacing your beautiful cabinets because of water rot.
Colourful Kitchen Cabinetry
Bold, colourful cabinets have become increasingly popular among homeowners who want to add personality to their homes by decorating them with bold colours and unique designs. More homeowners are adding cabinets in warm natural but accentuating them with pops of colour to add a little bit more personality to their kitchens.
Smart Kitchens
Over the last few years, we have seen technology starting to take over the kitchen. Smart kitchen appliances are now so popular to the point of becoming ubiquitous. Most kitchens would have at least one smart appliance. Bluetooth-enabled ovens, talking fridges and the like are more common than ever.
One reason is the behaviour move towards smart homes in general. Most homeowners are now also willing to spend more money on their homes as they spend more time in it.
Functional Areas, Not Open Floor Plans
There seems to be growing discontent about the open floor plans lately.
We might finally start to see fewer open kitchens.
What do you think will be the major kitchen trends in 2022? Share with us in the comments below.