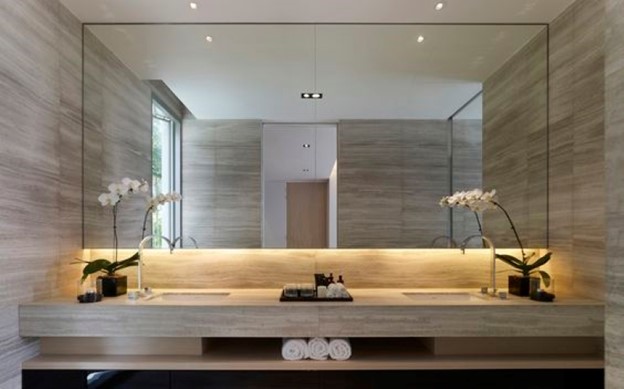 Source: Pinterest
Stone is a classy and attractive choice for any bathroom – at least according to everyone here at Aurastone. Even better – it comes in a variety of options, from natural stone like marble to engineered ones like quartz, and are suited for a range of budgets. Most versions are water-resistant, exceptionally durable, and loaded with luxurious flair – after all, there's a good reason why the ancient Romans used marble to build their beloved public baths. What's important is to properly seal the tiles, and add something to enhance their slip resistance. Do that right, and you've got yourself a functional, easy to maintain, yet show-stopping feature.
1. Maximise the Advantages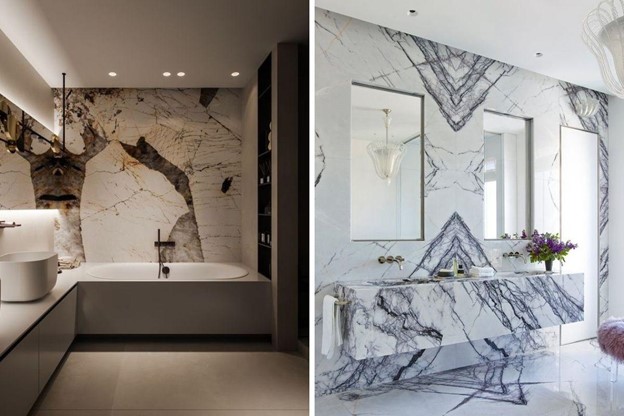 Marble texture makes a wonderful accent in a bathroom. However, its best asset is that this stone can be applied to all surfaces without feeling overwhelming. With strategic use of its advantages, you can create a statement feature wall with a strong visual impact, eliminating the need for any other decor.
2. Use the Texture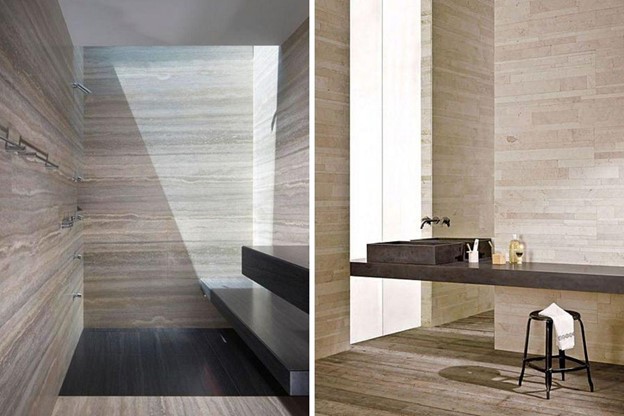 Although the traditional perception of marbles implies opulence and sometimes extravagance, stones and minimalism can actually go hand in hand. Moreover, their natural texture is an ideal way to add visual interest to the minimalistic bathroom without disturbing the concept of simplicity.
3. Use Stones to Accentuate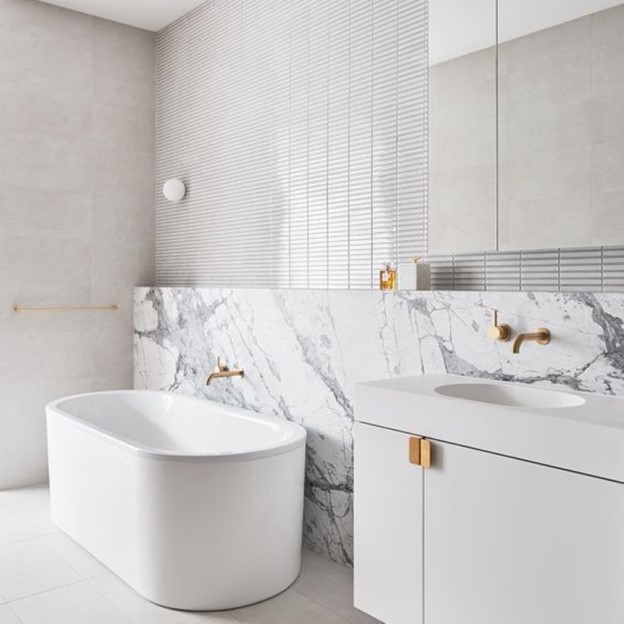 Source: Pinterest
If you are not too excited with the idea of dressing the whole bathroom shell in stone, a partial coverage can work equally well. Consider an accent background, such as a knee wall that can conceal some of the installations while looking fabulous at the same time.
4. Mix and Match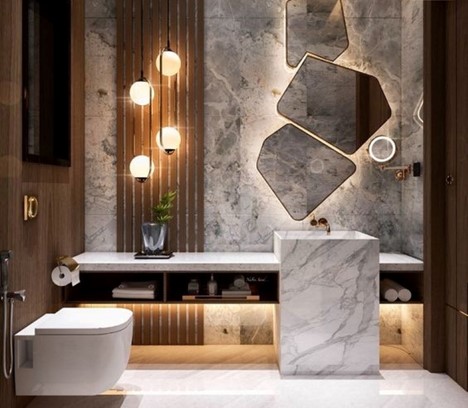 Source: Pinterest
The natural character of wood and stone makes them also a natural match in any interior style, from rustic to modern abstract. Choose the finish accordingly, using a rough surface for a mountain cottage vibe or a high polish for its sleek, reflective quality.
5. Use Stones to Personalize the Space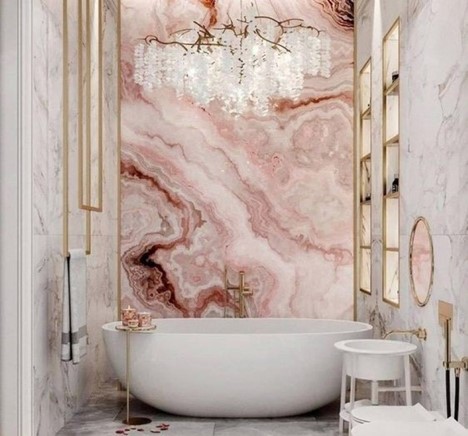 Source: Pinterest
When thinking about marbles, white or black species typically come to mind first. And yet, this gorgeous material comes in a broad palette of hues, including purples, oranges, and pinks. The latter makes for this gloriously feminine, whimsical female sanctuary, enriched with gold accents, crystal chandeliers, and a plethora of mirrors.
6. Go Blue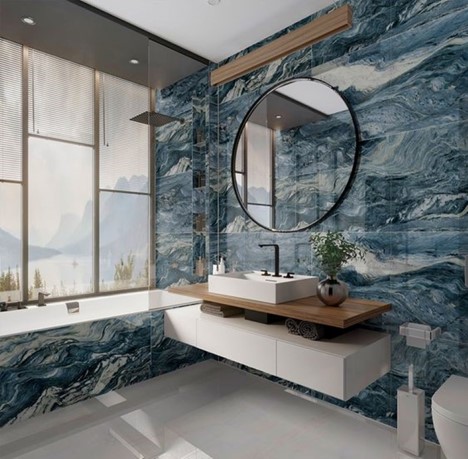 Source: Pinterest
Blue might seem a too obvious choice for a bathroom, but that doesn't deny its charming appeal. Moreover, in the case of highly textured blue stones, there is nothing obvious at all. They are lavish, classy, impressive, and soothing, all at the same time. Still, unless maximalism is your goal, keep all other features low-key and uncompetitive.
7. Make Strong Contrasts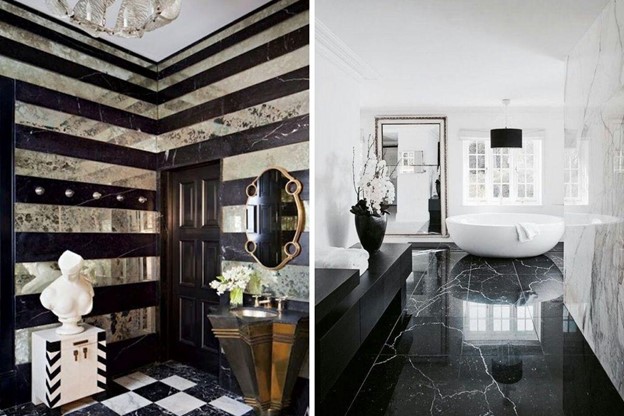 Whether going for less or more, you can hardly go wrong with timeless black & white combinations. Black marble floor is a classic choice, as well as the version with a checkered pattern. For a touch of drama, combine the stone with different materials, metallic tiles, and cheeky features such as statement chandeliers.
8. Artistic Approach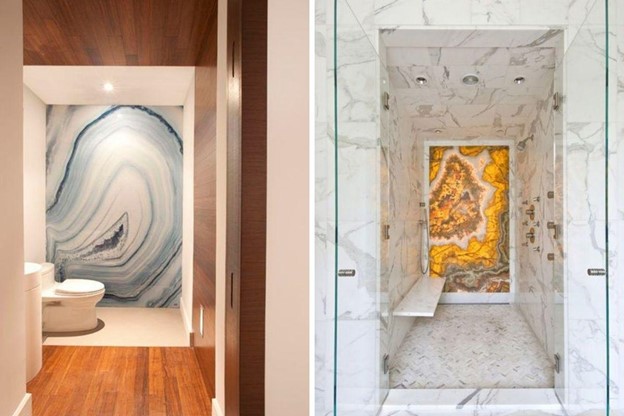 Stone texture is a natural work of art. So, why not use it as such? Abstract play of colours and veins of onyx or marble can add a ton of decorative value to your walls, turning a utilitarian room into a dream sanctuary. Whether you combine a single accent slab with other materials or juxtapose it to the other stone on walls and floors, the stunning effect is guaranteed.
9. Shower Cave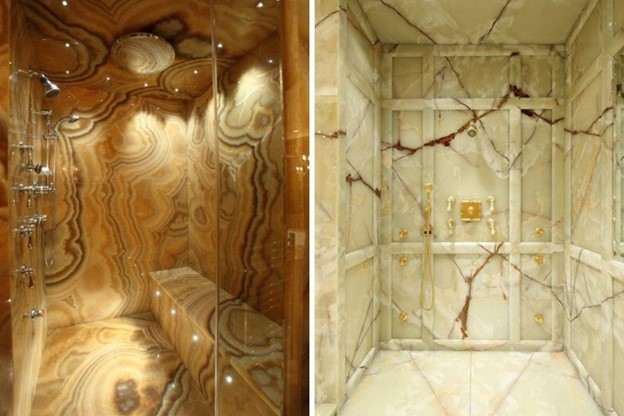 A shower cave enveloped in stone floor-to-ceiling looks glamorous and turns a routine into an experience. Most high-quality stones will work well in a steam bath, too. And if you incorporate a small nook or open shelving made from the same material, you will get seamlessly blended amenity storage to increase the space's functionality.
10. Think Flexible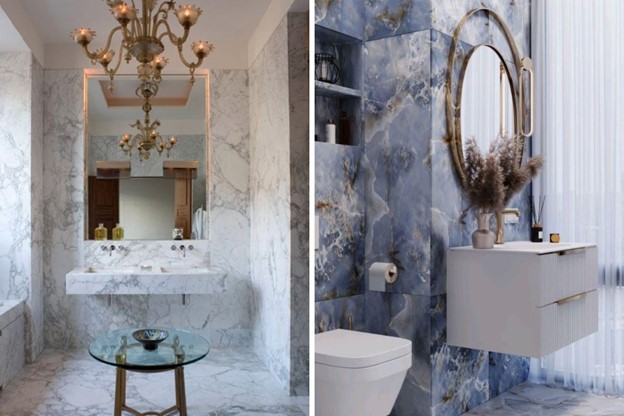 Clever mixing of stone slabs, tiles, and countertops conveys the feeling of a cohesive harmony and steps away from the "typical" solutions. It works equally well in traditional and modern bathroom interiors. Even better, it allows for easy remodeling – you can update the fixtures and decorative elements, and transform the complete look without major interventions.
11. Light Up the Stone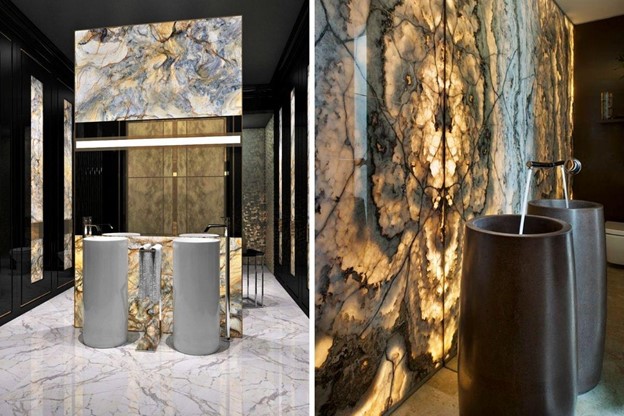 Backlit translucent stones belong to the most impressive decorative features you can install in your bathroom. Backlighting creates a unique ambiance, revealing the stone texture in its full beauty. While onyx makes the strongest statement due to its natural properties, many quartzite, marble, and granite varieties can also be used for this purpose.
12. Get Creative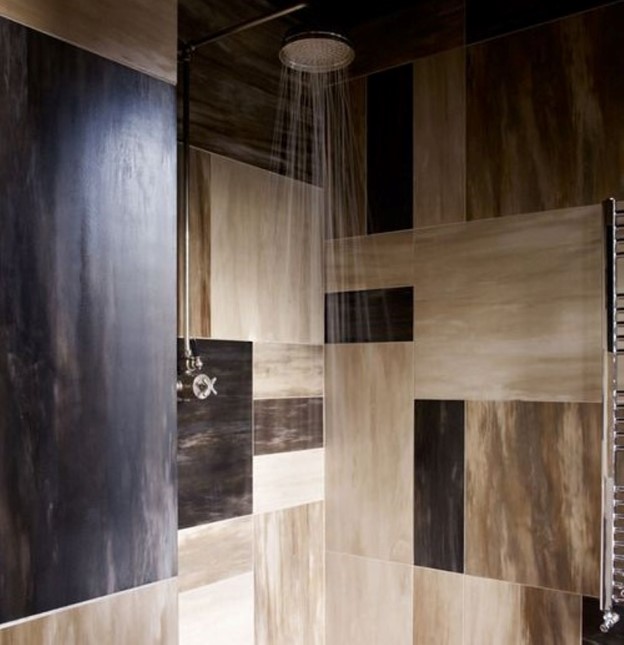 Source: Pinterest
One of the most creative methods to add visual interest to the bathroom with stone tiles can also be quite budget-friendly. It includes mixing and matching different sizes, colours, and textures into customized mosaics. You can play with different options, choosing monochrome pieces for toned-down effect or colourful pieces for vibrant results.
If you liked our ideas for using stone in the bathroom, stay tuned, because there's plenty more to come yet.