The kitchen sink is one of the most used areas in the kitchen. If you have the intention to save money, getting a cheap kitchen sink is certainly not the way to go.
All food hygiene matters begin at the sink. Food preparation starts by cleaning the raw ingredients at the sink. After cooking, there is the cleaning of utensils and appliances, also at the sink. Even if you hardly cook, you can't miss washing your hands at the kitchen sink.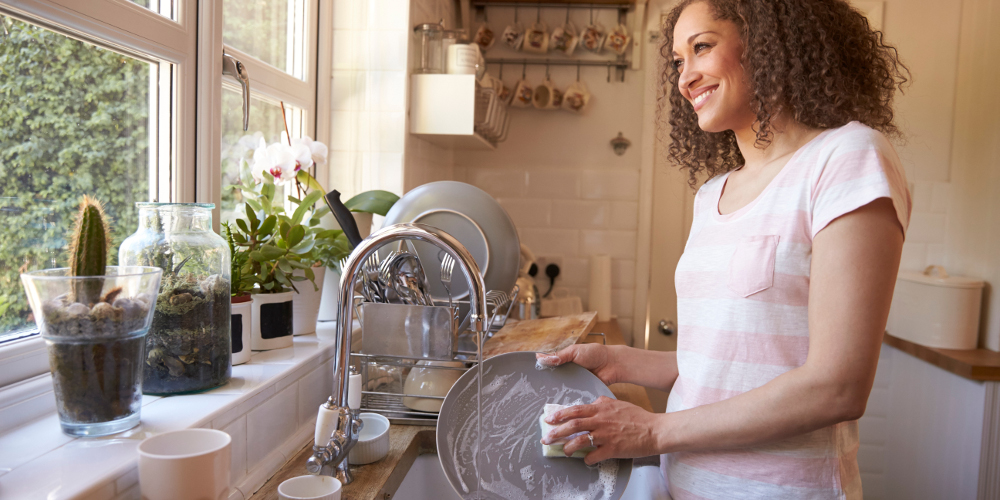 The usage of your kitchen sink is almost inevitable!
Hence, paying attention to the quality of your kitchen sink is a must. A cheap kitchen sink can cost you more over the course of time if lady luck is not on your side.
Let us show you why.
Cheap Kitchen Sink Leakage
The common major nuisance of buying a cheap kitchen sink circles around the issue of sink leakage. Traditional topmount and undermount sinks cannot guarantee waterproofing due to the way they are installed.
Hence, what more than a cheap sink?
1. Cheap Kitchen Sinks Need Repair
Unless you possess the know-how to fix it, every time your kitchen sink leaks, you will need to hire a plumber.
Plumbers do not work for free. Hence, each time you engage a professional plumber, be prepared to fork out additional expenses just to repair the kitchen sink.
To prevent leakage, many opt to use work-arounds to counter water leakage such as installing a concrete sink support, opting for aluminium kitchen cabinets instead of wooden ones, or applying more silicone to the sink's ridges.
However, these typical industry solutions do nothing to solve the root cause, i.e. preventing the water from seeping into the ridges. Moreover, these options often come at a higher cost.
Over time, the cost of plumbing repairs and workarounds may escalate, costing you more than the sink itself.
2. Kitchen Cabinet Replacement
On average, Singaporeans spend S$2,750 for kitchen cabinet replacements because of sink leakages. This is a cost that could be better utilized to fund your annual holiday getaway!
Most homeowners are unaware of any leakage under the kitchen sink until they smell the odour of rotting wood. By then, it would be too late. The damage is done.
Wood rot is a hidden menace waiting to pounce on unsuspecting homeowners. Not only is it expensive to treat wood rot, it is also a hassle to repair and replace.
Most cases, a total cabinet replacement is required. The process entails dismantling the countertop, repairing or replacing the kitchen sink and the affected cabinets. These require professional expertise so as not to damage your beautiful kitchen countertop during the dismantling process.
3. Time is Money
Many Singaporeans are always pressed for time, leading a busy lifestyle.
Taking time off just to fix plumbing issues isn't ideal when you can spend your annual leave on a proper holiday. Just imagine having to use your annual leaves for a major repairwork like replacing your entire kitchen cabinets and sink. This is not a 1 day job.
A major kitchen repairwork is almost like a kitchen renovation. Scheduling to meet the contractors, ensuring you have an alternative space for cooking, and having to clean up the repair debris – All these require a lot of time and effort.
Going through survival mode without a kitchen for a few days can be taxing especially when you have a family. Meal prepping without the kitchen is a hassle. You may even have to spend a bit more eating out.
Solution to Kitchen Sink Leakage
Now, as you are mentally calculating all the costs involved, just be aware that all these could have been avoided in the first place. A cheap sink is no longer cheap once you take into consideration the potential repairs, replacements and time wasted.
Your kitchen is the pulse of your home. Don't put a deadbeat into your kitchen with a cheap kitchen sink.
Aurasink is the Answer
This is where Aurasink shines. With our deep understanding of customers' needs and commitment to innovation, AURASTONE has successfully revolutionised how kitchen sinks should be – leakproof. Aurasink uses a new installation method, a customised clamping system to ensure the silicone dries up with the ridge intact. This revolutionary technique creates a guaranteed leakproof sink!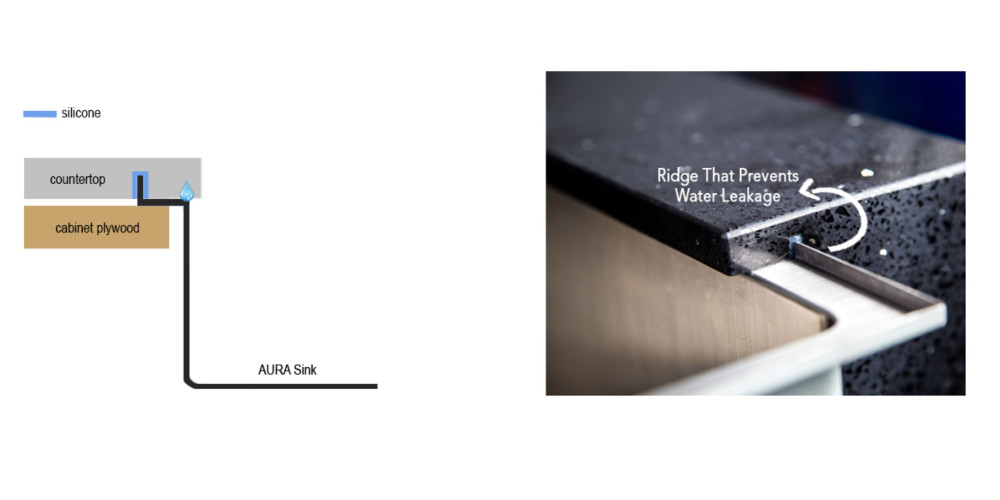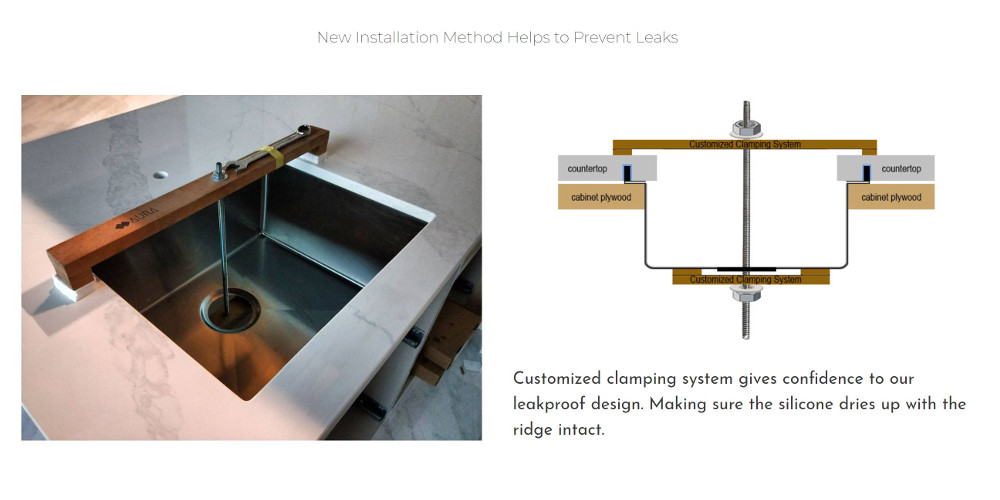 Aurasink comes in 3 different sizes to fit your kitchen needs ranging between S$400 to $480. This is a fraction of the price to pay as compared to the hefty S$2,750for cabinet replacements should there be a leakage that goes unnoticed (which always happens)!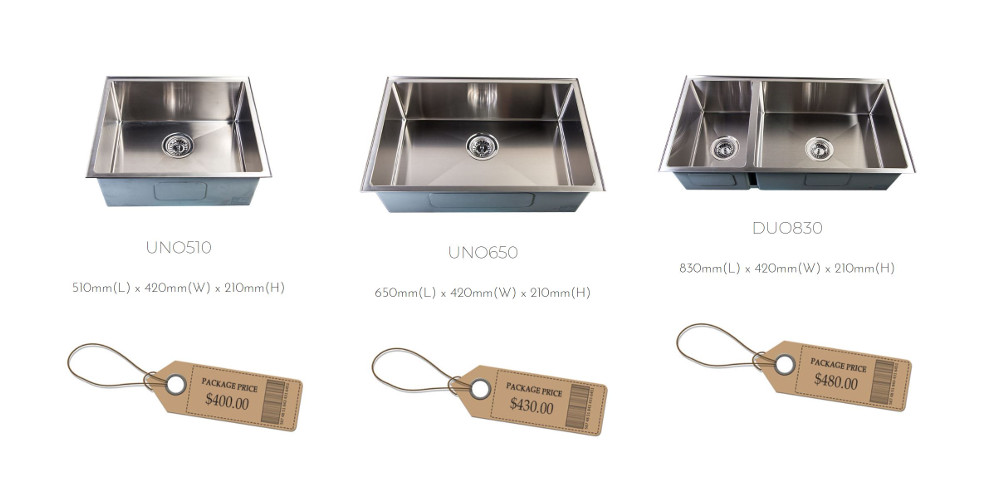 For complete peace of mind, chose your kitchen sink wisely. Even though a cheap kitchen sink might sound attractive now, when it comes to your home, be sure to select only quality items that will last. It will save you money and time in the long run.