For many young couples who have taken the leap of faith to be co-owners of an HDB unit, starting a family is one of the most natural progressions. Being young and independent, you may be blown away by the cool industrial designs that many ID magazines boast. While you may gravitate towards the sleek lines, edgy designs, glass and steel elements, the very same designs aren't suitable for a child-friendly home.
We have rounded up 5 ways to design a child-friendly home for your new family.
Safe Design
If you have plans to start a family, you need to balance your design aspirations versus your child's safety. Young children are forever curious. The world is new to them. Hence, everything they see and touch brings an exciting sensory experience to them. It is part of every child's learning process.
Less Glass, More Rounded Corners
Items that easily break like glass can be dangerous for young children. They may accidentally knock over and fall onto a glass object while playing.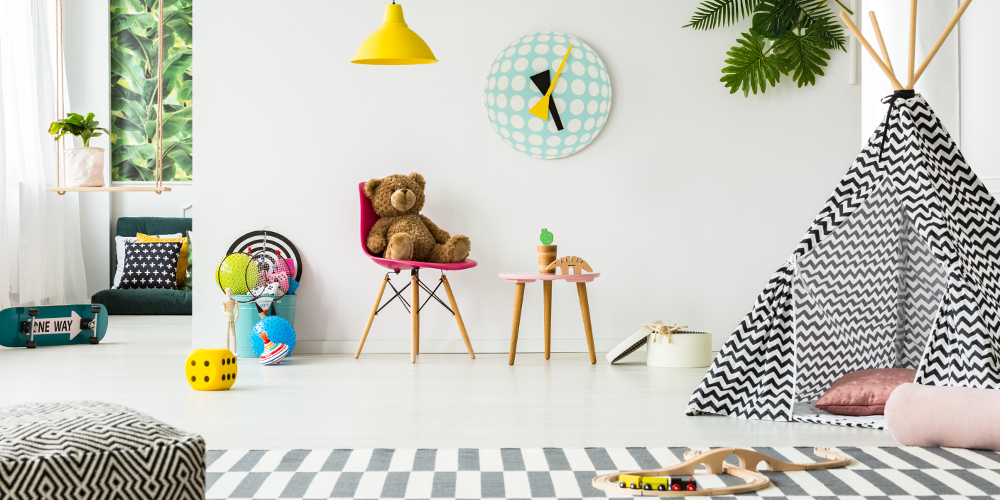 When purchasing furniture, select items that have rounded corners. This minimises the injury should your children fall and knock their heads on the edge. It can be a scary experience for every parent when home accidents involving children happen.
Secured Furniture and Fittings
You must have read the recent news of the unfortunate incident: A toddler became a casualty at a fashion store because a mirror fell on her. There is also an earlier incident in 2017 where a seemingly safe Ikea dresser fell on a child because it was not fastened to the wall.
These cases prove a point that you need to secure your heavy furniture and fittings to ensure a safer environment for your children to play in.
Easy to Clean Surfaces
Creative children can be a messy lot. They will explore just about anything when left to their own devices.
Don't be surprised to find "artwork", food crumbs, liquid spillage, and oily and dirty prints on every conceivable surface in your home. That is why it is advisable to have surfaces that are easy to clean and maintain especially in places where you prepare your food and do homework with your children.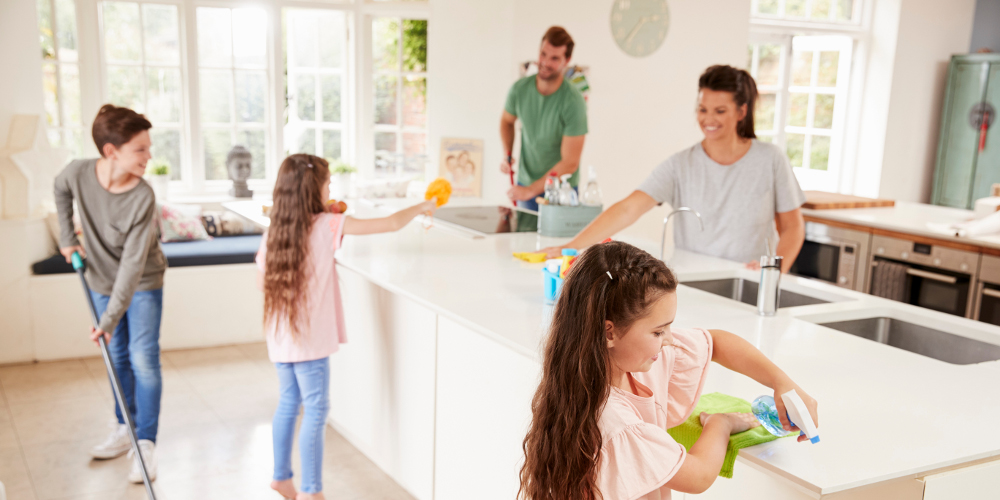 Quartz is a favourite choice of material for bathroom and kitchen countertops. It is easy to maintain, durable, and hygienic because of its non-porous nature. And, it comes in a wide range of colours and design to easily match your home décor. If you're a fan of marble and granite, quartz has the ability to mimic these natural stone designs. That's the beauty of this versatile material!
Closed or Hidden Storage
Open storage is an invitation for child's play. Simple things like a coloured pen can pique a child's imagination. So, if you have colourful items lying around your home in plain sight, children are bound to get their hands on them. Don't you recall the time you played with your mother's lipstick? What you saw as art could be a disaster in your parents' eyes.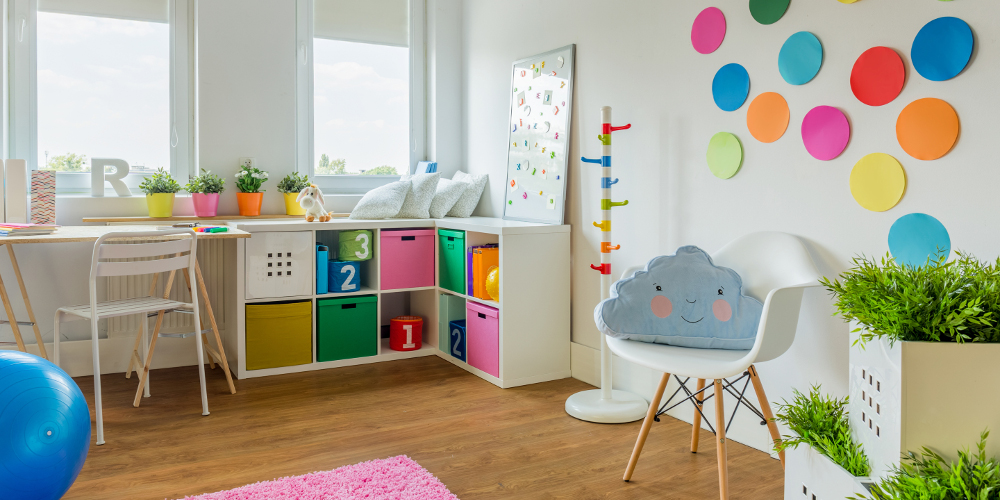 Read our article on 8 smart storage ideas that you can apply to your home.
Bright Coloured Décor
Children are stimulated by colours and sounds. Don't be afraid to inject colour into your home with a dedicated child's corner that is painted with stain-resistant paint and decorated with cute and colourful adhesive wall stickers.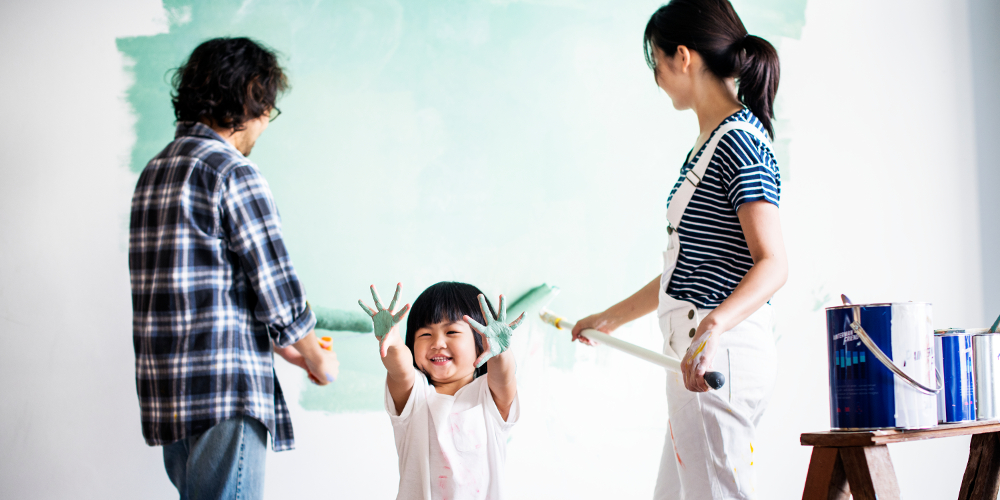 Also, we recommend decorating your sofas with cute and bright coloured throw pillows. They are big, soft, easy to maintain, and you can change the colour and design easily with a variety of pillowcases.
We do not recommend colourful small decorative objects when there are small kids around. It will only be a cluttered mess to haunt you during housekeeping time.
Less is More
This brings us to the final point: Less is more.
You would appreciate a home with lesser things and more space for your young children. The newer HDB units are getting smaller, so, maximising your home space with less clutter is definitely a great idea.
By reducing unnecessary items at home, you create a safer and more spacious area for your children to play in. Best of all, organising your home and maintaining the chaos becomes easier.
Be Practical When Designing a Child-Friendly Home
It may seem like you can never have a dream home once your kids arrive. However, fret not. With a little smart planning on the design and materials, you can still achieve a comfortable home that is chic, elegant and practical.
If you are looking for premium kitchen countertop material, Aurastone has a wide selection of beautiful design and colours. Best of all, Aurastone's quartz countertops are NSF certified. This means you can be assured that your countertop is safe for food preparation. When you have children, you want to ensure that your surfaces are clean.
Now, isn't this the practical and perfect choice for a child-friendly home?